Blog by Dan Rudd, MPS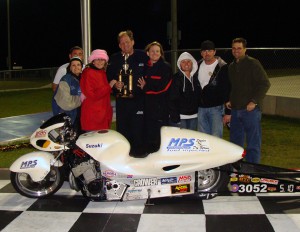 Gusty fifteen mile per hour headwinds and chilly temperatures greeted the MPS crew on Saturday morning of the SEMDRA MPS Finals at South Georgia Motorsports Park. Damp track conditions cancelled the Friday test session. "I was trying some new parts and really needed the test session. I made a terrible lap in the first ET session and had to revert back to our old combination for the first Top Gas qualifier.
The bike was pretty good from there, running a 13, two 10s, a shut off 18 that would have been an 09. Then in the Top Gas final I had a .008 light and was second off the line to Rusty Pyron's .004. I was a bike behind at the tree and thought I was in serious trouble and must have been really late. Never did catch Rusty, but he ran a 07 to my 09 with a 9 in a double breakout." said Rudd. Dan went to the semis on Sunday in the $3000 Top Gas race also. Todd Heiser went to the Final in Street ET and the Quarters in Ultra Street on his Hayabusa. Also of note, Billy Vose riding the Mike Thyen owned and MPS sponsored Hayabusa Pro Mod, made some test passes with a best of 4.30. All in all, a great outing for the MPS team. Thanks to the fantastic crew at South Georgia Motorsports Park, and the SEMDRA crew for giving us a great place to race!