Mickey Thompson Tires has posted $12,000 in the 2014 MIROCK Contingency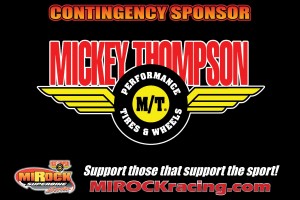 Program, and has been a contingency sponsor since 2009. When you are looking for maximum grip at the drag strip, be sure to have a Mickey Thompson tire on the back of your motorcycle! This is a great way for Pro and Sportsman racers to earn extra cash just by using a Mickey Thompson tire and running the Mickey Thompson decals.
Here are the details:
Mickey Thompson will be paying $100 to win and $50 to runner-up in every MIROCK class to racers running a Mickey Thompson rear drive tire and running Mickey Thompson Tires decals on both sides of their bike.
About Mickey Thompson Tires: Whether you are looking for the best slick for your dragbike or grudge bike or you are looking for the ultimate street tire for 7-second or 6- second street bike, Mickey Thompson Tires has you covered. To find out more about Mickey Thompson Tires, check out their website at: www.mickeythompsontires.com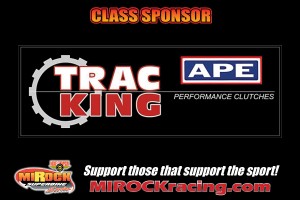 Trac King Clutches has renewed their sponsorship of the Top Sportsman class for the third straight year in the MIROCK Superbike Series. The Trac King Clutches Top Sportsman class contests the quickest bracket racers in the country, and is filled with Pro ET bikes, Top Gas bikes, Ex Pro Stock style all shooting for those coveted 32 qualifying spots per event.
"APE and the Trac King Clutches brand is very excited to bring our sponsorship program back once again to MIROCK to support the sportsman racers", said by Jay Eshbach of APE.
About Trac King Clutches / APE: Although APE has been a leading supplier of clutch kits for the extreme high performance motorcycles for over 30 years, we have made the decision to brand that part of our product line. Trac King Clutches is so named because our clutches have been the kings on the track for decades. For more information about the Trac King Clutches and APE, please visit http://www.aperaceparts.com/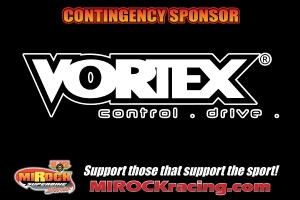 Vortex Racing has renewed their contingency sponsorship for the 4th straight year, and has posted $6,000 for the 2014 season. Vortex Racing is the sole contingency sponsor for racing sprockets, so make Vortex your sprocket choice and get paid for it.
Here are the details:
Vortex Racing will be paying $50 to win and $25 to runner-up in all MIROCK classes to all racers utilizing a Vortex rear sprocket and running Vortex decals on both sides of their bike.
About Vortex Racing: You can find out more about Vortex Racing by visiting their website at: www.vortexracing.com
Click Link below to view MIROCK Contingency Program:
http://www.mirockracing.com/contingency
Remember… Support Those That Support Your Sport!
The next event for the Mickey Thompson Tires MIROCK Superbike Series will be the Adams Performance Spring Bike Open at Rockingham Dragway on March 21-23, 2014. 
For more information on the Mickey Thompson Tires MIROCK Superbike Series please visit: www.mirockracing.com