Victory Motorcycles rider Matt Smith thought his luck was changing, but misfortune bit the two-time Pro Stock Motorcycle champion again in the first round of the K&N Filters Route 66 NHRA Nationals on Sunday at Route 66 Raceway.
Smith qualified his Victory Gunner in the No. 1 spot and had a big speed advantage on No. 16 qualifier Michael Ray in their first-round matchup. Smith left first and had an early advantage, but while attempting to shift into 3rd gear, the transmission balked.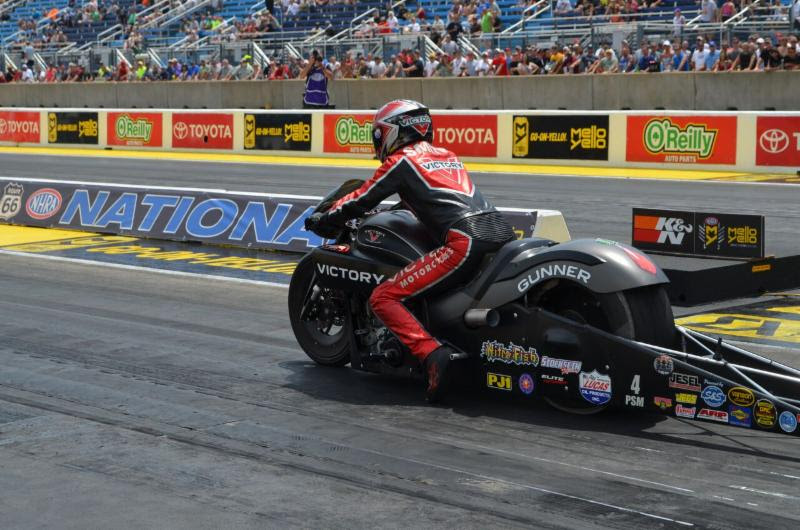 Finally, after several attempts and a crack of the throttle, it went into 3rd and Smith finished the run. Unfortunately, he was well behind Ray.
"We just have no luck on Sundays," Smith said. "We thought we had all the gremlins gone from this Gunner, but they came back again. If we didn't have back luck, we'd have no luck at all on Sundays. Eventually, it'll change — it has to — and we'll get this Victory bike to the winner's circle."
Smith came into 2016 with a lot of confidence after off-season engine work netted a big gain in horsepower, but a myriad of issues hampered Smith this season before he turned things around in Norwalk, Ohio.
Smith qualified No. 3 in Norwalk but lost in the second round when a gust of wind blew him well out of the groove and killed his top-end speed. Smith then snared the No. 1 spot in Chicago and was one of the favorites on race day, but as Ray sped to the win light with a pass of 6.902 seconds at 193.38 mph, Smith brought home his Gunner with a lap of 7.089 seconds at 190.78 mph.
"I hit the button to shift three times, but it wouldn't change gears," Smith said. "Finally, I had it lift off the throttle, and it went into gear. I legged it out just in case he had some trouble, but he didn't.
"We'll go to Denver and try again. That's all we can do. Our luck has to change soon, and when it does, we'll be in the mix with the best of them. That's how confident I am in this team and this Victory Gunner."