NHRA Pro Stock Motorcycle champion Hector Arana Sr., rider of the Lucas Oil Buell, and his son Hector Arana Jr., rider of the Lucas Oil Racing TV Buell, feel like they gained invaluable amounts of data even though they had mixed results Sunday during eliminations at the 19th annual K&N Filters Route 66 NHRA Nationals at Route 66 Raceway in Joliet, Ill., southwest of Chicago.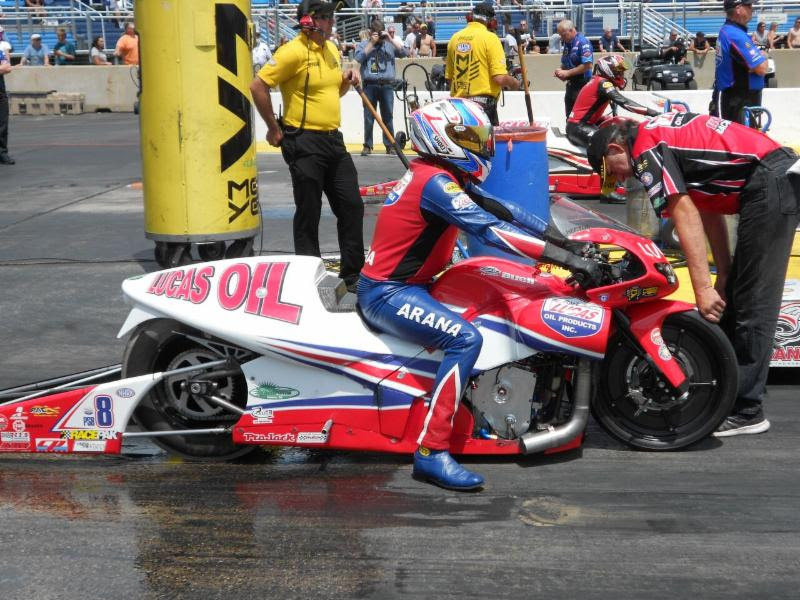 Arana Sr., who qualified in the top half of the field in the No. 7 spot (6.877 seconds, 195.28 mph), raced his son, the No. 10 qualifier (6.896 seconds, 196.24 mph), in the opening round of eliminations. In a very close race to the quarter-mile finish line, Arana Sr. was able to hold off his eldest son for the win light, 6.882 at 194.97 mph to 6.886 at 193.82 mph.
"I got a little bit better (from qualifying), but I needed to add a little bit more clutch for today," Arana Jr. said. "I wasn't sure how much I could go with, so I was nervous. I went with halfway of what I really wanted to do, and I definitely needed that second half, but, lesson learned, we'll be good for next time.
"I have to focus on riding, too, and I got to start getting some round-wins under my belt so I can build up that confidence again."
In the second round, Arana Sr. met up with Eddie Krawiec. Both riders were too anxious on the starting line, but Arana Sr.'s -.004 red light was a jot worse that Krawiec's -.003 start. The win light instantly appeared for Krawiec because of the disqualification of the Lucas Oil racer, and Arana Sr. abandoned the run, 7.282 at 147.49 mph to 6.885 at 193.74 mph.
"In qualifying and in the first run of eliminations, we got close to good numbers and repeating," Arana Sr. said. "Now, we have to stay more consistent throughout the event.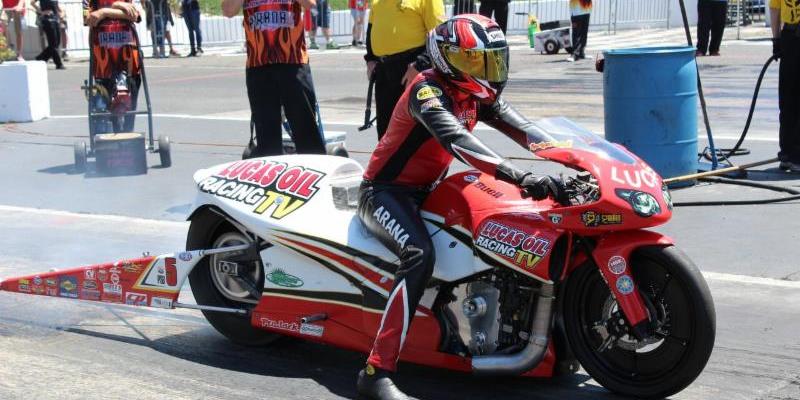 "I feel like we have gone forward and have started getting consistent. We're going to study our data from this race and make notes for the next event so we can correct the problem we've been plagued with — getting the perfect combination of launching power and clutch application downtrack."
Father and son, along with the rest of the Pro Stock Motorcycle class, will next compete in Denver
in two weeks
. For all normally aspirated racing engines, including bikes, the high-altitude in Denver forces race teams to install completely different racing packages, including different motors, transmissions, and gearing ratios.
"We've come up with a great combination for Denver, so we know what to do there, and for the rest of the season we are real close," Arana Jr. said. "We are going to try some things in Denver that should correlate to racing even further down the road, and once we get that squared away, we'll be good to go for the rest of the season."
Arana Sr. added, "We'll start with what we think is the best setup from the past in Denver and make the first hit (qualifying run). The first hit is going to tell us what to do then.
"What we try to do is not get lost, not waste a run that puts us behind from the start. We'll play it conservative, make the first hit, and keep improving from there."