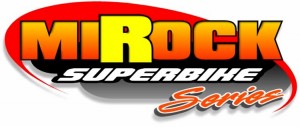 The 16th annual Schnitz Summer Sizzler, the rain-plagued MIRock Superbike Series event originally re-scheduled for Labor Day weekend at Rockingham Dragway, has been canceled due to scheduling conflicts, according to track owner Steve Earwood.
"With any re-scheduled event, you have to consider the track schedule and the convenience of the racer," Earwood said. "In this case, rescheduling for the holiday weekend just didn't fit for most of those vying for MIRock championships.
"After consulting with my partners in the series, Jason and Royce Miller, it was decided that it was in the best interest of the racer and the series to focus on our two remaining events, the Fast by Gast Fall Nationals at Maryland International Raceway, Oct. 1-2, and the Lee's Performance Fall Bike Nationals, at The Rock, Nov. 5-6."
One other option considered was to re-run the rained event on the weekend of the Lee's race, but time constraints, especially with the addition of the Tournament of Champions for Pro ET and ET racers, would not have allowed the completion of two full events in one weekend.
"We looked at every option out there, including running three MIRock events in a six-week span, and that just wasn't feasible for our racers," Earwood said. "As far as running a 'double' in November, the Lee's race has historically been one of the largest in the series and there just isn't time to stuff four days of racing into two or three days.
"Recognizing the dedication of our MIRock racers, I am adding to the winner's share of the purse in all categories" (at the Lee's Fall Bike Nationals).
Earwood announced that the winner's shares in the Mickey Thompson Pro Mod and Orient Express Pro Street classes would be bumped to $3,000 while D.M.E. Real Street will pay $1,500, Top Sportsman $1,750 and Motorcycle Tire Outlet 5.60 to $1,000.
Furthermore, the House of Speed Crazy 8's winner will earn $1,250 (minimum of 40 bikes) with $1,750 to the Nitrous Express Pro ET winner (minimum of 60 bikes) and the Cycle Connection Street ET winner $750.
The Tournament of Champions, a field made up of winners from all Pro ET and Street ET races this season, will be contested on Saturday evening after the completion of Saturday's Pro ET and Street ET races. Each champion in the Pro ET and Street ET Tournament of Champions will collect a $500 bonus, a champions "tree" trophy, champion's jacket and gold card good for free entry during the 2012 Mickey Thompson MIRock Super Series events.