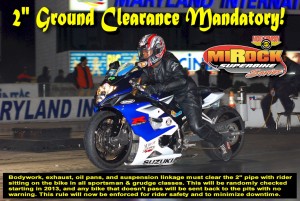 The 2″ Ground Clearance Rule will be enforced at MIROCK in 2013 in all sportsman and grudge classes. This has always been a rule but will now be randomly enforced for rider safety and to minimize downtime due to oil downs from busted oil pans and parts and debris from coming off the bottom of the motorcycle. If your bike is too low you will be sent back to the pits with no warning. Random checks may be done in tech, staging lanes, or the starting line to make sure riders are not changing the bike's height after it has already been checked. If your bike is too low, raise it up and have a safe race.
The new 2″ ground clearance tech tools have arrived for the MIROCK Superbike Series. Track Officials at MIR, The ROCK, and Atco will have these tools at tech inspection and in the staging lanes. All sportsman bikes and grudge bikes must have 2″ ground clearance including bodywork, exhaust, oil pans, suspension, etc. Pro Street and Real Street still must have 3″ ground clearance and will be checked at Pro Tech as usual. This will help greatly to reduce the number of motorcycle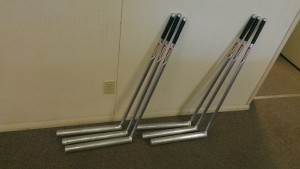 oil downs and accidents, so the race gets completed earlier and everyone gets their track time including "Afterdark Underground". So make sure you are prepared and good luck at the races!