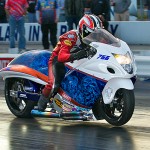 The wait for the world's first 6 second streetbike pass emded, 10 years after Brock Davidson ran the first 7 second one. It's not insignificant that both runs were made at the two tracks that make up the world's premier motorcycle drag racing series, the Mickey Thompson Performance Tires MIRock Superbike Series. Davidson's pass 10 years ago was at historic Rockingham Dragway, but Ryan Schnitz sped down Maryland International Raceway this past weekend over a full second quicker. In fact, Schnitz nearly skipped straight into the 6.80s on the Cecil Towner-tuned, nitrous-huffing, HTP Performance Suzuki Hayabusa with a stunning 6.907 at over 203 mph.
That's an achievement that Schnitz didn't think possible when he and Johnny Locklear ran the first ever side-by-side 7 second streetbike pass years ago. And the window of opportunity to accomplish the feat at the Fast by Gast Fall Nationals was narrow, with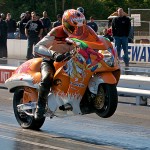 unseasonably cold temperatures and pockets of rain and drizzle. But as always, the hard working MIR staff was keeping the quarter mile sticky with world record traction. For their achievement, Schnitz and Towner received a $10,000 check from Tim Hays for using one of his Hays Machine Works clutches.
After wheelieing on a round 2 solo pass, Towner went too far in the other direction with tire pressure and the bike spun, losing to Greg Wallace in the semis. Wallace then slept at the tree in the final while Ken Edwards nailed a .001 light on his "No Joke" Hayabusa and took his second Orient Express Pro Street victory on a holeshot. Rodney Williford's clutch pulled him through the beam in the other semi, but Williford—who ran the first no-bar 6 second pass several years ago—accumulated enough points to claim his second straight Pro Street championship and his third MIRock championship overall.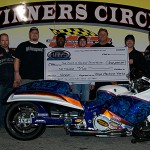 Williford ran that long ago 6 second no-bar pass in the long gone Outlaw Pro Street (not street legal) class, where both he and Dave Norris won championships. Norris now races Mickey Thompson Pro Mod and won his first race in the class this past weekend against Ronnie Procopio in the final round. Procopio's 4 valve GSXR head motor seemed to be ripping itself apart all day but was going rounds nonetheless. But Procopio didn't make it to the stripe first in the final, Norris did. It was also the first win for his own DNR chassis. Like Williford, Procopio accumulated enough points to claim the championship despite losing the event.
Jeremy Teasley nearly has another DME Real Street championship under his belt, and took the class win at MIR over number 1 qualifier Joey Gladstone. Teasley's Roger Starrette owned and tuned Kawasaki ZX14 has had everything replaced since it's last time out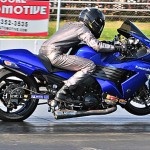 and the team was still sorting the bike out when Teasley qualified an uncharacteristic 14th. But by the end of raceday, Teasley was running near record numbers, including a wheelieing 7.85 in the final.
The rains that Schnitz dodged to run the 6 didn't avoid wrecking the race for some, as House of Speed Crazy 8s, Fast By Gast Pro ET, Cycle Connection Street ET, and Afterdark Underground failed to complete. FBR Shop Top Sportsman made it under the wire though and local hero Chris Clontz took the win over Tom Galligan. And neither rain nor cold could stop MIR's famous bikini contest!