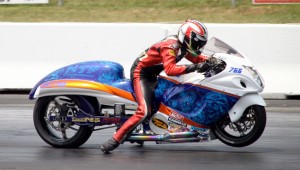 Ryan Schnitz has made history, becoming the first rider to record a six-second run on a street-tire bike at the MIROCK 'Fast by Gast' Fall Nationals at Maryland International Raceway.  Riding the nitrous-injected HTP Suzuki of Cecil Towner, Schnitz recorded a mind-boggling 6.907 elapsed time at 203.06 mph during the first round of eliminations in the Pro Street class.
"When I went through the finish line I knew it was the fastest I had been on the bike," said Schnitz.  "I thought it was a 6.96 or a 6.97.  A 6.90 was unreal!"
Schnitz' 1/8 mile numbers were 4.531 seconds at 171.03 MPH – a time that would have put him in the top half of the Pro Mod field at the event.
"It feels awesome," said Towner.  "Ryan and I had this as goal from the beginning of the year.  When we started running 7.0s there was a lot of attention on us. I am glad to get that monkey off my back."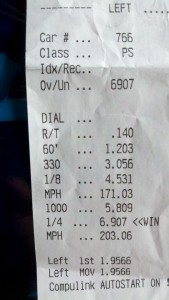 The run came more than ten years after Brock Davidson made the first seven-second streetbike run, recording a 7.973 at 179 mph on May 21, 2000 at Rockingham Dragway on a nitrous-injected Suzuki Bandit in the old Streetbike Shootout class.
Brock's Performance is proud to be involved in this latest historic mark.  The HTP Hayabusa is outfitted with Brock's Performance components including BST Carbon Fiber wheels with World Wide Bearings ceramics, patented TiWinder exhaust, billet shift shafts, manual cam chain tensioner, and oil pan baffle.
"One of the reasons that I wanted to get involved with Cecil was that he wanted to go out and use the latest technology to compete against the status quo," said Brock.  "People are scared to innovate.  They want to run their cookie-cutter bikes like they are. Cecil was willing to take some risks to go fast."
Still, Brock knew of the risks.
"Years ago when he told me his plans of running a nitrous bike in Pro Street, I told him he was nuts because of the work involved," said Brock.  "When you make a mistake on a nitrous bike, it is disastrous. Very rarely are there little mistakes – it will usually destroy an engine."
"He wanted to make the most powerful bike possible, and he wanted to make the lightest bike possible," continued Brock.  "He worked at it for years and look at the result."
The six-second mark looked to be within reach for the HTP team when they ran a 7.06 and later a 7.09 at MIROCK events in June and July.  During testing just prior to the Fall Nationals event, Schnitz turned in a 7.02 and a 7.00.
"Once we ran the 7.00, we put it in the trailer," said Schnitz. "It was a pass that we knew we could improve upon so we knew we had the potential to run a six.  We wanted to save it for the race."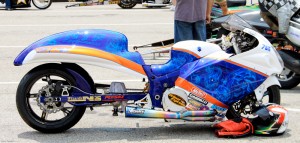 The team qualified the bike with a 7.15 – on a run where Schnitz rolled out of it when it got loose at the top end.  "It ran 5.58 in the eighth on that run so we knew we would be able to run a mid-6.90 if the track could hold it," he said.
The 6.90 came up on the boards during the first round of eliminations.  It was far from a perfect run as the front came up a bit and the bike started drifting out of the groove.
"Ryan road the dog snot out of the bike," exclaimed Towner.  "He was all over the bike.  He never let out of it."
"When the 6.90 came up on the board I was shell-shocked," he continued. "My customer Danny Cox was next up so I had to focus on his bike so I couldn't really think about it.  It didn't hit me until I rode the scooter down the track.  I picked Ryan up, and he said 'That was a good one!'"
Schnitz was unable to back the run up for a new MIROCK record.  He spun the tire and lost in the semifinal.  Still, history was made.
"I am always excited to ride this bike because it is always new," said Schnitz. "The bike has gone through constant changes. It has not shown up to a race the same way as the race before. Cecil is always working on it. I am anxious to get to ride it each time."
This is the second barrier set by Towner's bikes.  He was the first to break the seven-second barrier for the Real Street class when Keith Thompson ran a 7.97 on a nitrous-injected HTP Suzuki GSX-R1000 in 2009.
"The first seven-second real street bike had Brock's equipment on it as well," said Towner. "I think that says something.  It means a lot."
With his accomplishments, Towner has established himself as one of the premier sportbike drag racing builders and tuners in the world.
"I think the six-second street bike barrier is the last great barrier in motorcycle drag racing," said Towner. "I don't think Pro Stocks are going in the fives or Top Fuelers are going to go into the fours."
"Right now we own the quickest street tire bike in the world," he said proudly. "That is pretty cool."