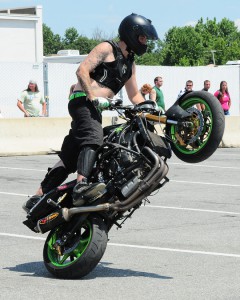 The annual all-out motorcycle party known as the Fast By Gast / WPGC Bikefest played out in unseasonably perfect weather at Royce Miller's Maryland International Raceway. The event's largest crowd ever gathered for record-breaking motorcycle drag racing, crazy stunts, gorgeous customs, thumping live music, and stunning beauties in the bikini contest.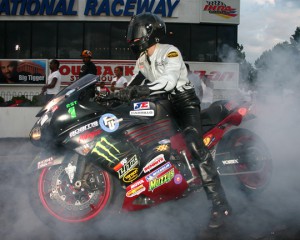 The best on-track drama was in HTP Performance Real Street, where teenager Jeremy Teasley ran the MiRock Series's first 7 second pass in qualifying on the Adams Performance Kawasaki ZX14. Later that night, Teasley won the first-ever Carpenter Race Engines AMA Dragbike vs. MiRock Real Street Shootout. After the first round it was Teasley, representing AMA Dragbike as reigning Real Street champ, against the world, as all other round 1 winners came from the MiRock Series. Teasley's slender shoulders held the weight and he beat MiRock points leader Rickey Grayson in the final.
Teasley maintained his momentum throughout Sunday's eliminations, beating defending MiRock Real Street champ Keith Thompson in the final. Thompson was lucky to get that far after replacing his HTP Performance Suzuki GSXR1000's motor with a back-up bullet. "We've been strugglin' all weekend, and I'm just happy to be where I'm at," said Thompson. "Yesterday we didn't think we were gonna make it past first round."
But no one at the track was as lucky or happy as Real Street B runner-up Karey "Firestarter" McGee. A 35 year-old equestrian trainer from Florida, McGee shockingly suffered a stroke less than two weeks before the race weekend and spent five days at the hospital. "Sunday's shakedown pass was about exactly same time as my stroke two weeks before," said McGee, who persevered through the weekend's heat, ran all day everyday, matched her pre-stroke best ET on her ZX14, and went to Sunday's final before a glitch in her recovery showed itself.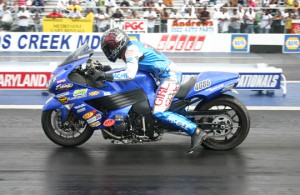 "The clutch was kinda slipping the last couple passes and we contemplated changing it," said McGee. "When I lined up, I felt the bike creeping. My mind told my hand to pull the grip back, and I did the opposite and let go of the clutch and jumped through the lights." Veteran racer Mike Mace won in the other lane. "But I'm not gonna sweat that," said McGee. "I got to ride this weekend. It could've taken months, but I did it in two weeks and I'm happy about that."
Riding Ronnie Mitchell's beautifully prepared turbo Hayabusa, Bud Yoder won the Orient Express Pro Street final over the Orient Express/Rush Deal 'Busa of Mike "Kavos" Kovacevich. "Mike and I were in the finals last year, and he won it then," noted Yoder. "So I had to pay him back for that."
The Pro Street field was full and tight, and no one ran stronger all weekend than Yoder, who qualified number one and set the ET record in the final with a 7.225. Running the new Michelin Power One rear tire, Yoder is on a roll, winning the week before at Byron Dragway in Illinois and becoming the only two-time winner of the Canadian Streetbike Shootout before that.
If Yoder is on a roll, then former Pro Sportbike champ Anthony Navarro is unstoppable. The class has settled down to a two man race between Navarro and Sean Walsh, and so far all the wins are going to Navarro. "Who knows? Next race it might be his," said Navarro. "It's coming, I know it's coming. Between our weights and our wheelbases, our bikes run pretty much identical tune-ups and they pretty much go identical speeds and ETs. It's just the tree, the track, and the rider."
Pro Mod went to MiRock favorite Ronnie Procopio, who beat legendary Paul Gast and his hybrid Pro Stock/Pro Mod Suzuki TL1000 in the final. Procopio set both ends of the MiRock Pro Mod eighth mile records with a 4.311 ET and 171.95 mph.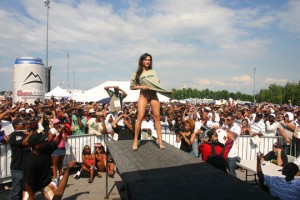 Virginia streetbike racer Clay Davies dominated the sportsman categories, winning Sunday's Fast By Gast Pro ET and Schnitz Racing Streetbike races before taking the big money run-off against Quick 32 winner Darris Carey. Andre Jones won Saturday's Street ET race over Dale Hamilton and Jiff Shifflett beat Robin Procopio for Saturday's Pro ET win.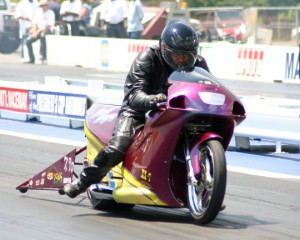 The Mickey Thompson MiRock Superbike series returns to action with the Schnitz Racing Summer Sizzler at Rockingham Dragway, Rockingham, North Carolina, August 22-23. Find out more about the MiRock Superbike series at http://www.mirockracing.com