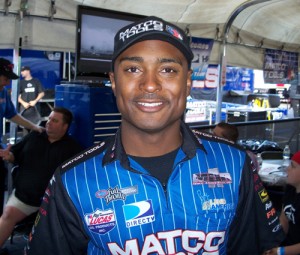 Antron Brown has been fast his entire life and he's getting quicker with age.
The former indoor track and field competitor and motocross racer was a mainstay in the lighting-quick NHRA Pro Stock Motorcycle class for over a decade. After building years of high-speed experience, the New Jersey-native is now operating the world's quickest accelerating vehicle – a Top Fuel Dragster.
"When you get in one, it's an unbelievable experience," Brown said.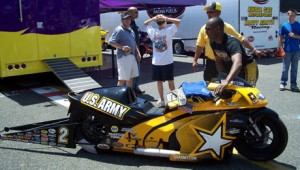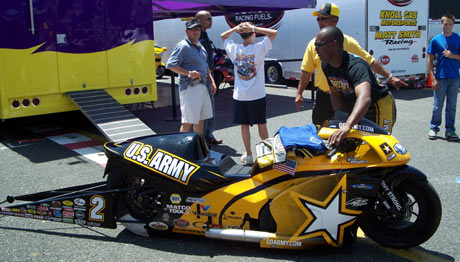 In late-2007 Brown and his then-teammate, Angelle Sampey, lost their spot in the Pro Stock Motorcycle class when the US Army suddenly pulled its sponsorship from the team.  After being left without a ride Brown saw the opportunity to realize a life-long dream when he was asked to drive the Matco Tools Top Fuel Dragster.
"I never thought in a million years I would be racing a Top Fuel car." Brown continued, "I grew up watching greats like "Big Daddy" Don Garlits, Kenny Bernstein and Eddie Hill.  To have an opportunity to be doing it myself, I have to pinch myself everyday and say, am I really here? I thank God for the opportunity."
Only a select few individuals have the audacity to drive a Top Fuel Dragster.  Brown made the daunting transition from the motorcycle class look easy. He immediately found success and became the first NHRA driver to win events in Pro Stock Motorcycle and Top Fuel.
"It was a very big step.  I'm still learning," Brown said. "Things couldn't be better. We are working hard, going rounds and winning races."
During his tenure in the Pro Stock Motorcycle class, Brown was one of the quickest riders, recording elapsed times as swift as 6.93 at nearly 200 mph. Ask any Pro Stock Motorcycle racer and they'll tell you, that's quick. But my oh my, how the bar has been raised.
Brown piloted his new dragster to a career-best 4.49 at 331 mph.  For Brown adjusting to differences in the rate of acceleration between a motorcycle and a dragster was the most difficult transition for Brown.
"The bikes accelerate hard, and decelerate pretty quick after the first 100feet.  A Top Fuel car just keeps accelerating over the whole course of the racetrack," Brown said. "What people don't understand about Top Fuel is when you come off the starting line, that's the slowest point of the acceleration.  When you get past 100-feet, it accelerates harder. At 300 feet it accelerates harder yet, and when you get out to the 500-foot-mark, where it locks up one-to-one, you are pulling over five Gs of force at half track. That's the difference."
A Pro Stock Motorcycle and a Top Fuel Dragster will pull around four Gs off the starting line.  After the launch the two vehicles have very different speed characteristics.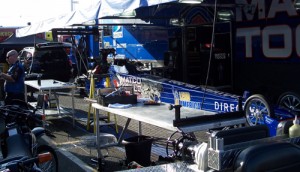 "People can't believe a Top Fuel car actually pulls harder once it's rolling as opposed to when it leaves from a standstill. It's literally like taking off three times when you are going down the track," Brown said. "A bike will fall off in G force when you shift through the gears, where a Top Fuel car will just keep going to the moon."
Brown began his drag racing career at his local tracks, competing on a GSXR 1100, which he would run 9.20s with.  Brown got his big break in 1997 when his cousin and former National Football League defensive back, Troy Vincent, asked Antron if he could race a Pro Stock Bike.  Brown jumped at the opportunity, and under the guidance of dragbike legend Dave Schultz, Team 23 was born.
"I wouldn't be racing today if it wasn't for Troy Vincent," Brown said. "Troy put the team together. I was in awe of working with Dave Schultz.  He was my Michael Jordan."
During his era in the Pro Stock Motorcycle category, Brown amassed 16 victories in 34 final-round appearances. He also gained valuable experience and honed his racing skills to near-perfection.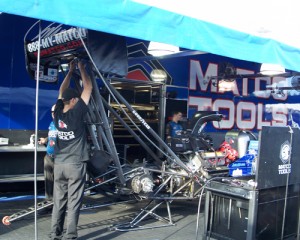 "To get an ET out of a bike you have to be really smooth, and I tried to bring that same pose over to Top Fuel," Brown said. "You want to go out there and be a machine and be perfect.  I know I'm not a machine, but I go out there and try to be perfect every time. I don't take that lightly."
Brown asserts that a successful racer has to be able to react without thinking too much. Riding a motorcycle taught Brown how to respond when he finds himself in a precarious position.
"I never try too hard.  I just let it happen," Brown said. "When you try too hard you go out of your element and do something you don't normally do. On a motorcycle you always learn to bring things back smooth and your body just reacts to it."
Brown has accomplished nearly everything he's set out to do in his racing career.  Only one goal has eluded him – winning a world championship.  Brown says all the tools and resources are in place for him to capture what he wants most.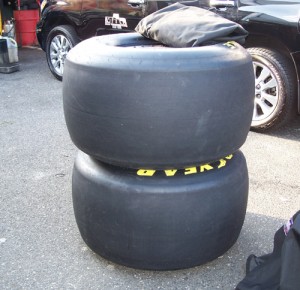 "We've got a lot of great people and sponsors. We have everything we need to do it," Brown said.
Meanwhile dragbike fans wonder, will Antron ever race in the Pro Stock Motorcycle class again? Despite Brown's admitted love for two-wheelers, his answer to that question may be surprising to some.
"I hope not. I like to keep that (option) in my back pocket but I'd like to stay in Top Fuel," Brown said. "This is the cream of the crop."
If he continues at his current pace Brown will soon be atop the cream of the crop.