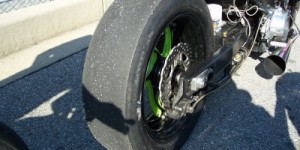 Mickey Thompson Tires has renewed their title sponsorship of the MIROCK Superbike Series for an amazing 14 years in a row. Mickey Thompson Tires has been an important partner in growth of the series over the last decade, and MIROCK would like to thank them for their loyalty to the series and our racers.
Jason Miller of MIROCK, states "Tommy Kundrik and the Mickey Thompson Tires team are an absolute pleasure to work, and we are so thankful for their loyal support. Our racers can readily purchase Mickey Thompson Tires on the vendor midway at every event. Mickey Thompson is responsible for all of the Championship Jackets, Championship Cash Bonuses, and Trophies along with all of the Top 10 Plaques. Their support is also the reason why MIROCK can keep our entry fees low and payout over $400,000 in cash and contingencies during the year. We are very fortunate to have them involved in our sport. So be sure to show them your support when making your tire purchases".
About Mickey Thompson Tires: Whether you are looking for the best slick for your dragbike or grudge bike or you are looking for the ultimate street tire for 7-second or 6- second street bike, Mickey Thompson Tires has you covered. To find out more about Mickey Thompson Tires, check out their website at: www.mickeythompsontires.com 
Remember… Support Those That Support Your Sport!
The next event for the Mickey Thompson Tires MIROCK Superbike Series will be the Adams Performance Spring Bike Open at Rockingham Dragway on March 21-23, 2014. 
For more information on the Mickey Thompson Tires MIROCK Superbike Series please visit: www.mirockracing.com