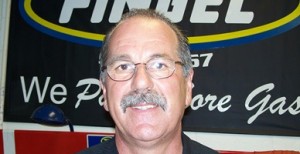 Top Fuel Motorcycle legend Larry "Spiderman" McBride's 36th year of drag racing will be unlike any he has had before.
For the first time in his career the 56-year-old, 12-time champion will race at the widely popular MIROCK series.
Two of his three MIROCK events will take place at Maryland International Raceway, July 25-27 and Oct. 3-5. McBride is greatly looking forward to a return to the venue. He hasn't blasted down the Mechanicsville, Md. dragstrip since the mid-90s.
"It's going to be very cool. It is an awesome track and Jason Miller (MIROCK event director) makes sure the prep is outstanding," McBride said.
Another benefit for the Spiderman is MIR is just a three-hour drive from his Newport News, Va. speed shop.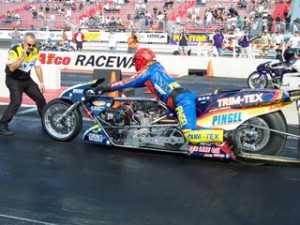 McBride will also take part in the MIROCK event at Atco Raceway in N.J., Sept. 5-7.
The Spiderman has a long and storied history at Atco, which includes epic battles with all-time greats like Elmer Trett and Tony Lang. In 2008, McBride and Korry Hogan produced Atco's quickest side-by-side motorcycle run with Hogan's 5.98 edging out McBride's 6.02.
"I could talk for days about all the memories I have from Atco," McBride said. "It has always been one of my favorite tracks and I'm excited to be going back."
Atco has also housed one of the world's largest Top Fuel Motorcycles fan bases.  For decades Atco's U.S. Nationals was the most prominent and heavily-attended dragbike races in the world.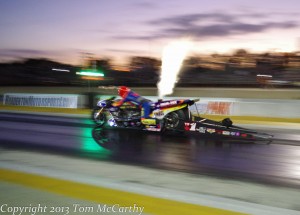 McBride is unsure if he will be competing in a class or match racing. MIROCK officials are still finalizing the details.
McBride will also run the entire ManCup series and is extremely pleased with group's decision to return to South Georgia Motorsports Park in Valdosta, Ga.
"I love all of the tracks we are going to this year. They are all topnotch. It sure would be nice to break a personal record," said McBride, who has been as quick as 5.74.
The ManCup series will also make stops at Atlanta Dragway and Virginia Motorports Park, Spiderman's home track.
McBride hopes to debut a new ride at one of these events.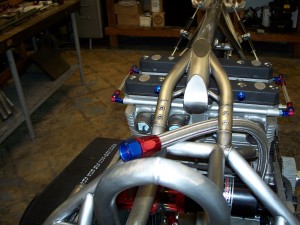 "We are putting a lot of effort into the new bike. We are way behind. I hate to give a date but we are hoping we can go test it by the end of February," McBride said. "We still need to build our engines but the motorcycle itself is 99-percent done."
McBride is building his latest machine all new motors for two reasons. The first is that the mounts are different and the second is because McBride made a promise to himself to not use one nut, bolt or washer from the old bike on the new one.
With a new motorcycle expected to debut and an unprecedented race schedule, 2014 promises to be a memorable year for the Spiderman.
McBride thanked his primary sponsors; Pingel Enterprise, Trim-Tex Drywall Products, Drag Specialties-Parts Unlimited, Red Line Synthetic Oil Corporation and Final Swipe Merchant Services.



"Joe Koenig is one of the best guys I have known in my life. He sells the best drywall products in the world."



"Wayne and Donna are like family to me. I make the joke that I'm their oldest and youngest child. Pingel has by far the best quality in America. They have the top of the line, best engineered products and they are all USA made."



"The Web Cam girls and Steve are the best. They are like family to me as well. Laurie Dunlap does so much to help the sport. They also make the best cams on the market."
McBride added –
"Red Line is the best oil on the market or Alan Johnson would not be using it."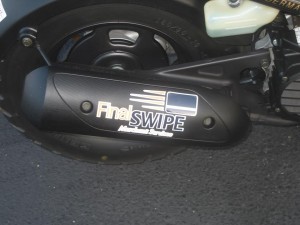 "Drag Specialties is a great company that I'm honored to be involved with. They are the best people to deal with."
"I really appreciate Final Swipe and Gary Baillio. He's a great man with a great company."
"There is not one sponsor that is not important."
McBride thanked his associate sponsors and added, "Everybody is equally important. We couldn't do it without each one of these fine companies."
K&N Air Filters, Web-Cam, Vance & Hines Motorsports, PR Factory Store, Ferrea Valves, Kibblewhite, Precision Machine, World Wide Bearings, Vanson Leathers, Belt Drives Ltd, Simpson Race Products, Nitrous Express, APE, EK Chain, Arias Pistons, MSD, Protect ALL, Cometic Gaskets, B&J Transmission, Carolina Cycle, L.A. Sleeve, PJ1, Mickey Thompson Tires, Valco, Goodridge, Carlisle Belts and Gates Belts.