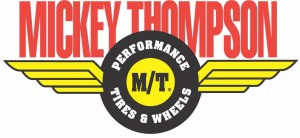 Mickey Thompson Tires has renewed their title sponsorship of the MIROCK Superbike Series for the 12th year in a row, and has been an important partner in growth of the series in the last decade. In addition to their title sponsorship, Mickey Thompson decided to sponsor the Pro Mod class and bring it to the series in 2011. For 2012, Mickey Thompson has renewed the Pro Mod class sponsorship once again!
The Mickey Thompson Pro Mod class will have a $5,200 total payout: $2,500 to win, $1,000 to runner-up, $250 to semis, $150 to 1/4 finals, and $75 to 1/8 finals. The entry fee for Pro Mod will be $150. The Pro Mod class will also have a championship points series awarding $1,000 to the champion and a MIROCK Championship Gold Card, Iron Tree Trophy, and a MIROCK Championship Jacket. Do you have what it takes to win a Pro Mod Championship?
Jason Miller of MIROCK, states "It is such a pleasure to work with Mickey Thompson and have them a part of our series. The Pro Mod class is a great addition to the MIROCK Superbike Series, and I would like to thank Mickey Thompson for sponsoring this awesome class! Mickey Thompson has been more than a sponsor to the MIROCK series, they have been a great partner as well and I look forward to working with them for a very long time."
Steve Earwood of MIROCK, states "Rockingham Dragway has a tradition with Pro Mod Bikes that goes back to the very conception of the class.  Some of the top Pro Mod racers of all-time reside here in the Carolinas and consider "The ROCK" their home track. Matt Smith, past ADRL Dragstock winners Ronnie Procopio, Billy Vose and Dragstock runner-up Rob Bush, plus Pro Mod engine builder genius Dan Wagner. This is a great addition to our Mickey Thompson events, arguably the most significant motorcycle series in drag racing."
Carl Robinson of Mickey Thompson, adds "There is no question that MIROCK remains as the mainstay for Motorcycle Drag Racing here in the US. Mickey Thompson is committed to provide the best tires in bike racing and our partnership with MIROCK is the perfect platform for our brand to perform. The 2012 Season should be interesting and exciting!