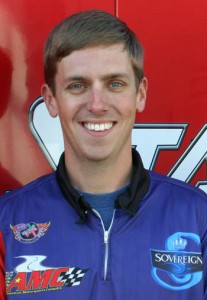 After remaining within the top five Pro Stock Motorcycle competitors for 13 consecutive races of this 16-race season, the Sovereign-Star Racing dragbike team and racer Michael Ray will finish their 2013 season in the No. 2 position of the NHRA Mello Yello Series Countdown to the Championship following this past weekend's event in Pomona, Calif.
This marks the 14th season that Star Racing has finished at No. 1 or No. 2 in the overall points standings. After a three-year hiatus from NHRA drag racing, Star Racing owner George Bryce teamed up with Hungarian-based Sovereign Racing and owner Jenõ Rujp in 2012 to make a comeback in the sport. In only two short seasons, the Sovereign-Star Racing team has struggled its way back to become one of the top competitors in the Pro Stock Motorcycle class. "It was a great season, and I think that No. 2 was a great goal that we accomplished. In two years, we've moved a long way from where we started, and I feel like we're back in the hunt to win races every single time that we go," Bryce said.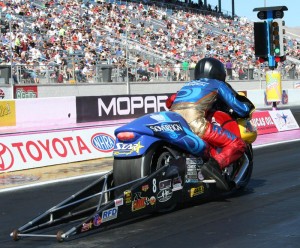 During his first full season racing for this team, Ray has claimed two national event wins, six additional semifinal round appearances, three No. 1 qualifying positions, low ET for the Norwalk and Reading events, and the top speed for Norwalk that also set a new track record. For the last 13 out of 16 races, Ray has also maintained a position within the top five competitors in the Pro Stock Motorcycle points standings. "It was good to be consistent and run well. We didn't come up with any wins in the last four races of the year, but we definitely came out with a bunch of points. When you look at everything that happened in those last four races, we were very resilient. I'm very proud to go up (at the awards banquet) and be recognized for No. 2. I couldn't be more impressed with the professionalism of this team and their true dedication," Ray said.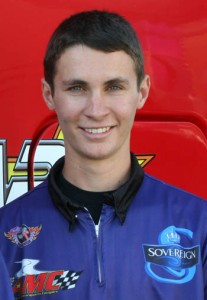 Sovereign-Star Racing has seen several changes during the last few races after former teammate Scotty Pollacheck left the team and new rookie driver Chaz Kennedy stepped in to pilot one of the S&S-powered Buells. Despite this changing structure of the team, Ray was able to keep his focus and advance to the semifinal round of competition at all four of the last races of the season. In a competitive 23-bike field at the Auto Club NHRA Finals in Pomona this past weekend, Ray qualified at No. 7 and Kennedy at No. 13, with a new career best 6.94-second ET (Elapsed Time).
During first round eliminations, Ray's excellent .008-second reaction time set him up for the win against No. 10 qualifier LE Tonglet. Ray improved from his qualifying time to post a 6.89 ET at 193 mph against Tonglet's 6.93/192 mph. In the third Pro Stock Motorcycle event of his career, Kennedy improved his new career best ET from the day before with his 6.87/193 mph pass against No. 4 qualifier Pollacheck in round one.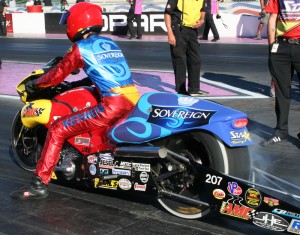 Although Kennedy's pass was the third quickest of Sunday eliminations, it was not enough to pull around Pollacheck. "I accomplished a couple of my goals for the weekend. I believe that we have big things coming for next year and that it can only go up from here. A 6.87 is a very stout number, but I was just late (at the starting line). I don't know what else I can say. I was just late. I just have to work on it in the off season and keep on going from there," Kennedy said. Ray advanced to face No. 15 qualifier Shawn Gann in round two, where both bikes ran 6.98 ETs, but Gann left the starting line too soon to turn on the red light and forfeit the win. In his eighth semifinal round appearance this season, Ray was up against No. 6 qualifier Eddie Krawiec. Ray was a little late leaving the line after trying to hold the motorcycle back to prevent a red light. Krawiec went on to take the win, posting a 6.95/191 mph to Ray's 6.97/191 mph. "The track at Pomona is 13 feet downhill from start to finish. We don't stage with our brakes; we stage with our feet, so it was really tricky all weekend to keep the bike from rolling. Unfortunately, when I put it on the two-step, it creeped on me about three inches, which is huge when it comes to reaction time. So at that point, I was just thinking: keep it clean and green," Ray said. After only two years back in NHRA competition, Bryce and his partner Rujp are proud of the performance of these racers, the dedicated crew members and the Star Racing employees working behind the scenes to continue their engine development program. "Michael is very fast on the bike, and he gives good, consistent runs that are great feedback so that we can really analyze data and make improvements. Chaz tied Hector (Arana for first round ETs), and he was two-hundreds behind Scotty (Pollacheck). That's incredible; that shows potential in him. He went faster than I thought he would, and I'm very pleased," Bryce said.
The Sovereign-Star Racing dragbike team was recognized for their accomplishments at the annual NHRA awards banquet Monday night in front of all other teams from Top Fuel, Funny Car, Pro Stock and Pro Stock Motorcycle. The 2013 Sovereign-Star Racing Team is a partnership between Georgia-based Star Racing and the Hungarian-based Sovereign Racing Team, the 2011 UEM European Pro Stock Bike Championship Team, owned by sugar distributor Jenõ Rujp. The Sovereign-Star Racing Team would like to thank the following sponsors: Sovereign, Star Racing, Americus Motorsports Complex, S&S Cycle, Daytona Sensors, Worldwide Bearings, CP Pistons, Cometic Gaskets, and Uncle Hal Gottspeed Racing.
<a href="http://www.starracing.com/">
<img style="border: 0px;" src="/wp-content/uploads/2010/09/Star-Racing-Logo.gif" width="448px" />
</a>