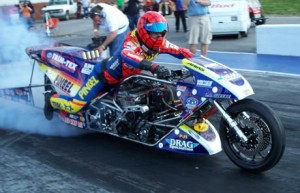 Top Fuel Motorcycle legend Larry "Spiderman" McBride found himself in an unfamiliar position this past summer when the organization he spent much of his career competing in, AMA Dragbike, formerly AMA Prostar, ceased operations.  The world-record holder, who normally only worries about how to make his motorcycle go even quicker,  was worried when Top Fuel Motorcycle would compete again.
"I was sick when I heard the news," McBride said. "It took a while to sink in."
Five months later the future is again bright for Top Fuel.  An independent race was organized by MRE's Jay Regan and has received support from several companies within the industry.
McBride relishes the opportunity to compete alongside his old AMA colleagues at this weekend's Manufactures Cup, Nov. 12-14, from Valdosta, Ga. 
"I can't even put into words just how excited I am to race this weekend. It's going to be awesome to get back on the bike," McBride said.  "We worked our butts off to make sure the motorcycle is better than ever."
Import Top Fuel riders Geoff Pollard, Korry Hogan and Chris Hand are expected to enter, as well as some nitro Harley competitors.
"It should be one of the toughest races I've entered in quite some time," McBride said. "Four quality Top Fuel bikes and Ray Price's Harley team will make for an incredible show."
Perhaps no track has been as kind to McBride as South Georgia Motorsports Park.  The 10-time champion set the world record at 5.79 in Valdosta in March of 2008 and ran the unofficial quickest drag bike run of all-time at 5.74 in November 2008.  Will McBride's record-setting Valdosta runs continue this weekend?
"We always seem to run well in Valdosta because the track is so smooth and the weather is always perfect," McBride said. "With such a tough field, we will be focusing more on consistency than records, but 5.70s are definitely a possibility."
Qualifying in the professional categories will begin at 4:00 on Friday, Nov. 12.
The team thanked; Pingel Enterprise, Drag Specialties-Parts Unlimited, Red Line Synthetic Oil Corporation, K&N Air Filters and Web-Cam as well as his other sponsors.
Trim-Tex Drywall Products, Vance & Hines Motorsports, PR Factory Store, Muzzys Performance, Ferrea Valves, Kibblewhite, Precision Machine, World Wide Bearings, Vanson Leathers, Performance Machine, Belt Drives Ltd, Street & Competition, Simpson Race Products, Nitrous Express, APE, EK Chain, Arias Pistons, R/D Spring Corp, Autolite, MSD, Protect ALL, Whipple Industries, Cometic Gaskets, B&J Transmission, Carolina Cycle, L.A. Sleeve, PJ1, Mickey Thompson Tires, Valco, Goodridge, Carlisle Belts and Gates Belts.