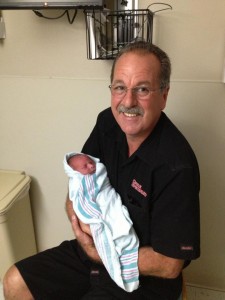 There's no place like home.
It's a cliché, but it's especially true for 11-time Top Fuel champion Larry "Spiderman" McBride, who has spent over 35 years traveling to race tracks all over the country.  After countless long drives, McBride is greatly looking forward to competing in front of his friends and family at his home track, Virginia Motorsports Park (VMP) in Petersburg, Va., at the East Coast Cup, June 21-23.
"I just love it," McBride said.  "We will be renting out a suite above the track for all of my friends and supporters. It's great to give back and give all the people that do so much for me an experience to remember."
McBride has plenty of other reasons to admire VMP. He's established numerous records there, including the quickest run for any electric vehicle with a 6.94 at 200 mph on the Lawless/OCC drag bike last year. In 2002, McBride shattered an AMA/Prostar record with an unforgettable 5.89. Currently, McBride's best run at the facility is a 5.80.
"We have a few new tricks up our sleeve.  We found a little extra power," McBride said.  "Our first priority is always to win the race, but I'd be lying if I didn't admit 5.70s would be nice."
The racetrack is just a short hour-and-a-half-commute from his Newport, News speed shop. It's a good time to be close to home as McBride just welcomed in his first grandson, Jaxton Martin. (7 pounds, 1 ounce)
"I can tell already he's going to be a Top Fuel racer,' laughed McBride.
McBride also received some unexpected help from an old friend and is welcoming veteran racer Barry Van Hook to his team as a sponsor.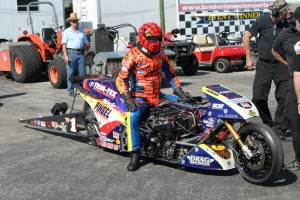 "We needed some crankshafts and Barry helped us out.  He's a great guy. He's very direct and honest. He has a real passion for Top Fuel," McBride said.  "He is also a great racer and we are looking forward to helping him when he gets ready to compete again."
Van Hook once owned Tony Lang's iconic Top Fuel bike and spent many years racing a Funny Bike.
McBride is expecting plenty of competition at VMP, including Chris Hand, Sam Wills, the debuting Dave Vantine, and a few Nitro Harleys.
"It should be a great weekend," McBride said.  "I'm certainly ready to smell some nitro again."
McBride thanked his primary sponsors; Pingel Enterprise, Trim-Tex Drywall Products, Drag Specialties-Parts Unlimited, Red Line Synthetic Oil Corporation, Final Swipe Merchant Services and Barry Van Hook.
McBride thanked associate sponsors; K&N Air Filters, Web-Cam, Vance & Hines Motorsports, PR Factory Store, Ferrea Valves, Kibblewhite, Precision Machine, World Wide Bearings, Vanson Leathers, Belt Drives Ltd, Simpson Race Products, Nitrous Express, APE, EK Chain, Arias Pistons, MSD, Protect ALL,  Cometic Gaskets, B&J Transmission, Carolina Cycle, L.A. Sleeve, PJ1, Mickey Thompson Tires, Valco, Goodridge, Carlisle Belts and Gates Belts.