Jason Ditto stood on the verge of a sportswriter's dream as the Hoosier staged his Suzuki Hayabusa for Sunday's Dennis Insurance Street ET final against second generation Ohio racer Ryan Robaugh. You see, Ditto won Street ET Saturday night at NHDRO's Motorcycle Madness at National Trail Raceway near Columbus, Ohio, and if he won again on Sunday, well, Ditto would repeat. Thus it was tense in the media suite as scribes wondered if this opportunity would ever present itself in their careers again, no matter how long they delayed retirement. When Ditto nailed an .020 light (vs. Robaugh's .063), all held their breath for the next 9 and a half seconds—"Don't screw this up!" everyone thought, some muttering under their breath. And there it was, the winlight they all dreamt of! Ditto did it again.
Joining Ditto as a Saturday winner was all-time veteran champion of the world Bruce Sauer. Back in the AMA/Prostar days, doubling at events and collecting obelisks at the end of the year was commonplace for Kawasaki campaigner Sauer. A serious Super Comp car crash years ago set him way back, requiring lengthy physical therapy and many wondered if they'd ever see the National Trail native in the winners circle—or even racing—again. But with the pain of recovery far behind him now, Sauer took Saturday's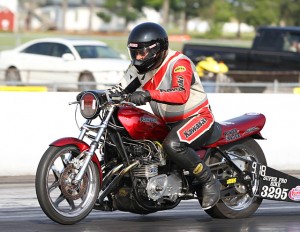 G&G Metal Spinners Pro ET win on the same old school, Power-By-Sauer KZ1 he's been racing and collecting money with for decades. Fisher Body Shop team member Brian Selner beat Darell Carmichael in Sunday's Pro ET race.
Kentucky racer Ron Arnold made it to the Tsukigi Racing Streetfighter winners circle through hell and high water. Only a week after gall bladder surgery, Arnold was still extremely tender. He was racing Danny Miller in an early round when Miller grabbed a handful of front brake at an inopportune time, washing his front tire out and sending him and the bike into high speed slides. Arnold was looking over his shoulder at the crash when he noticed Miller's bike was spinning right towards him and gaining fast. "I realized it was gonna hit me if I didn't get outta there!" Arnold twisted the throttle of his Fun For All Motorsports Suzuki GSXR and sped away from the carnage. He later beat veteran racer and engine builder Dave Page in the final.
Bradley Shellhaas won NHDRO Super Comp over Indy winner Dalton Markham. Turns out that Shellhaas' .001 reaction time was difficult for Markham—or anyone—to overcome. Tennessean Quinn Orand scored an easy Catalyst Racing Composites Crazy 8s win when Wisconsin racer Chris Panko redlit. And legal counselor to the racing world, Kenny Schwartz, made the trip from St. Louis pay off with a Hornish Brothers Top Gas win over Chad Otts—a battle of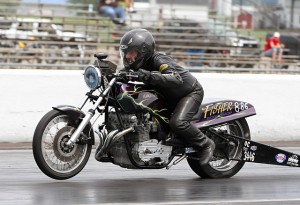 index racing superstars if there ever was one. Schwartz's win was doubly sweet for him as he took it on a holeshot.
Schnitz Racing Pro Comp boiled down to another Keith Lynn vs. Mark Paquette all-Funnybike final. Once again, multi-time IDBA and Prostar champ Lynn was running consistent, but Michigan surgical instruments sharpener Paquette was balls-out. His 4.09 was the runaway #1 qualifier, and he matched the number in the final for his second straight win.
Also scoring his second straight was McIntosh Machine & Fabrication Pro Street racer Doug Gall. No longer a longshot, Ohioan Gall is the star of the 2013 season. He faced surprise finalist Shannon Maylee after Maylee took out defending class champ Bud Yoder and Ronnie Mitchell's "Rizzo" in the semi. Gall broke his chain crossing the stripe, tearing up a chunk of his bike and preventing his signature celebratory circle burnouts.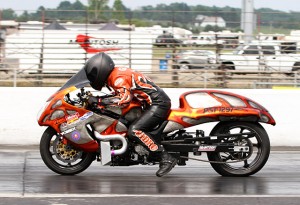 Port-Tech Grudge Racing was a latenight lively affair, including Michigan vs. Ohio match-ups. Even NHDRO CEO Brian Welch got into the game, taking a win over local loudmouth "Tiger." James "Crow" Teasley redeemed an Indy loss by his son Cameron, taking a win back from Indy racer Justin Doucet. Puerto Rico racer Chuito flew in to take laps on NHDRO's MSP-built, supercharged "Fugitive."
And Ohio's hottest bikini models started Saturday evening off with that wet and wild, Twinkie-gobblin' show you just can't get anywhere else.
The NHDRO returns to action on July 12-14 at Lucas Oil Raceway in Clermont, Indiana.
Find out more about the NHDRO at http://www.nhdroracing.com/
This report was prepared by Tim Hailey. Photos are for editorial use only. Enjoy everything there is to read, see and watch about motorcycle drag racing and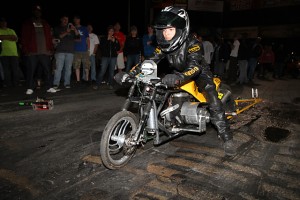 more at http://www.eatmyink.com
-end-
High-res images for editorial use are available by e-mailing timhailey@earthlink.net