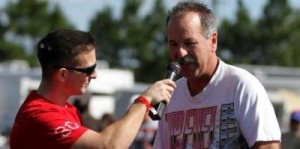 Top Fuel legend Larry "Spiderman" McBride regrets to inform his fans he will not attend the upcoming NHDRO/Manufacturers Cup event from Indianapolis, Ind., Aug 17-19, due to scheduling conflicts.
After a very successful and popular showing at last year's Norwalk, Ohio, Night Under Fire, Summit Motorsports owner Bill Bader immediately booked the world's quickest motorcycle drag racer for this year's Night Under Fire, Aug. 11th.  The NHDRO/Manufacturers Cup Indy event was not announced until earlier this year and, despite a concerted attempt to participate in both events, the 10-time champion says it's not possible.
"I wish we could be at the NHDRO/Manufacturers Cup. It's just too much for us to come home, overhaul the bike and be in Indy five days later," said McBride, who is based in Newport News, Va. "I hope that despite us not being there, all of the Top Fuel fans show up and support this race.  There will be a lot of great motorcycles there."
McBride also hopes to see plenty of Top Fuel Motorcycle fanatics in Norwalk, Aug. 11, where over 50,000 spectators are expected.
"It was total craziness last year.  They parked me right next to John Force and Jim Head," McBride said.  "It's an amazing show and I really want to do my part to help make it entertaining. With over 50,000 people in the stands, I have a great opportunity to give my sponsors a lot of exposure. I hope to see everyone there."
As for the rest of the season, McBride will participate in Bristol, Tenn., Dragway's Thunder Valley Mayhem on Sept. 22nd and the Fall Manufacturers Cup in Valdosta, Ga., Nov. 9-11.
"The end of the season should be very exciting," said McBride, who holds the world record for elapsed-time on a motorcycle at 5.79.  "I'd like to take a shot at lowering our record."
McBride thanked sponsors; Pingel Enterprise, Trim-Tex Drywall Products, Drag Specialties-Parts Unlimited, Red Line Synthetic Oil Corporation, K&N Air Filters and Web-Cam as well as his other sponsors.
Vance & Hines Motorsports, PR Factory Store, Muzzys Performance, Ferrea Valves, Kibblewhite, Precision Machine, World Wide Bearings, Vanson Leathers, Performance Machine, Belt Drives Ltd, Street & Competition, Simpson Race Products, Nitrous Express, APE, EK Chain, Arias Pistons, R/D Spring Corp, Autolite, MSD, Protect ALL, Whipple Industries, Cometic Gaskets, B&J Transmission, Carolina Cycle, L.A. Sleeve, PJ1, Mickey Thompson Tires, Valco, Goodridge, Carlisle Belts and Gates Belts.
Visit The Trim-Tex Website