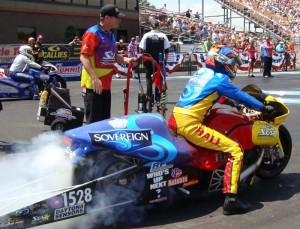 The Sovereign-Star Racing Pro Stock Motorcycle team expects their hard work to pay off this weekend at the 33rd annual Mopar Mile-High NHRA Nationals at Bandimere Speedway in Denver, Colo.
Star Racing owner, George Bryce, and his crew have been working long hours during the short week and a half break between back-to-back races to ensure that they get the best performance possible out of their two S&S-powered XB12R Buells.
"We've changed the engine tune dramatically because there's typically 15 percent less oxygen at the Mile-High Nationals. The engine would be getting too much fuel the way it was, so we have to change the tuning to get the air/fuel ratio correct. There's a proper air/fuel ratio at every altitude and we have to adjust the fuel injection to get the best power," Bryce said.
After a weekend of improvement at the Summit Racing Equipment NHRA Nationals in Norwalk, Ohio, the team's racers, Scotty Pollacheck and John Hall, are looking forward to this weekend's competition in Denver, despite the added challenge of the high altitude.
"I'm excited. I like Denver. I like the racetrack," Pollacheck said. "It's gonna be interesting to see how much different it is on the Buell racing at the high altitude. I'm used to racing the electric bike (KillaCycle) there because that's where it's from, and it's probably one of the few things that goes faster there because the altitude doesn't really affect it like it does the gas-powered bikes."
Hall said, "I gained a little momentum in Ohio as far as qualifying and grabbing another Round win, so I'm hoping to take that into this race in Denver. We still need to step it up as far as stringing rounds together, but I think we'll really have a shot at that in these next couple of weeks."
"In addition to the engine changes, we've also had to change the gearing on the bikes. Pro Stock Motorcycles don't run 190-something miles per hour at high altitude, they run 180-something, so we have to change the gearing. Since the bikes are gonna go slower, our drivers have to be patient and wait for the shift light to come on before they shift to the next gear," Bryce said.
The West Coast races pose an additional challenge for the Georgia-based team since they had to quickly prepare everything before packing up both bikes and their engines for the long trip across the U.S. The crew's truck and trailer, which left Tuesday for Denver, will not return to Americus, Ga., for two weeks after racing in both Denver and Sonoma, Calif.
The team's Sovereign partner, Jeno Rujp, will return to the track with them this weekend in Denver. After attending his first NHRA event in April at the Houston race, Rujp is making another two-week visit from Hungary to support the racers and crew.
"We're excited about Jeno coming to the next two races in Denver and Sonoma," Bryce said. "It'll be great for him to see how much we've improved as a team since he's been here last in Atlanta. I think he'll be really surprised by the difference the altitude makes, too. "
"There's a little added pressure because you want to do a good job in front of Jeno," Pollacheck said. "It was fun the last couple of times he was out because he has a great camera and took some really awesome pictures for us. He would bring them back to the pit and we could see things about our runs that we wouldn't normally get to see. So, that was really helpful."
"We just have to keep concentrating on steady improvements," Hall said. "I'm sure Jeno will be able to see the progress we've made throughout the season. It'll be a great weekend for us to show him first-hand what we've been working on and trying to perfect."
The 2012 Sovereign-Star Racing Team is a partnership between Georgia-based Star Racing and the Hungarian-based Sovereign Racing Team, the 2011 UEM European Pro Stock Bike Championship Team, owned by sugar distributor Jeno Rujp.
The Sovereign-Star Racing Team would like to thank the following sponsors: Sovereign, Star Racing, S&S Cycle, Daytona Sensors, Worldwide Bearings, CP Pistons, Permatex, Americus Motorsports Complex, Who's Up Next?, and Quality Tire.
#
Star Racing Fast Facts:
Based in Americus, Georgia
Six-time NHRA Pro Stock Motorcycle Championships
78 NHRA national event wins with nine different riders
Owned by George & Jackie Bryce
Sovereign Racing Team Fast Facts:
Based in Budapest, Hungary
2011 European UEM Championship Team with rider Jesper Thiel
Owned by Jeno Rujp
John Hall Fast Facts:
From: Hamden, Connecticut
Job: Real Estate Investor
Years in racing: 16
Scotty Pollacheck Fast Facts:
From: Medford, Oregon
Job: Owns "Quality Tire" store
Years in racing: 27