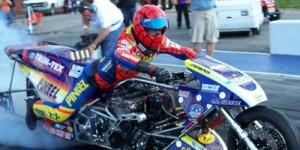 The world's quickest motorcycle drag racer Larry "Spiderman" McBride once said he would never use a parachute to help slow down his iconic, nitromethane-guzzling dragbike.
"I have to eat my words," laughed McBride.  "I have to apologize to Sam Wills (former Top Fuel Motorcycle racer and owner of parachute manufacturer Racing Innovations) for saying I would never use one."
McBride has been listening to many of his fellow high-speed motorcycle racers tout the benefits of an extra stopping apparatus for years, and now, The Spiderman will use a parachute for the first time at this weekend's Norwalk Night Under Fire from Summit Motorsports Park in Norwalk, Ohio, Aug. 11.
"I was skeptical at first, but after hearing guys like Ian King, Jay Upton and Tommy Grimes talk about how they love their parachutes, I started thinking," McBride said.  "When Jay Turner tells me he wouldn't go back to racing a Top Fuel bike without one, it really got my attention."
Throughout the past decade, McBride has been very vocal on his desire to keep his speeds under 220 mph.  The ten-time champion says the goal is to win races and record low elapsed-times, not to break speed records. The Spiderman admits runs over 240 mph can get a bit uncomfortable. Now McBride is optimistic the use of a parachute could change his philosophy."
"This is something that could give me a lot more confidence. There isn't any margin for error at 245 mph," McBride said.  "Norwalk is a great place to try it out because it is one of the shorter tracks we race at."
McBride's best run in Norwalk came in 2008 with a 5.90 at 244 mph.  Last year McBride ran 6.02, 6.09 and 6.14.  The Spiderman is aiming to record more 5-second runs in front of what is expected to a crowd of more than 50,000.
"It's an exciting race.  The stands are always packed.  Last year's event had one of the biggest crowds I've ever raced in front of.  We will go through over 2,000 hero cards," McBride said.  "They run the race for nearly 24 straight hours.  If you have never checked out this event, I highly recommend coming out."
McBride will make three passes with the first being on Saturday afternoon.
McBride thanked sponsors; Pingel Enterprise, Trim-Tex Drywall Products, Drag Specialties-Parts Unlimited, Red Line Synthetic Oil Corporation, K&N Air Filters and Web-Cam as well as his other sponsors.
Vance & Hines Motorsports, PR Factory Store, Muzzys Performance, Ferrea Valves, Kibblewhite, Precision Machine, World Wide Bearings, Vanson Leathers, Performance Machine, Belt Drives Ltd, Street & Competition, Simpson Race Products, Nitrous Express, APE, EK Chain, Arias Pistons, R/D Spring Corp, Autolite, MSD, Protect ALL, Whipple Industries, Cometic Gaskets, B&J Transmission, Carolina Cycle, L.A. Sleeve, PJ1, Mickey Thompson Tires, Valco, Goodridge, Carlisle Belts and Gates Belts.