When MIROCK motorcycle drag racing booked Top Fuel superstars Larry "Spiderman" McBride and Dave Vantine for a three-event match race series in 2014, the idea was to put on the best show possible for the fans.
After the penultimate nitro act at the Orient Express U.S. Nationals from Atco, N.J., Sept. 5-7, the consensus among enthusiasts is "mission accomplished."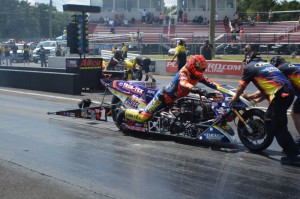 Dragbike racing's only side-by-side five-second found reason for optimism upon arrival and inspection of Atco's new racing surface.
"They did a beautiful job repaving. It's smoother than it has ever been," said McBride, who has over 30 years of experience at the venue but has not raced there since 2009. "It was great to be back. We have a lot of friends and memories here."
The pristine launch pad was trumped by Saturday's disadvantageous racing conditions, with temperatures in the 90s, high humidity and over 130 grains of water in the air.  McBride was dissatisfied following his solo test pass.
"It was really hot, the track was tough and we just missed the tune-up," McBride said.
Of course the veteran has reached a point in his career where even a far from flawless pass is still a crowd-pleaser. McBride's time slip read 5.96 at 199 mph.
In their first match race of the weekend the Spiderman tussled to gain traction and slowed to a 6.49, as his protégé reached the finish line first with a 6.17.
"We just could not seem to get the tire hooked up. It dropped a few holes and I shut it off early," McBride said.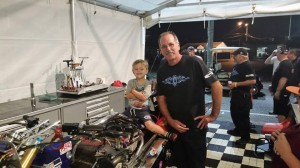 A storm moved in on Saturday night, forcing the cancellation of the match race scheduled for 8 PM.
"It's a shame because it cooled off and the track would have been a lot tighter," McBride said.
Overnight the weather drastically changed for the better. The humidity plunged and temperatures cooled off to the 70s. Favorable conditions were evident in the first run of the day, as McBride and Vantine nearly made side-by-side history again, with Spiderman clocking a 5.97 to Vantine's 6.04.
"Almost," McBride said with a smile.  "It was a great side-by-side pass. I'm glad we could do that for the fans."
McBride shut off 5.8 seconds into the run.
In the final run of the weekend McBride smoked the tire and slowed to a 6.88 at 199 mph as Vantine gained the win light and the overall victory for the event, taking two out of three from his mentor, with an impressive 6.04 at 233 mph.
"Dave has really come a long way. He is doing a fantastic job," McBride said. "It just goes to show that anybody can be beat."
Next up, the team will return to the site of their historic side-by-side five, Maryland International Raceway, Oct. 3-5, for the Fast by Gast Fall Nationals.
"We will be looking to do it again," McBride said. "I'm looking forward to it."
McBride thanked his primary sponsors; Pingel Enterprise, Trim-Tex Drywall Products, Drag Specialties-Parts Unlimited, Red Line Synthetic Oil Corporation and Final Swipe Merchant Services.

"Joe Koenig is one of the best guys I know.  He sells the best drywall products in the world."

"Wayne and Donna are like family to me. I make the joke that I'm their oldest and youngest child. Pingel has by far the best quality in America. They have the top of the line, best engineered products and they are all USA made."

"The Web Cam girls and Steve are the best. They are like family to me as well. Laurie Dunlap does so much to help the sport. They also make the best cams on the market."
McBride added – "Red Line is the best oil on the market or Alan Johnson would not be using it."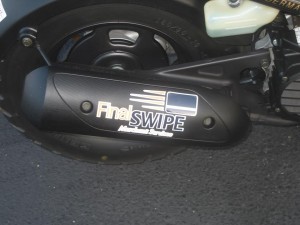 "Drag Specialties is a great company that I'm honored to be involved with. They are the best people to deal with."
"I really appreciate Final Swipe and Gary Baillio. He's a great man with a great company."
"There is not one sponsor that is not important." McBride thanked his associate sponsors and added, "Everybody is equally important. We couldn't do it without each one of these fine companies."

K&N Air Filters, Web-Cam, Vance & Hines Motorsports, PR Factory Store, Ferrea Valves, Kibblewhite, Precision Machine, World Wide Bearings, Vanson Leathers, Millennium Technologies, Belt Drives Ltd, Simpson Race Products, Nitrous Express, APE, EK Chain, Arias Pistons, MSD, Protect ALL, Cometic Gaskets, B&J Transmission, Carolina Cycle, L.A. Sleeve, PJ1, Mickey Thompson Tires, Valco, Goodridge, Carlisle Belts and Gates Belts.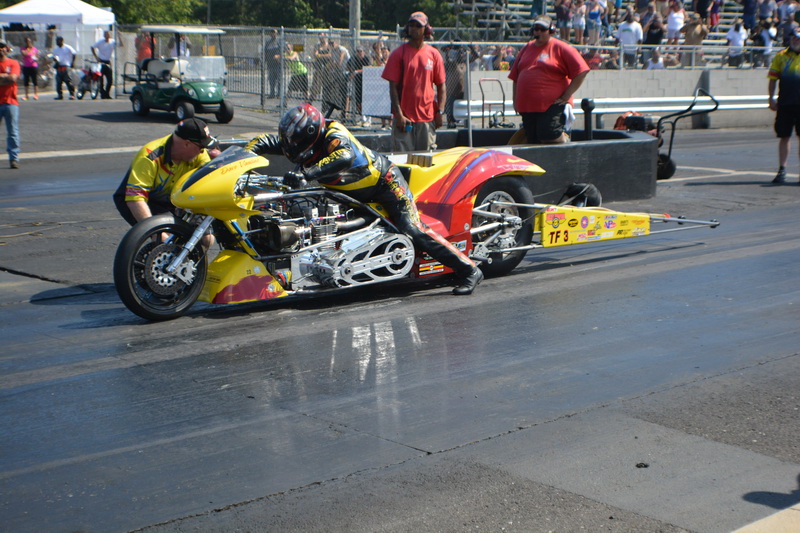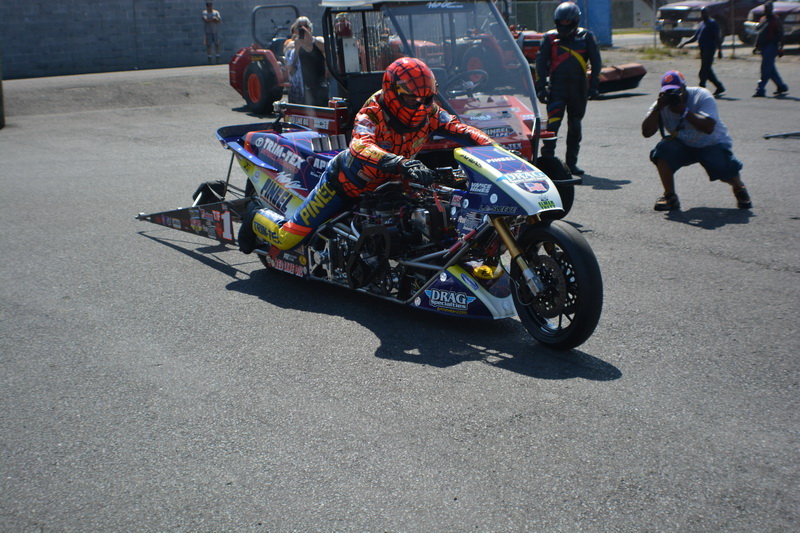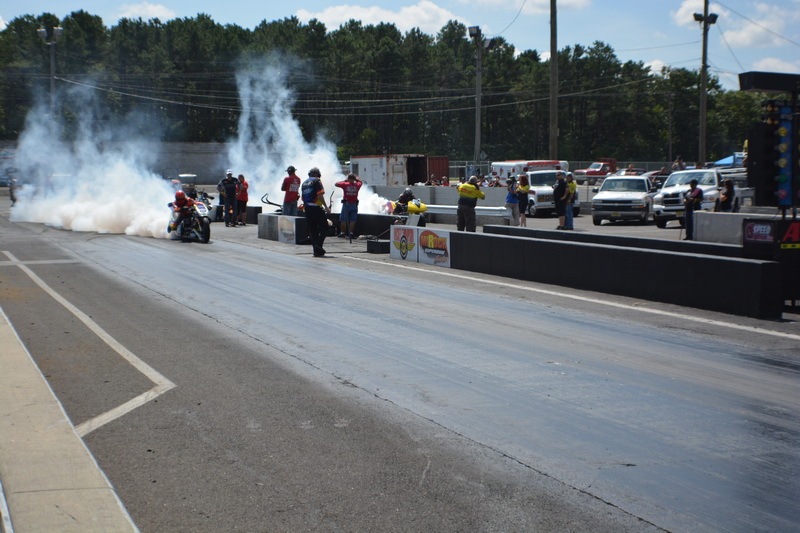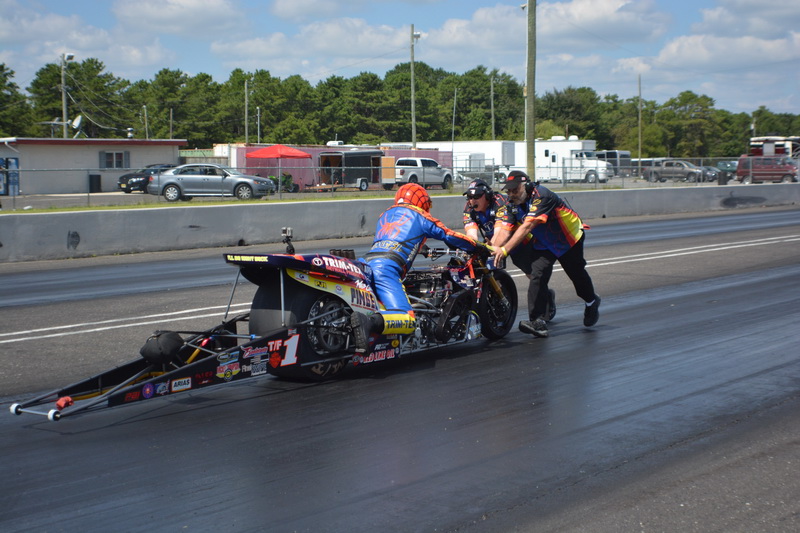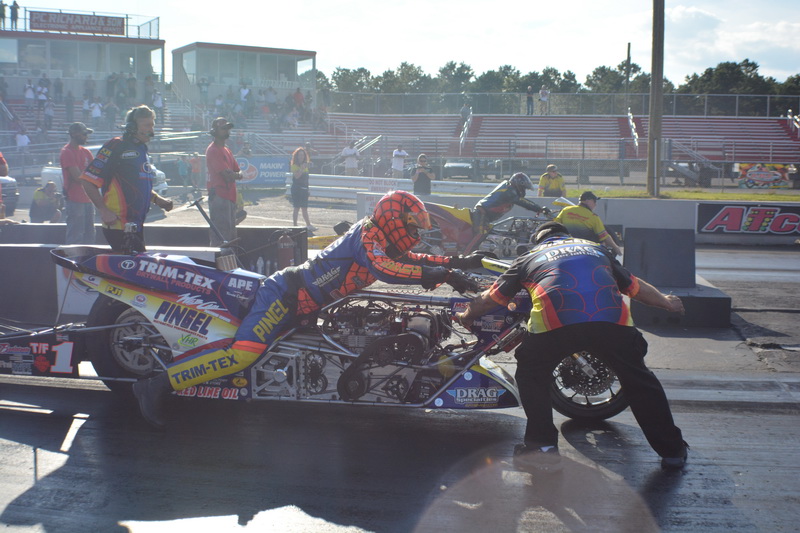 Photos courtesy  of Daryl H. Davison