Steve Torrence, Greg Anderson and Matt Smith all wrapped up their championship seasons in impressive fashion, racing to a world title and the event victory on Sunday at the season finale, the Auto Club NHRA Finals at Auto Club Raceway at Pomona.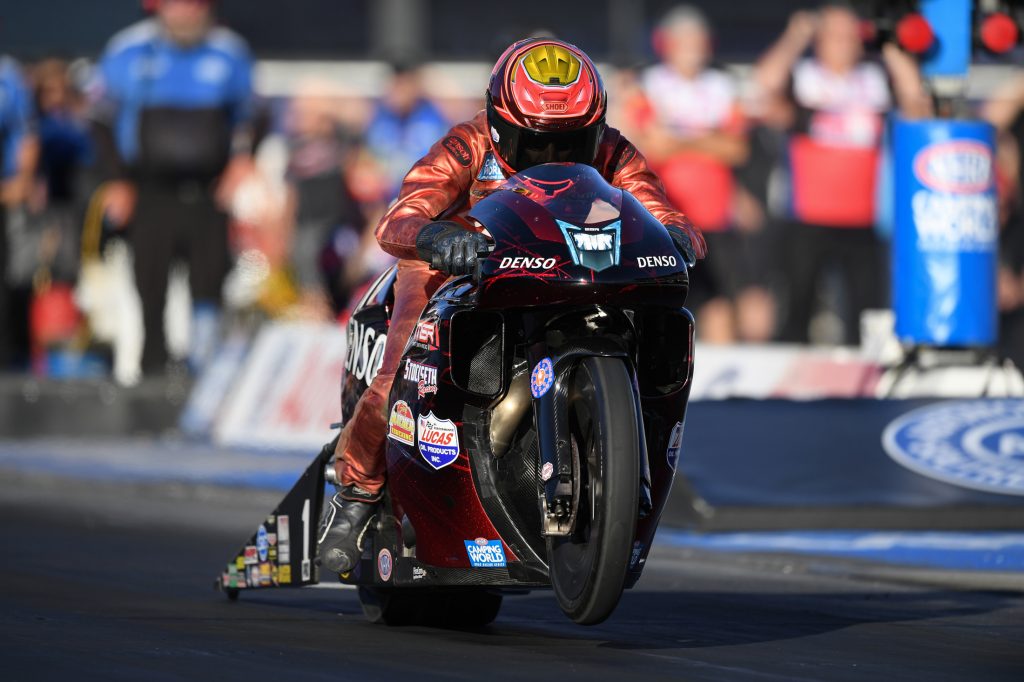 All four points leaders entering the race also claimed world titles, as Torrence clinched his fourth straight world title in Top Fuel, Anderson and Smith each won their fifth championship in Pro Stock and Pro Stock Motorcycle, respectively, and Ron Capps picked up his second career world title in Funny Car.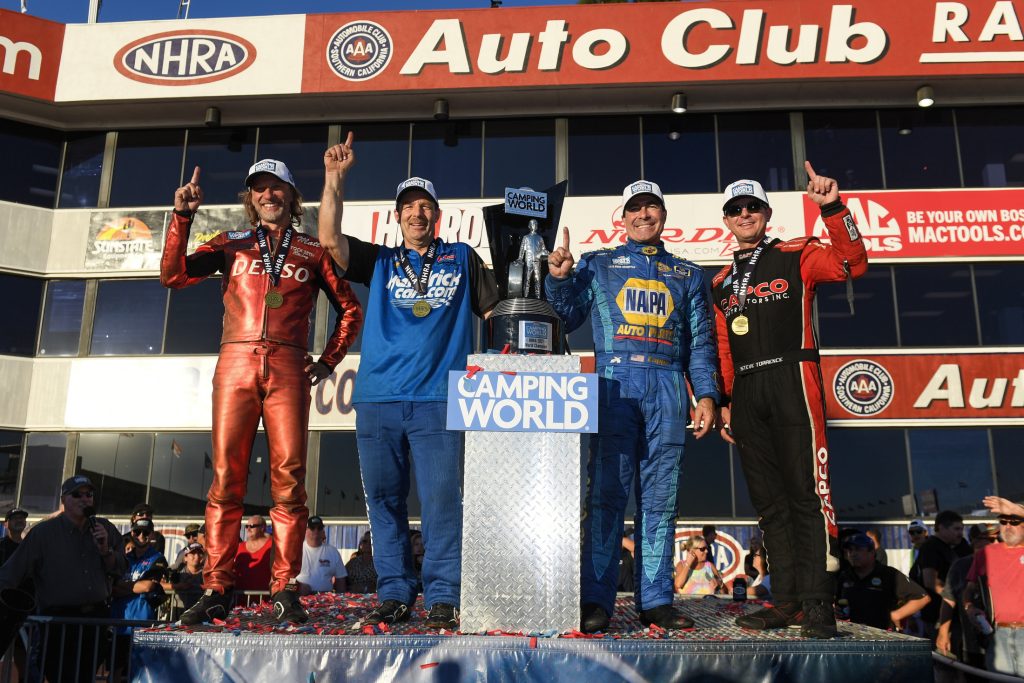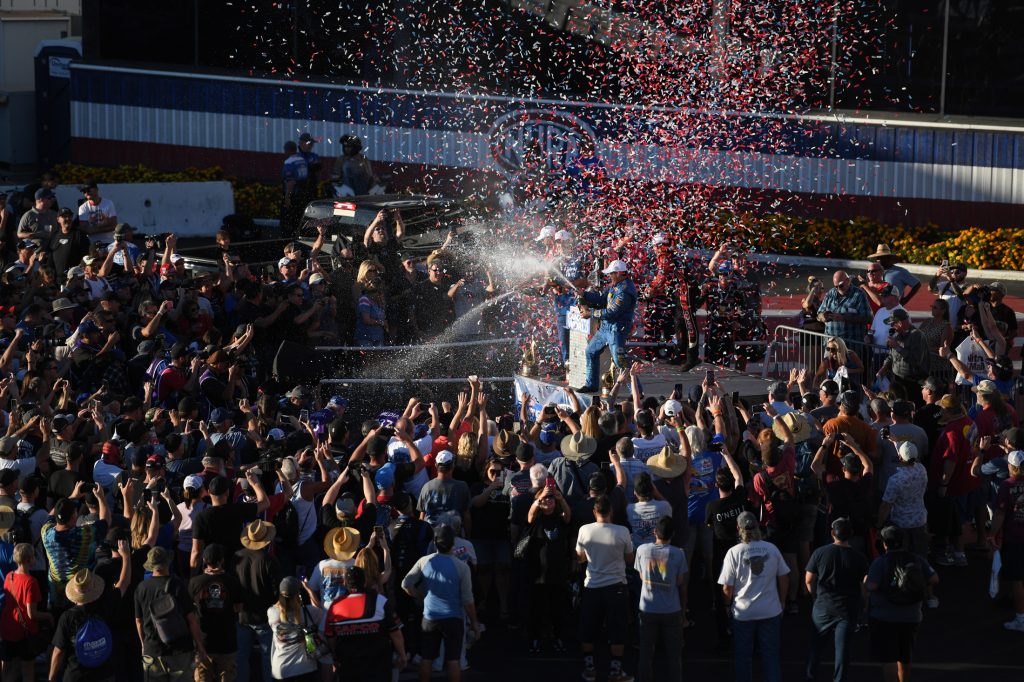 Smith wrapped up his second straight world championship and fifth overall by winning in the second round on his Denso Auto Parts/Stockseth/Matt Smith Racing EBR against three-time world champion Angelle Sampey. Smith was first off the starting line in the pivotal matchup to pull off the holeshot victory and replicated that in the final round, going 6.817 at 200.74 to beat Karen Stoffer on a holeshot. That gave Smith six victories during his championship season.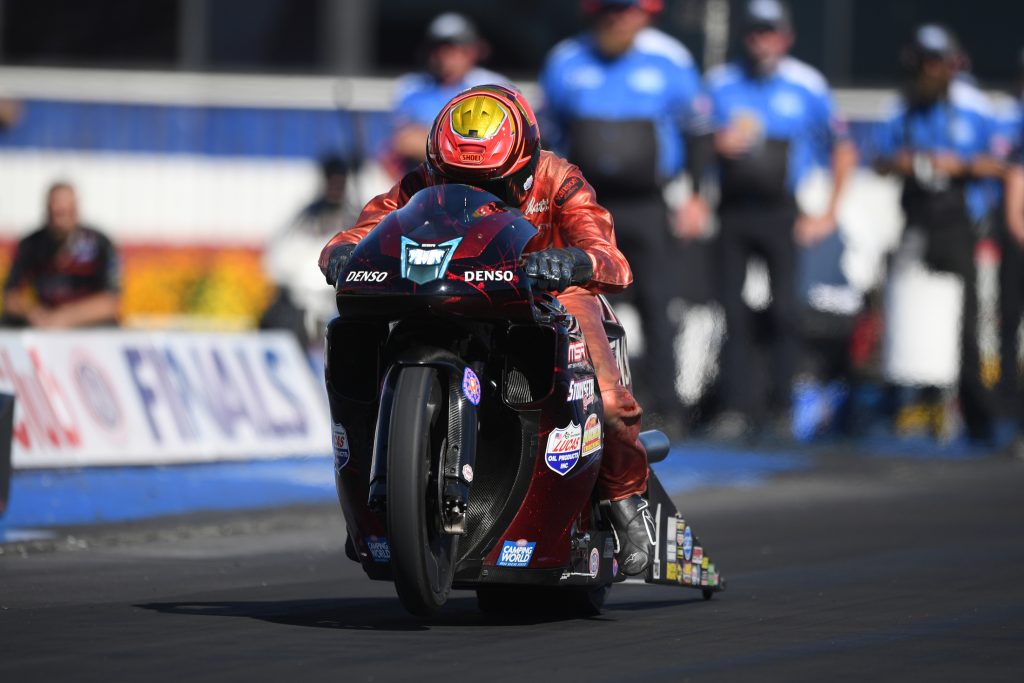 "The goal was to at least get three round wins today," Smith said. "When we beat Angelle and Steve (Johnson) lost right in front of us, I knew we were champs. Everything worked out for the best. I knew we were going to have a tough race with Karen, but I hit the Tree as hard as I could and had the best light of the weekend for me. We just made it work and performed well on the starting line."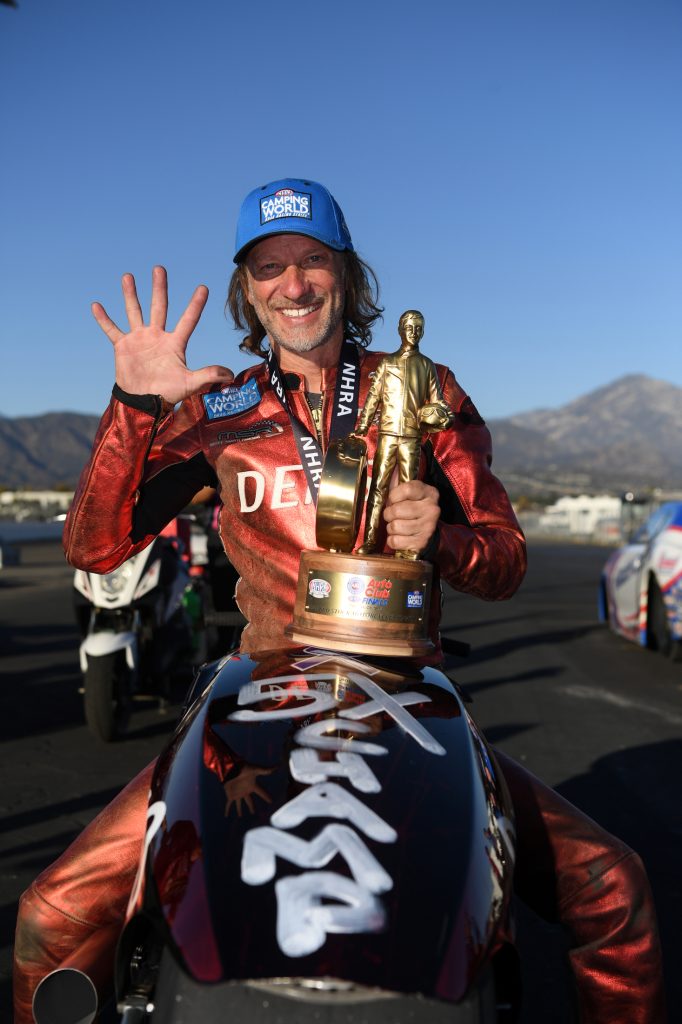 Stoffer, who also qualified No. 1 and made her first career 200-mph run this weekend, advanced to her third straight final to close the year, knocking off Kelly Clontz and Scotty Pollacheck. Smith, though, was brilliant the entire season, knocking off Ryan Oehler, Sampey and Eddie Krawiec on Sunday to reach the final round en route to his 32nd career win.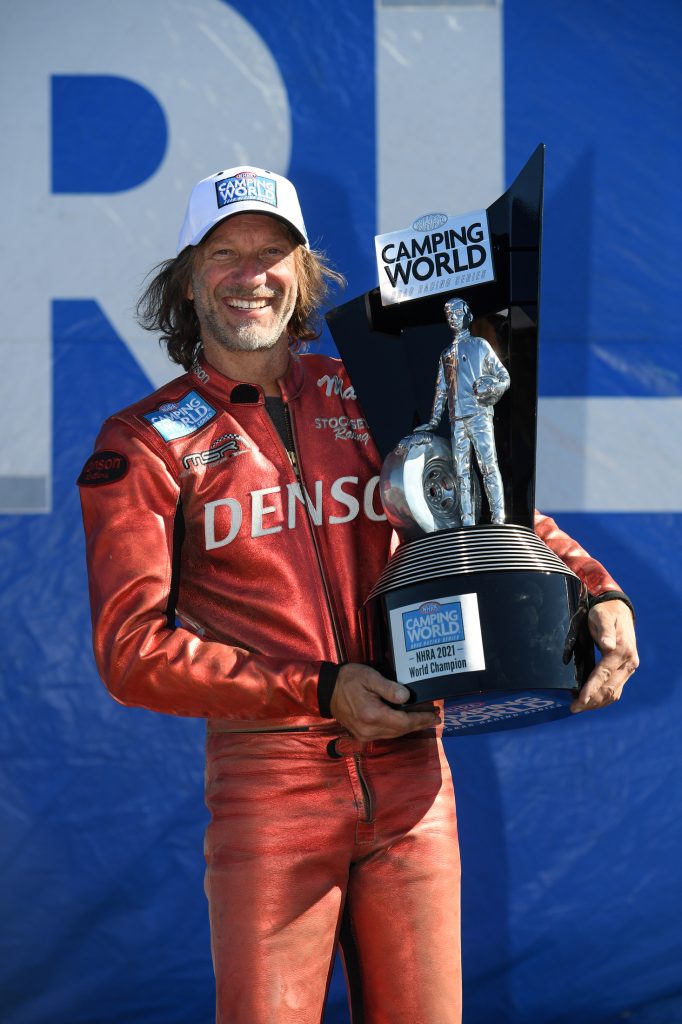 The 2022 NHRA Camping World Drag Racing Series begins Feb. 17-20 with the Lucas Oil NHRA Winternationals presented by ProtectTheHarvest.com at Auto Club Raceway at Pomona.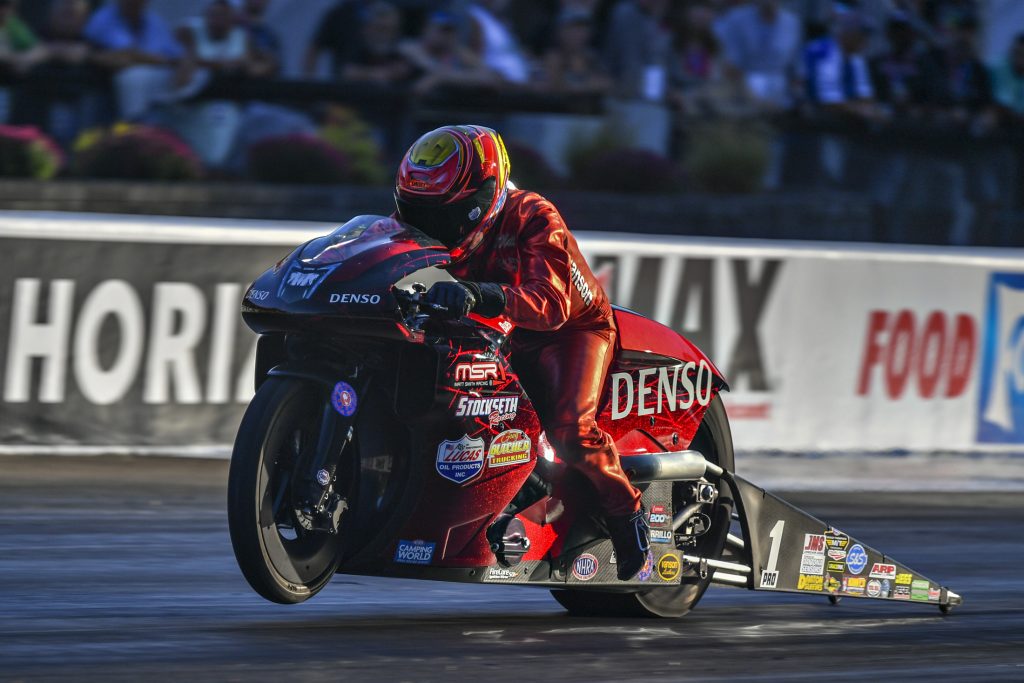 ROUND ONE — Scotty Pollacheck, 6.857, 197.80 def. Andrew Hines, Buell, 7.014, 173.52; Angelle Sampey, Suzuki, 6.812, 183.22 def. Angie Smith, Foul – Red Light; Steve Johnson, Suzuki, 6.801, 197.86 def. Freddie Camarena, Suzuki, 6.969, 195.39; Eddie Krawiec, Buell, 6.843, 199.64 def. Chris Bostick, Suzuki, Foul – Red Light; Matt Smith, 6.779, 201.85 def. Ryan Oehler, 7.030, 194.07; Karen Stoffer, Suzuki, 6.741, 200.26 def. Kelly Clontz, Suzuki, 9.257, 95.50;
QUARTERFINALS — Krawiec, 6.876, 199.32 def. Johnson, 6.859, 196.42; M. Smith, 6.808, 199.85 def. Sampey, 6.771, 198.52; Stoffer, 6.796, 198.12 def. Pollacheck, 6.933, 193.57;
SEMIFINALS — M. Smith, 6.818, 200.50 def. Krawiec, 6.882, 198.38; Stoffer, 6.780, 198.35 was unopposed;
FINAL — M. Smith, 6.817, 200.74 def. Stoffer, 6.766, 198.47.
Final Pro Stock Motorcycle Points
1. Matt Smith, 2,721; 2. Angelle Sampey, 2,590; 3. Steve Johnson, 2,586; 4. Eddie Krawiec, 2,511; 5. Karen Stoffer, 2,499; 6. Scotty Pollacheck, 2,407; 7. Angie Smith, 2,327; 8. Joey Gladstone, 2,267; 9. Andrew Hines, 2,259; 10. Ryan Oehler, 2,230.
There are more videos on the Cycledrag Youtube channel (please subscribe here) and the Cycledrag.com Facebook page (Please like here) and more will be coming soon. Check back daily.
To take advantage of some amazing discounts at Brock's Performance, click – http://brocksperformance.com?aff=12
USE cycledrag5 coupon code.