One of my most respected sports journalist mentors was once asked, "who do you root for?"
"The story," was his astute reply.
He'd appreciate what happened in the final qualifying session of the NHRA Finals from the Pomona, Ca. Fairplex.
NHRA Pro Stock Motorcycle veteran Karen Stoffer inserted major drama and intrigue into Sunday's NHRA battle for the 2021 title.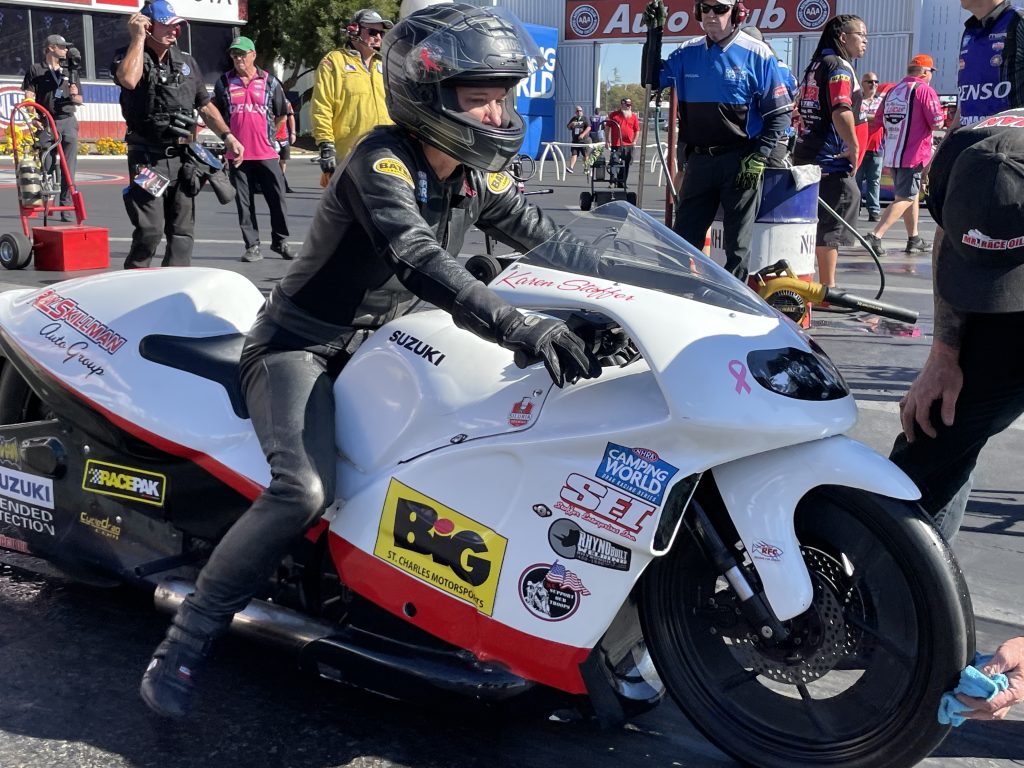 Reigning champion Matt Smith entered the event with a 20 point lead and performed magnificently in qualifying, holding the top spot with a 6.77 after two sessions.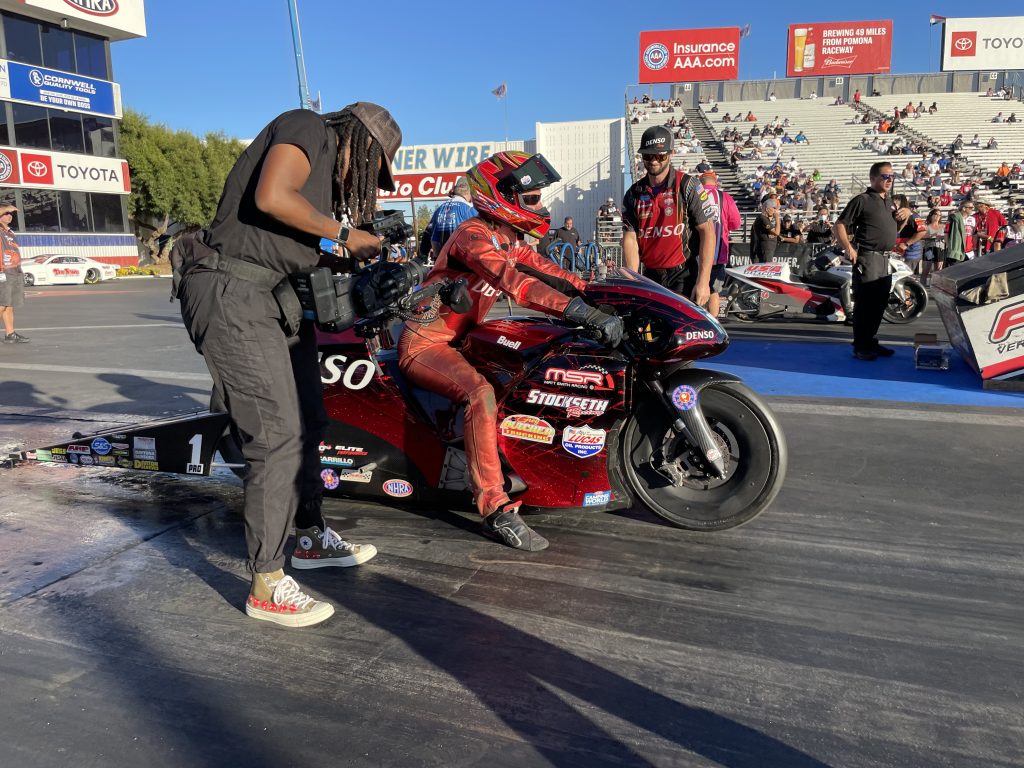 With only 12 bikes entered, the No. 1 qualifier would be in-line for a potential bye run in the semifinals. Smith's Vegas odds of coasting to title No. 5 were on the rise.
Then the unthinkable happened. No. 2 in the points Steve Johnson, spun hard in final qualifying and crossed the centerline, penalizing him 15 points. NHRA docks a racer 5 points for a first offense and the penalty goes up by 5 each time it happens. For Johnson, it was his third offense this season. It was a crushing blow to Johnson's title hopes. It put him more than one round behind Smith, meaning even if Johnson beat Smith in the final, he could lose the championship.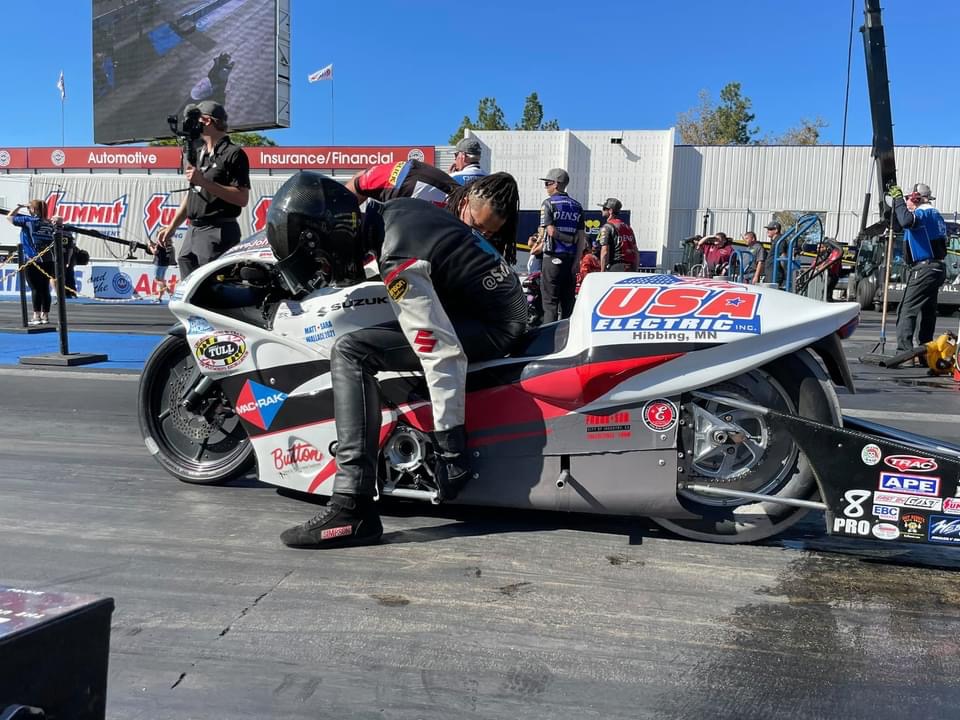 Smith's live odds for winning a title skyrocketed.
Enter Karen Stoffer and the curveball seemingly no one saw coming.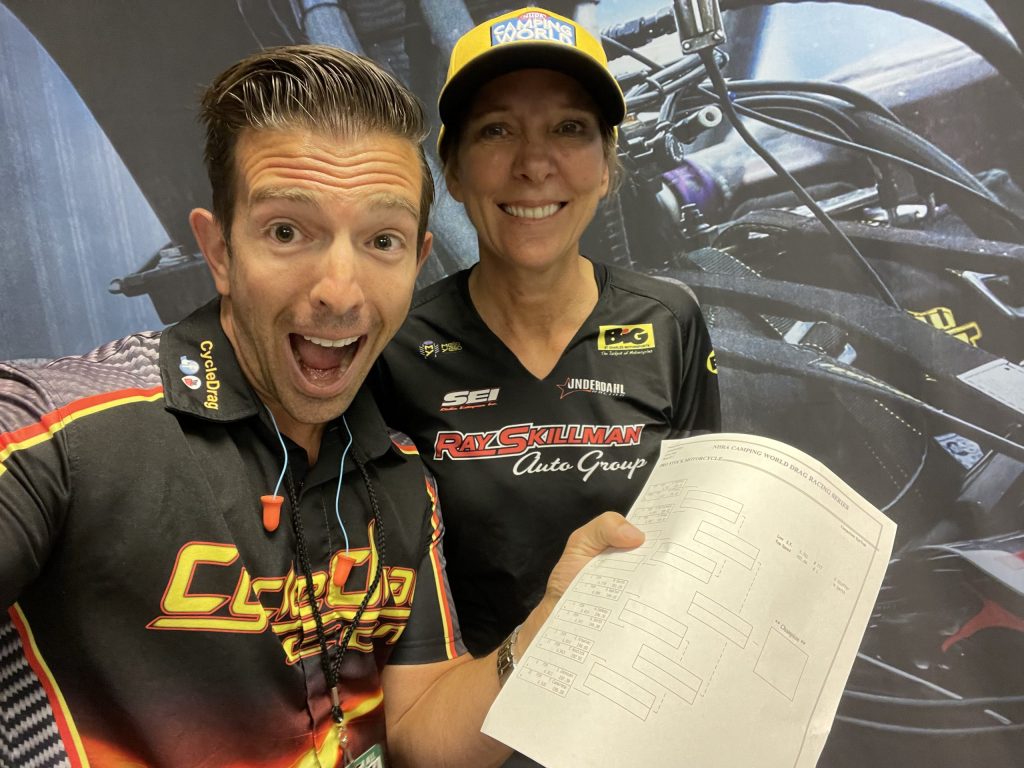 Racing without her teammate Jerry Savoie, Stoffer soared to the top spot with a 6.75 at 199 mph to collect her first No. 1 qualifying position of the season. More importantly, that single run changed the entire complexion of the championship chase.
Stoffer moved all three title contenders, Smith, Johnson and Angelle Sampey, to the bottom half of the ladder.
Stoffer's run did more good for Johnson's title hopes than his run did to hurt them.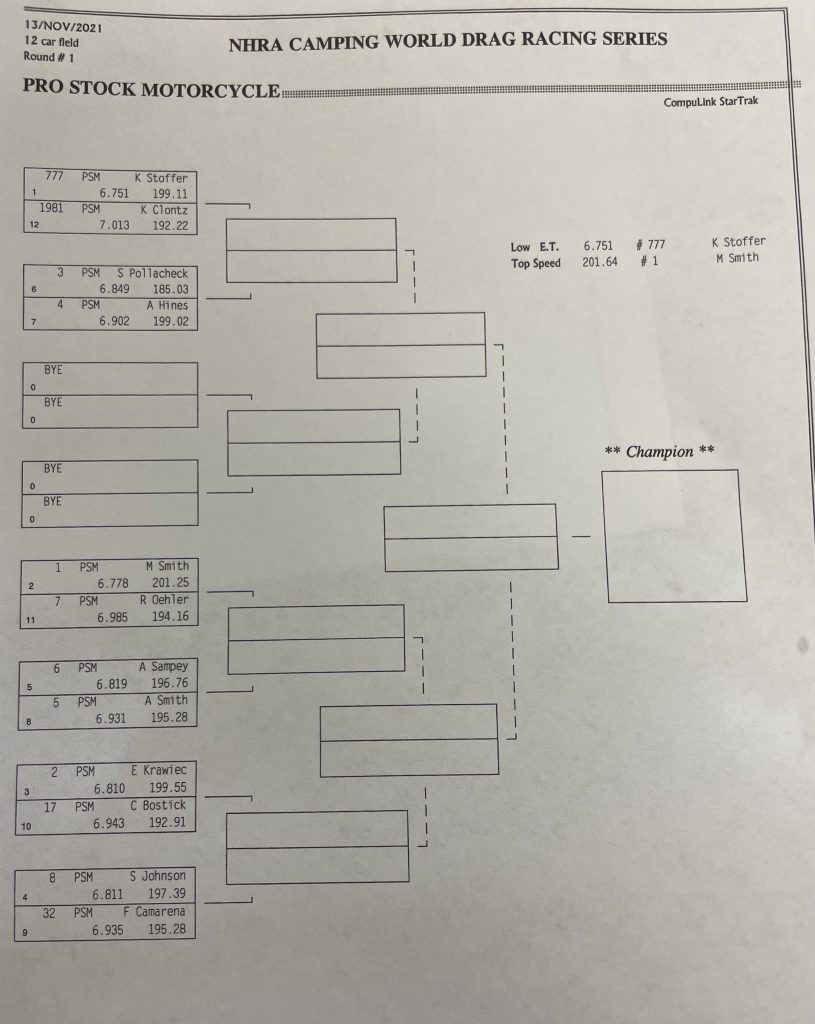 After advancing to back-to-back final rounds in Pro Stock Motorcycle, Stoffer will open eliminations against Kelly Clontz as she looks to finish off her 2021 campaign on a strong note.
"The job is to turn on the win light and we want to do that four times tomorrow," Stoffer said. "We've got the bike to do it and that was a good pass. We nearly squeaked out that 200 (mph) run, but we're really excited. My job is to go ride the best I can and try to turn that win light on."
Stoffer's run bumped Smith to second, as the points leader and defending world champ went 6.778 at 201.25. Eddie Krawiec's 6.810 at 199.55 put him third, while championship contenders Johnson and Sampey followed in fourth and fifth, respectively. Smith will take a 41-point lead over Sampey into raceday and faces Ryan Oehler in the first round. He could potentially face Sampey in the second round and Johnson, who is 45 points out of first, in the semifinals.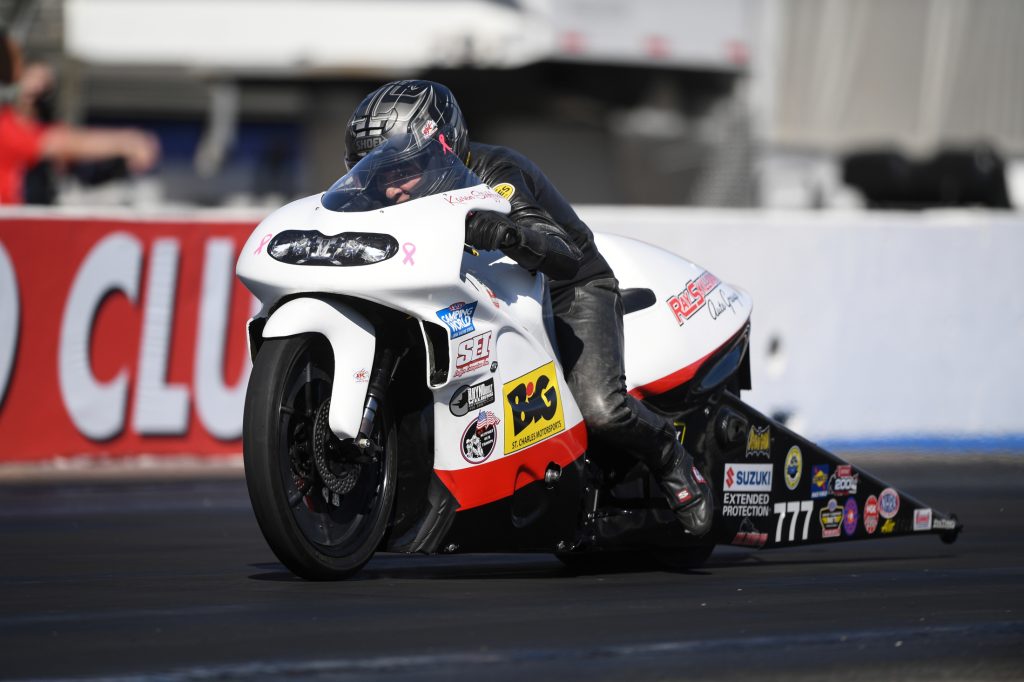 As for Sampey, she too is in the driver's seat with a potential opportunity to defeat Smith in round No. 2.
There are many scenarios. What we know is if Smith reaches the final, he will clinch the title. If Johnson wins the race he will win the title and the same holds true for Sampey.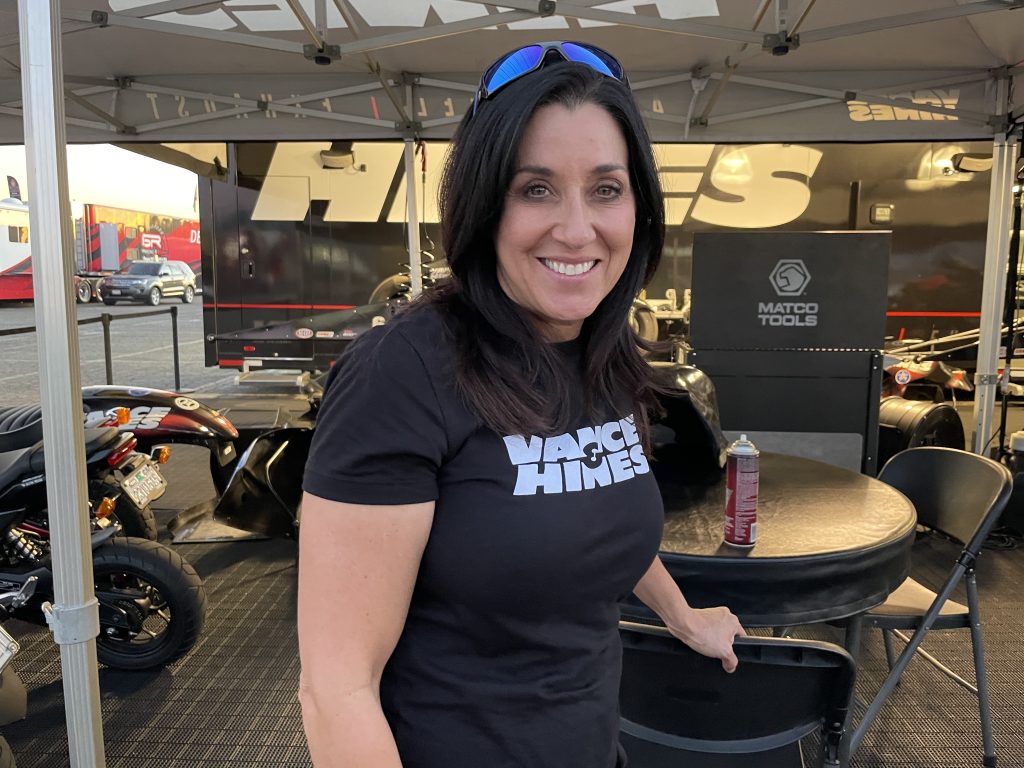 Get your popcorn out and get ready for a show!
Eliminations for the Auto Club NHRA Finals at Auto Club Raceway at Pomona begin at 10 a.m. PT on Sunday.
1. Karen Stoffer, Suzuki, 6.751, 199.11 vs. 12. Kelly Clontz, Suzuki, 7.013, 192.22; 2. Matt Smith, EBR, 6.778, 201.25 vs. 11. Ryan Oehler, EBR, 6.985, 194.16; 3. Eddie Krawiec, Buell, 6.810, 199.55 vs. 10. Chris Bostick, Suzuki, 6.943, 192.91; 4. Steve Johnson, Suzuki, 6.811, 197.39 vs. 9. Freddie Camarena, Suzuki, 6.935, 195.28; 5. Angelle Sampey, Suzuki, 6.819, 196.76 vs. 8. Angie Smith, EBR, 6.931, 195.28; 6. Scotty Pollacheck, EBR, 6.849, 185.03 vs. 7. Andrew Hines, Buell, 6.902, 199.02.
There are more videos on the Cycledrag Youtube channel (please subscribe here) and the Cycledrag.com Facebook page (Please like here) and more will be coming soon. Check back daily.
To take advantage of some amazing discounts at Brock's Performance, click – http://brocksperformance.com?aff=12
USE cycledrag5 coupon code.