Matt Smith and his Victory Motorcycles team showed championship mettle by bouncing back from a difficult first day of qualifying to snare a top-half spot for the AAA Insurance NHRA Midwest Nationals on Saturday at Gateway Motorsports Park.
Smith didn't make a full run in either qualifying session Friday but got in the Pro Stock Motorcycle field with a decent run in Saturday's Q3. Then, Smith made a stellar Q4 pass, 6.860 seconds at 195.36 mph, to grab the No. 5 qualifying spot.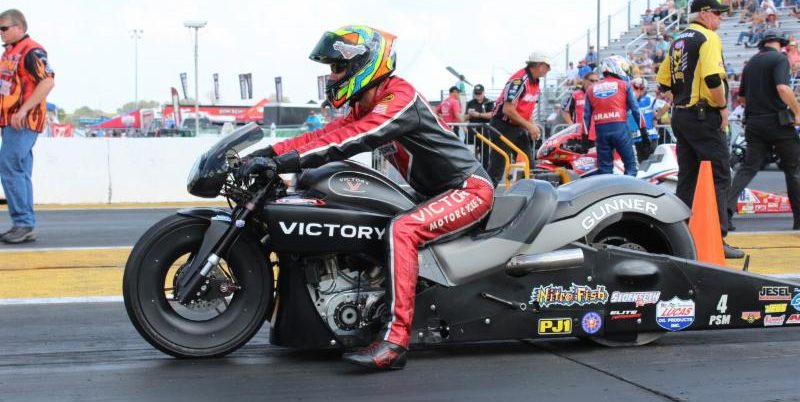 "We did learn a lot on that run," Smith said. "It's something I've been wanting to try for the last two or three races, but when you lose two qualifying passes it's hard to try stuff. We just needed to get into the show Q3 today and we did that, so that was a big move for us.
"We learned a lot there and really picked up. We've been struggling with incremental numbers and we woke it up. I think there's a little bit more to go with what we just did and we can go faster."
Smith faces rookie Melissa Surber in the first round of eliminations Sunday. Surber qualified No. 12 with a pass of 6.914 seconds at 193.74 mph, and while Smith likes his 6.86-second pass, he hopes to pick up even more Sunday.
"I think tomorrow, if the weather stays the way it is, we can go .84, .83," Smith said. "We can't get a .81 but we can get an .83, .84 and try to win this race."
Smith, ninth in the Countdown to the Championship, is still looking for his first victory of the season after having a luckless year. Friday was frustrating for Smith and the team, but they rebounded well and are looking forward to race day.
"Friday we had an electrical problem," Smith said. "I know that sounds like a common thing, but we either have an electrical thing or parts breakage. That's been our year. We know our Victory Gunner is way better than we've shown. When we do go down the track and nothing goes wrong or falls off the bike, we're normally pretty fast. We're top four or five.
"That's what happened in that run (in Q4). All in all, if we can get rid of all of these little problems that keep biting us, maybe we can win some rounds and have a shot at winning a race."
Pro Stock Motorcycle eliminations start at noon, Sunday, and will air live from 1 to 4 p.m. on FOX Sports 1. (All times listed in CT).