After a win in Round One of the Pro-Series Australian Drag Racing Championship, Multiple Australian Champion and current Record Holder Chris Matheson is hoping to back up his Nitro Slam winning performance.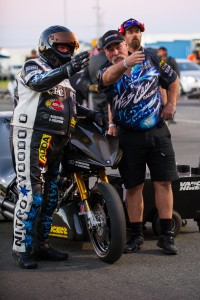 Matheson a Brisbane based Top Fuel Motorcycle racer is keen to pick up from where he left off earlier this year at the season opener and is aiming to score more points in his Championship chase for 2016.
This season is a short one, with only five meetings at three venues, we are the outsiders racing at the Western Australian lions lair, with no home track advantage. Last time we travelled to Perth, we took on 11 Perth locals, nearly all Nitro Harley's in a massive 13 field line up. Clearly, we are focusing on maintaining our good form, but it won't be easy.
Perth is the home of Nitro Harley's in Australia and a breeding ground of talented, tough racers. Legendary racers including Mark and Ian Ashelford, multiple championship wins former front runner Kim Stevens and more recently current Champion Mark Drew on his Nitro Harley.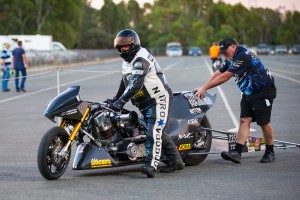 The last round saw new young blood into the ranks including Les Holden, Wayne McGuinness & Ben Stevens, which is good news for our sport. Whilst ever the younger guys come through, it's healthy for our sport. We need to continue to grow the sport.
Matheson said "his new ride "Jack Hammer" gets more comfortable with each outing. I'm confident with a few more meetings, we will step up to push the front runners and make Rounds count. I know from experience, if you want to chase a National Championship, you need to get through as many rounds of racing as you possibly can to accumulate valuable points. Top Qualifier and fastest MPH puts the icing on the cake with a win.
At the end of the season that's what counts, along the way the limits will be pushed and records will either be re-written or at least threatened as the top guys punch it out to take the points.