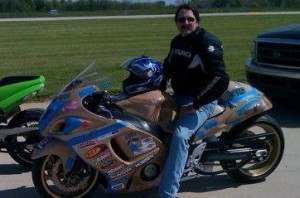 Mark E. Dotson lives in Hurricane, WV and has been drag racing since 2008. Mark started out at his local track on a 1998 Suzuki Katana and soon transitioned to a 2008 Suzuki Hayabusa.
Over the years Mark has raced in the AMA Dragbike series, Manufacturer's Cup and IHRA Super Summit Series. Mark still drag races at his local track, Kanawha Valley Motorsports Park, but his real passion is land speed racing and he has competed in the East Coast Timing Associations events from Maxton, NC and at their new location in Wilmington, OH since 2011.
He is a member of the ECTA 200mph Club and has earned the titles of The Fastest Street Legal Motorcycle in The Nation and The Fastest Nitrous Motorcycle in The Standing Mile in The World.
Mark Dotson Racing Sponsor Request –
235 or Bust!
 After earning the title of The Fastest Nitrous Bike in The Standing Mile in The World at the June 2013 meet at The Ohio Mile with a speed of 229mph, we have set our sights on a new goal to hit 235mph in the mile.
Would you like to have your name on the bike that continues to set Land Speed Records and a team that markets YOU at every opportunity?
These people put their faith and trust in our race team and you can too:
Alisyn Oil, Applied Racing Components, Brisk Racing, Brock's Performance, Canaan Printing, Casto's Motorcycle Sales, Catalyst Racing Composites, Dragbike.com, DW Photos, Fish's Customs, McIntosh Swing Arms, Montgomery Motorsports, Nitrous Express, Parton Signs, Pin Point Auto, Petron Plus, Port-Tech Heads, Schnitz Racing, Team APE, Tiger Racing, Two Wheel Werkz, Web Cam Racing Cams, Woolich Racing and Worldwide Bearings.
As we continue in the 2014 East Coast Timing Association's race season at the Ohio Mile, we are in need of your support.
In 2013, we broke a 9 year old record to become The Fastest Nitrous Bike in The Standing Mile in The World! We believe there are more records that can be had with great support from people just like you.
In 2012, A All Animal Control racing shattered an 8 year old record in the Modified Production Partial Streamlined 1350cc class when we clicked off a pass at 218.7mph. We also picked up 7 new Land Speed Records during the year.