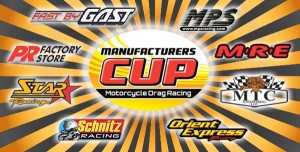 The Manufacturers Cup event will return to South Georgia Motorsports Park in Valdosta, Ga., for a fourth time on the weekend of April 13-15.
The release date of the spring race came later than expected due to a brief stalemate in negotiations between the track and the Cup Committee. It appears both sides have reached an agreement and are very optimistic for the future.
The Manufacturers Cup event was first organized by Jay Regan of MRE Racing in the summer of 2010 shortly after AMA Dragbike went out of business. Regan received support and investments from eight other drag bike-related companies and formed a group known as the "Nifty Nine."
Both of the fall events far exceeded most prognosticators expectations with about 600 entries and plentiful pro participation. As was expected, last season's spring race wasn't as successful as the season finale , but sources indicate the event did well enough to remain economically viable. The group is hoping this year's spring race will be more heavily-attended.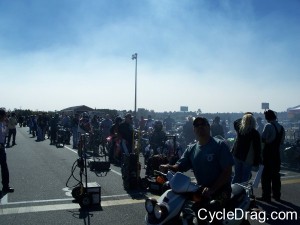 "Spring races can be tough because a lot of people are still putting their equipment back together and preparing to chase points in other sanctions," one Nifty Nine member said last year.
Many expect the spring race to continue to grow with longevity.
"Word of mouth really helps," Regan said.
The Cup Committee met in January to discuss the future of the series. Sources indicate that one major goal is to slowly expand the series to three or more races. NHDRO's Indy event in the summer has been talked about as a possible addition to the schedule. The Cup Committee also expects to hold another Cup Finals in November, but as for now the Spring Cup race is the only confirmed date for 2012.
In early January, Johnny Vickers of Hawaya Racing announced that Royal Purple has committed to continuing to back the Pro Dragster class. The unique Pro Drag class features nitro-burning, carburetor-ed, high-gear, V-twin motorcycles.
Also the world's quickest motorcycle drag racer, Larry "Spiderman" McBride confirmed that he will race his record-holding Top Fuel motorcycle at all of the Cup races this season.