In continuing its tradition of unrivaled racer support, Brock's Performance has posted $36,000 in contingencies for the MIROCK race series for 2012.  This is $4,000 more than Brock's Performance posted for the series last season and makes Brocks Performance one of the biggest contingency sponsors in the series.
"We are happy to continue our support of the MIROCK series and happy to announce that we are increasing our postings," said Brock Davidson. "Contingency postings allow us to show support for our racers and the sport of motorcycle drag racing in general.  We are lucky to be in a position to contribute in this fashion, and we are glad to do it."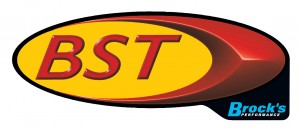 Brock's Performance is posting contingency across the board in ALL CLASSES for both their Performance Exhaust Systems and BST Carbon Fiber Wheels.
Here are the details:
To qualify for the Performance Exhaust contingency, the rider must have a Brock's Performance decal on both sides of the bike, and must have ANY Brock's Performance Exhaust on the bike with the Brock logo plate attached to the exhaust.  The contingency pays $150 for a win and $75 for a runner up in every class.
To qualify for the BST Wheel contingency, the rider must have BST/Brock decals on both sides of the bike.  The full contingency of $150/$75 is paid to racers with two BST wheels on the bike. Having only one wheel on the bike still qualifies for half of the payout.
"We have been supporting the MIROCK race series for five years now," continued Brock.  "They are an established, championship series and they showcase national-level competition.  Both MIR and Rockingham have a loyal following of racers and have proven that they care as much about the racers as we do."
About Brock's Performance: Brock's Performance leads the way in sportbike innovation for acceleration addicts. From exhaust systems to wheels, this championship-winning company designs, builds and sells more than 3000 products that make it easier and safer for racers and street riders to reach record-breaking results through a never-ending process of research, development and track testing. For more information about BST wheels and other Brock's Performance parts, go to www.BrocksPerformance.com.
Click Link below to view MIROCK Contingency Program:
http://www.mirockracing.com/contingency/
Click Link below to view 2011 MIROCK Contingency Postings:
http://www.mirockracing.com/contingency/12_mirock_contingency_postings.pdf