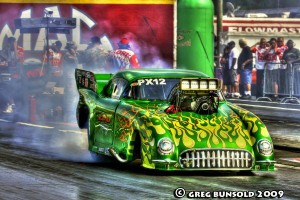 Longtime  motorcycle drag racer, Mac McAdams, recently announced some huge plans for the 2013 season on his Facebook page.
McAdams, who finished second in the MIROCK Pro Mod point series this year wrote, "Well after 20years on M/C racing we have decided to go Promod car racing! Lisa and myself are always up for a new challenge and this is our new one. We have purchased this great car from Bennie and it's a blown 53Vette. We have hired Camp Stanley to make all the tuning calls and my man Doug Dick will be doing all the motor work in house in our race shop. Derek Wisooker/Doug/Lisa/Robbie will all be a part of our team. Wish us luck in 2013!"
McAdams, of Harwood, Md., also announced that he plans to only compete locally in the Northeast Pro Mod Series while the team continues to learn the new operation.
That's not to says McAdams' days of two-wheel racing are over.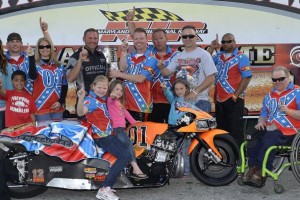 "I'm beyond excited over the new deal but I could never totally give up the bikes," McAdams said.  "I will still be at the MIR MIROCK races."
It could however be the end of McAdams' Pro Mod motorcycle days, but he still plans to keep his "Reaper" bracket bike.  That could be bad news for his fellow competitors, considering McAdams has been one of the most successful and consistent bracket racers in the MIROCK series over the past decade.  McAdams finished fourth in the 2012 MIROCK Top Sportsman category.
Cycledrag.com wishes McAdams the best in his new endeavor.