The wait has been long and trying for Lucas Oil Buell rider Hector Arana Jr., but the Pro Stock Motorcycle star doesn't have to wait in the cold and snow of his home state of New York any longer because the season-opening NHRA Gatornationals are slated for this weekend at Gainesville Raceway.
"I'm very excited, ecstatic," Arana said. "I love racing, and now I don't have to sit at home in the cold and wait for the season to come."



Arana is a bona-fide superstar in the Pro Stock Motorcycle class, winning 11 races and finishing in the top five in the final points standings in his five years of racing. But despite winning twice and finishing fifth in 2015, he isn't satisfied.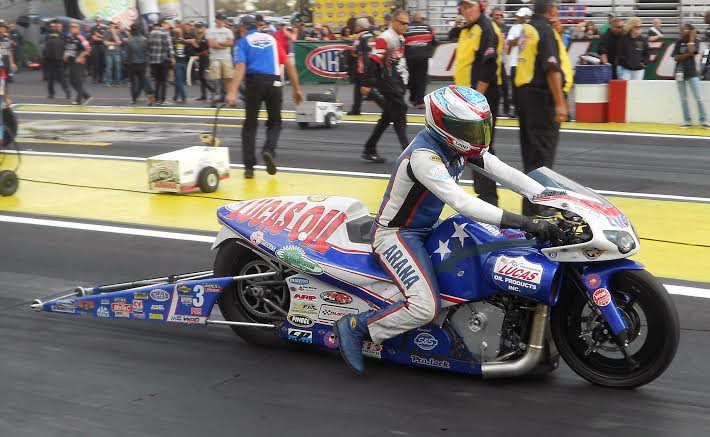 At the request of Lucas Oil co-founder Forrest Lucas, Team Arana added a crew chief over the winter, William Cavallo.
"I have a lot of big expectations for this year," Arana said. "We've got a lot of great things going on. Forrest Lucas wanted us to add some new help, and I told my dad, 'Let's look for someone who can really help us, rather than just getting another crew guy to turn some wrenches on the bike.' "
Arana was introduced to Cavallo by his future father-in-law, John Nobile, and after numerous conversations, Cavallo was hired to serve as crew chief. Cavallo has raced in Pro Stock car and Pro Extreme Motorcycle in IHRA, and Arana is confident he will help the Lucas Oil Pro Stock Motorcycle team.
"We know we have really good horsepower, but we were struggling leaving the starting line," Arana said. " Sometimes we'd get it, but for whatever reason in these last two years, we've struggled with that. We figured it would be a good move to hire a guy like William."
Arana holds the class record for speed, 199.88 mph set last year in Charlotte, and he hopes Cavallo can help translate that horsepower into better elapsed times.
That speed record could be in jeopardy in Gainesville, which is known as one of the quicker tracks on the schedule. Could Arana break the 200-mph barrier this weekend?
"The 200-mph barrier is always a possibility in Gainesville," Arana said. "But like I always say, you could be at the fastest track in the world, and if the weather's not there, it won't be. Ultimately, it'll come down to what the weather does. If it's there, we'll go for it and see what happens."
Lucas Oil veteran rider Hector Arana Sr. excited about start of 2016 season
Lucas Oil Buell rider Hector Arana Sr. has entered 273 Pro Stock Motorcycle races in his long career, but he still gets a charge when the NHRA Mello Yello Drag Racing Series season begins.
For the Pro Stock Motorcycle class, the 2016 season kicks off at the NHRA Gatornationals this weekend at Gainesville Raceway, and the 57-year-old couldn't be happier.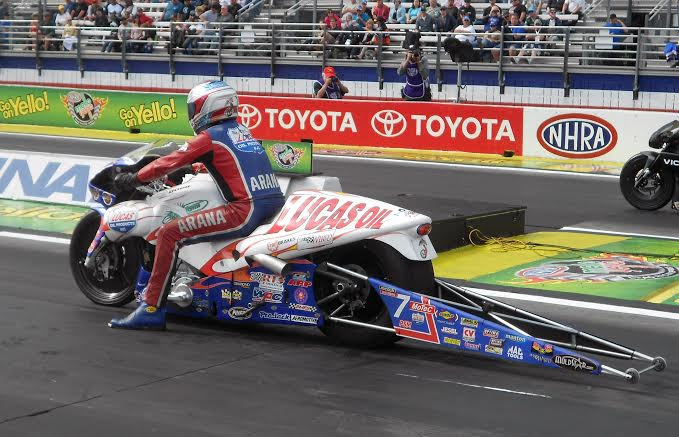 "Definitely, I'm pumped," Arana said. "I'm nervous, but it's always exciting, too. I also wish I had another month to get ready, but we'll go to Gainesville, work hard, stay focused, and try to have some fun. I'm looking forward to getting there."
Gainesville has started the Pro Stock Motorcycle season for a few years, and with a 16-race schedule, it's important to get off to a good start. Arana did that in 2009, winning in Gainesville before claiming the Pro Stock Motorcycle championship that season.
Arana has become a threat in the Pro Stock Motorcycle class, qualifying for the Countdown to the Championship playoffs in seven consecutive seasons, including 2015, when he won a race and finished eighth in the points standings.
He and his team spent the off-season preparing for 2016, using the extra month to fine-tune the Lucas Oil bikes. He tested this week in Valdosta, Ga., hoping to be among the quickest when the season begins in Gainesville this weekend.
Arana was born in Miami, so he'll have plenty of friends and family members in attendance.
"I'm looking forward to getting back to racing, especially the first one," Arana said. "Usually the first race is the hardest: The chassis goes through tech, the body goes through tech, and it's our hometown race, so we'll have a lot of family and friends. It's going to be hectic there."
Arana and the team are working on a new motorcycle, but that's still in development. In the meantime, new engines will power "old faithful," as Arana calls his current motorcycle.
"I hope the weather cooperates this weekend," Arana said. "But we will work hard and be ready for whatever happens."
Friday night qualifying will air from 9 to 10 p.m. ET on FOX Sports 1, with a second qualifying show from 6:30 to 7:30 p.m. ET Saturday. Race day eliminations will air live from 1 to 4 p.m. ET Sunday, also on FOX Sports 1.