There may not be a Pro Stock Motorcycle racer more excited for the season-opener than Victory Motorcycles Gunner rider Matt Smith.
The two-time champion made solid improvement in the off-season after his first year about the Victory Gunner, and he's ready to show the class what he's got when the season starts with the NHRA Gatornationals this weekend at Gainesville Raceway.
"We're excited," Smith said. "We worked really hard this winter trying to find some power. We worked with Elite Motorsports, and they helped us out a lot. We made some big gains over the winter, so I think it's really going to show when we get to Gainesville."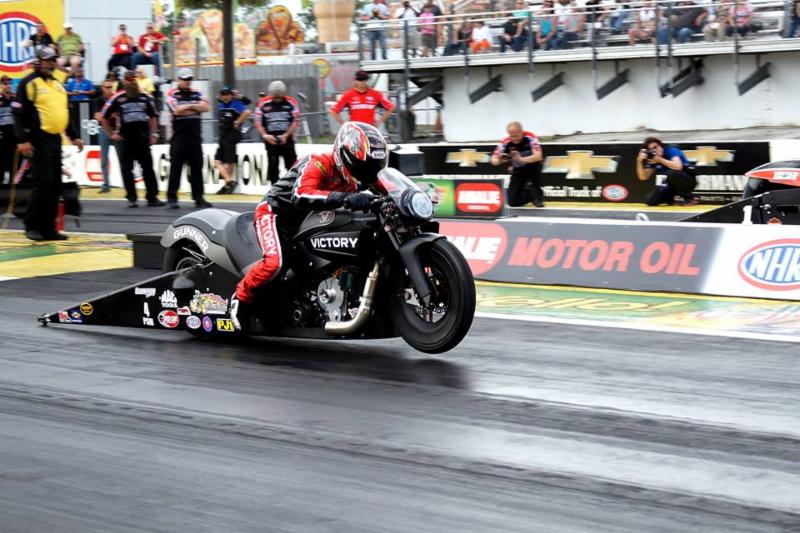 Smith raced to three final rounds and the No. 1 qualifier in Gainesville in 2015, developing a new engine and chassis along the way. Further work in the off-season has him and his Matt Smith Racing team primed to take a big step in 2016.
"We had a good test session a month ago, and we'll be testing again before the race," Smith said. "I'm sure those tests will be just as good because we got five more bullets done since then. We should be in good shape."
Smith finished fourth in the Pro Stock Motorcycle points standings last season, continuing an impressive streak. He has finished sixth or better in the final standings 10 years in a row and has been fourth or better in eight of the last nine seasons.
Smith would be a good candidate to break the elusive 200-mph barrier in Pro Stock Motorcycle, and Gainesville would be a good place to do it, but while elapsed times on the Victory Gunner are excellent, top-end speed isn't quite there with the current configuration.
"If I were the first one to do that, it would be awesome," Smith said. "I just don't know if that's going to be possible with our aero package that we have right now. We can run with most people e.t.-wise, but we might be giving up a couple miles per hour on the top end. That doesn't affect the e.t. that much, but it'll definitely affect the speed numbers."
Victory Motorcycles rider Angie Smith ready to step up in 2016
The 2016 NHRA Mello Yello Drag Racing Series season kicked off in February in Pomona, Calif., but the Pro Stock Motorcycle class has had to wait a month for its season to begin. The wait, however, is no longer for Victory Motorcycles rider Angie Smith, who will race in the NHRA Gatornationals this weekend at Gainesville Raceway.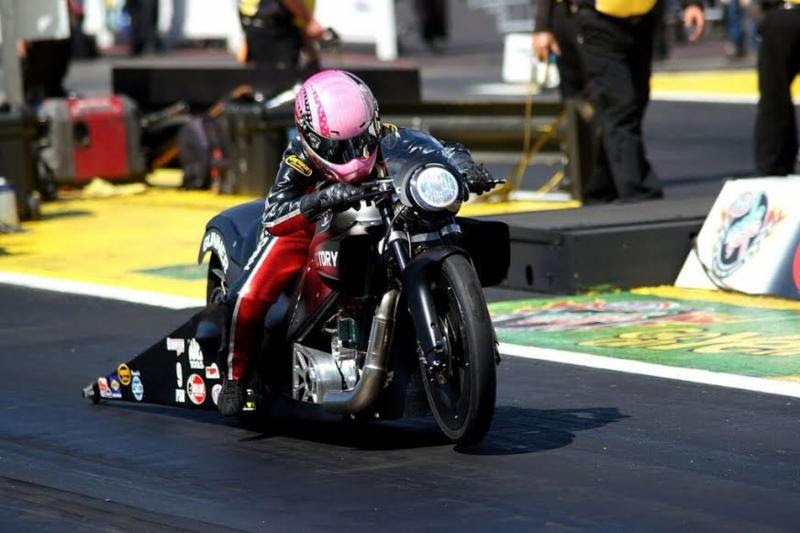 "We're excited to go, and we're ready," Smith said. "It's like Pomona for everybody else. We're ready to go."
Smith and her Matt Smith Racing team are especially pumped because off-season gains with their Victory Gunner should see her much improved over 2015.
"We did really well in testing," Smith said of their off-season work in Bradenton, Fla. "When you do really well in testing, that makes you want to go to the first race even more just to see how you stack up with everybody. We're very eager to get there."
Other teams may have made gains, too, but Smith is still encouraged by her team's testing results.
"It was actually better than expected," Smith said. "We went faster than we ran last year, so we've really improved our program."
Smith, who has a Pro Stock Motorcycle victory on her résumé, finished 13th last season as she and the team adapted to the new Victory Gunner, bu tshe got more comfortable aboard the new bike as the year went along, and she's ready for 2016.
However, Smith will make no predictions for Gainesville, starting with modest goals this weekend.
"Considering there are 26 bikes entered, obviously we just want to qualify," Smith said. "We want to go some rounds on Sunday. It's going to be a really, really tough field. There are so many players out there, some heavy hitters. Our goal is to put our two bikes in the top half of the field for qualifying.
"No. 1 would be phenomenal. Matt was No. 1 last year, so it's not out of the question, but we've got to do our thing, focus on ourselves, and do what we know to do. Hopefully, our testing results will parlay into Gainesville."
Friday night qualifying will air from 9 to 10 p.m. ET on FOX Sports 1, with a second qualifying show from 6:30 to 7:30 p.m. ET Saturday. Race day eliminations will air live from 1 to 4 p.m. ET Sunday, also on FOX Sports 1.