After more than four decades in the sport of dragbike racing and 17 championship titles won, one may question if Top Fuel Motorcycle legend Larry "Spiderman" McBride has the same zeal and enthusiasm he did as a younger man.
The answer? Absolutely.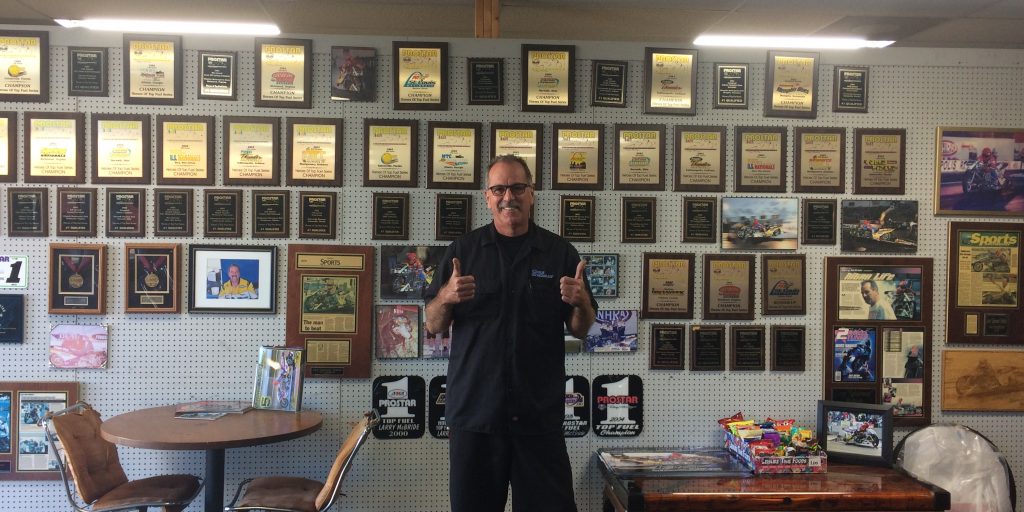 "It feels like my stomach is in my throat," said McBride, the Trim-Tex Drywall Products-backed rider. "I'm very excited."
Heading into this weekend's ManCup Finals from Valdosta, Ga., Nov. 16-19, McBride is poised to protect a slim 24-point lead over veteran Sam Wills. McBride says the intensity, anxiety and anticipation is just as strong as it was when he was fighting for his first championship.
"I really want to win the championship, but most of all I want to win the race. I try to block out the points and just focus on each round. If we can handle that, it will all come together," McBride said. "You can say the championship doesn't affect you, but the truth of the matter is it does."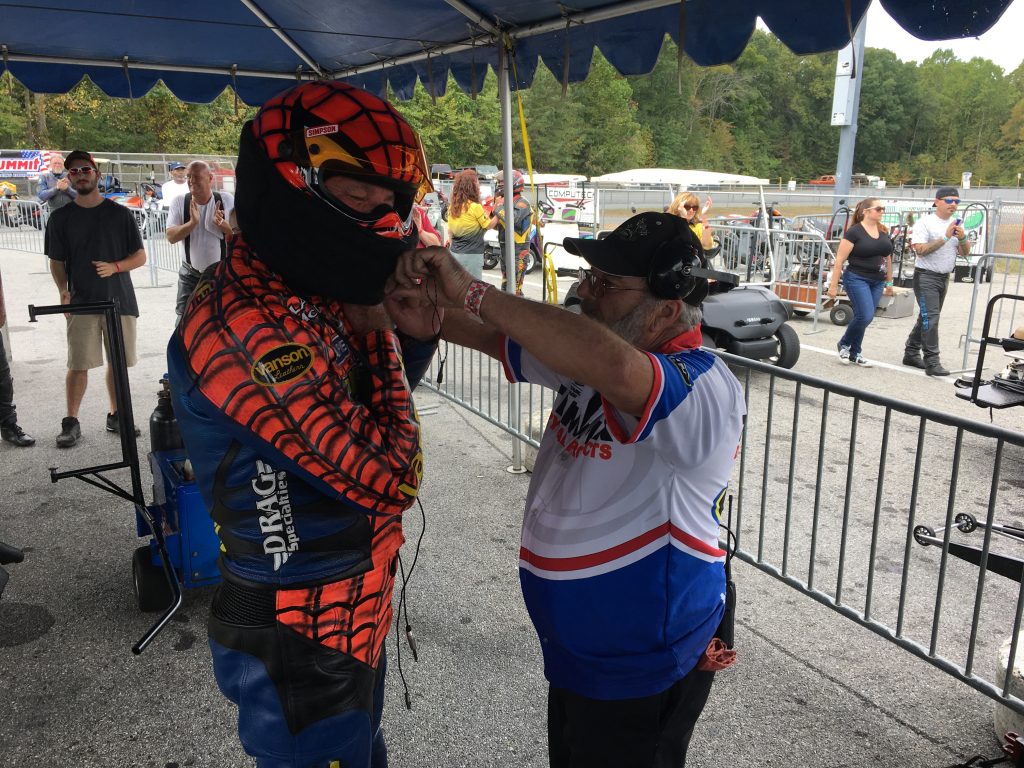 McBride says bringing another title back to his Newport News, Va. shop would be the ultimate way to cap off what has been a banner year for his team. In just his second season campaigning his new motorcycle "Star", McBride ran a career best elapsed-time and speed (5.741, 255.29) and captured an IDBL season championship.
McBride knows Valdosta will represent the most difficult challenge of the season.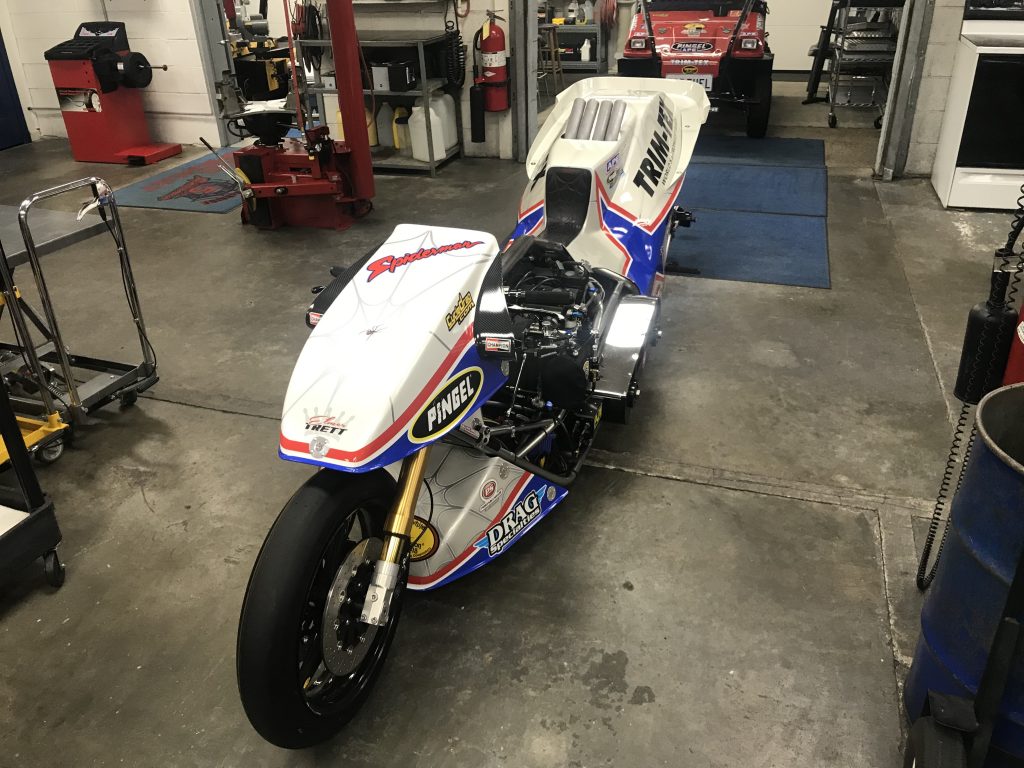 "There will be some pretty serious competition with racers coming from overseas," McBride said. "There will be no easy rounds. It all starts with qualifying. Getting that pole position will be very important."
McBride is also excited at his performance potential with an ideal forecast that shows temperatures in the mid-60s for Sunday's eliminations.
"It looks like it will be a super-fast race," McBride said.
McBride says his extensive collection of data from years of racing at South Georgia Motorsports Park will help his brother and crew chief, Steve McBride, make the appropriate tuning calls. This will be McBride's fourth race at the facility with his new motorcycle.
"We have really made strides this year," McBride said. "We are always learning and improving with this bike. I am happy with where we are at in its development."
Since Star's last outing, as usual the bike was torn down to the frame so every component could be carefully inspected and cleaned. McBride also made himself a brand new set of exhaust pipes. The pipes feature the same "swept back" bend McBride has been utilizing, but these ones are made out of a different material.
"We wanted to make sure we were not missing anything. It's been a really good season. We just want to go down to Valdosta and repeat what we did in Maryland and Rockingham," McBride said.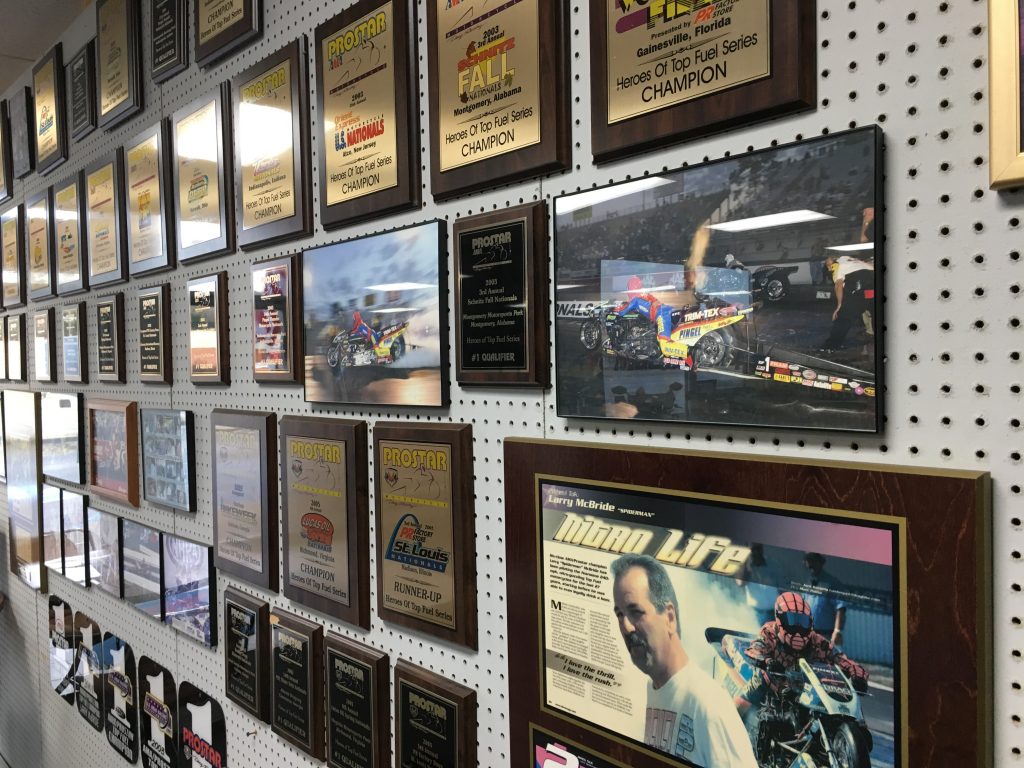 Qualifying gets underway on Friday evening.
Larry "Spiderman" McBride 2017 Tour
MANCUP Spring Cup, Maryland International Raceway, Valdosta, Ga. April 7-9 – Winner
MANCUP HTP Performance Nationals, Memphis International Raceway, Memphis, Tenn. June 3-4 – Rainout
MANCUP MTC Nationals, Galot Motorsports Park, South Dunn, N.C. July 15-16 – Runner Up
IDBL WPGC Bike Fest, Maryland International Raceway, Budds Creek, Md. July 28-30 – Winner, 5.74 National Record
MANCUP, Rockingham Dragway, Rockingham N.C. Sept. 23-24 – Winner, 255 MPH Speed Record
IDBL DME Fall Nationals, Maryland International Raceway, Budds Creek, Md. Oct. 6-8 – Winner
MANCUP World Finals, South Georgia Motorsports Park, Valdosta, Ga. Nov. 17-19
For all their continued support with this new machine, McBride thanked his primary sponsors; Trim-Tex Drywall Products, Pingel Enterprise, Drag Specialties-Parts Unlimited, Final Swipe Merchant Services, Web-Cam, APE and Kibblewhite – Precision Machine.
Vance & Hines Motorsports, Red Line Synthetic Oil Corporation, Federal Mogul, Portable Shade, PR Factory Store, Ferrea Valves, World Wide Bearings, Vanson Leathers, Five Star Powersports, Belt Drives Ltd, Simpson Race Products, Nitrous Express, APE, EK Chain, Arias Pistons, Cometic Gaskets, B&J Transmission, Carolina Cycle, L.A. Sleeve, PJ1, Mickey Thompson Tires, Valco, Goodridge, Carlisle Belts, ProJack, Bullseye Visual and Gates Belts.