Andrew Hines won the Pro Stock Motorcycle portion of the Auto Club NHRA Finals at Auto Club Raceway at Pomona to continue his streak of 14 consecutive seasons with at least one victory. He defeated teammate and newly crowned 2017 NHRA Mello Yello Drag Racing Series Pro Stock Motorcycle world champion Eddie Krawiec with a 6.856 pass at 196.02 on his Screamin' Eagle Vance & Hines Harley Davidson. Krawiec rode to a 6.930 run at 177.58.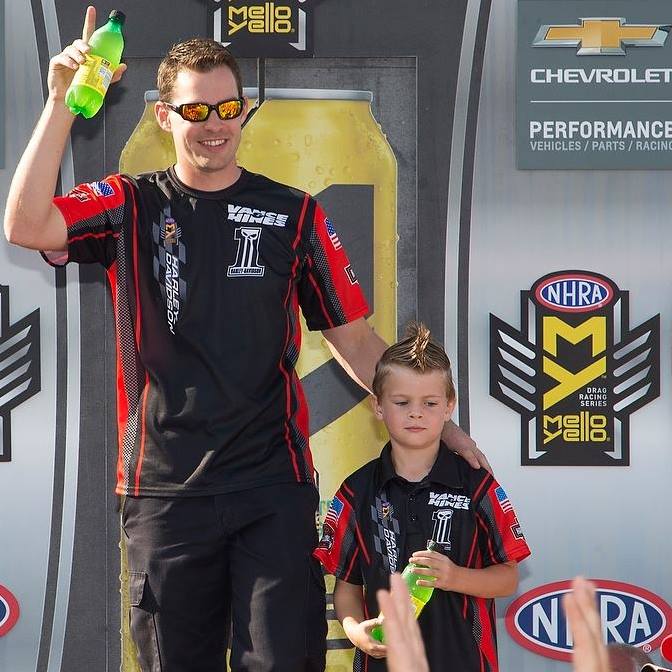 "It was a long season for my side of the team, but we found a way to get better throughout the season to get back to the level we expect ourselves to perform at," Hines said. "There were plenty of long hours from the Vance & Hines team this year, and it's really special to have a team of guys like I do that make sure we're heading down the right path as we continue to push forward going into next year."
Hines rode past Ryan Oehler, Joey Gladstone and LE Tonglet before facing his Harley-Davidson teammate. With the victory, Hines finishes the season second in points. Krawiec defeated Lance Bonham, 2016 world champ Jerry Savoie and Matt Smith before falling in the finals.
The 2018 NHRA Mello Yello Drag Racing Series season will kick off with the Lucas Oil NHRA Winternationals presented by ProtecttheHarvest.com Feb. 8-11 at Auto Club Raceway at Pomona.
PRO STOCK MOTORCYCLE:
ROUND ONE — Jerry Savoie, Suzuki, 6.902, 191.81 def. Steve Johnson, Suzuki, 6.912, 192.99; Joey Gladstone, Suzuki, 6.926, 192.71 def. Angie Smith, Buell, Foul – Red Light; LE Tonglet, Suzuki, 6.867, 195.22 def. Karen Stoffer, Suzuki, 7.962, 123.62; Matt Smith, 6.996, 192.85 def. Hector Arana Jr, Buell, Broke; Scotty Pollacheck, Suzuki, 6.831, 196.07 def. Freddie Camarena, Suzuki, 7.197, 184.88; Chip Ellis, Harley-Davidson, 6.830, 197.02 def. Katie Sullivan, Suzuki, 6.962, 191.78; Eddie Krawiec, Harley-Davidson, 6.871, 197.25 def. Lance Bonham, Buell, 7.163, 182.28; Andrew Hines, Harley-Davidson, 6.820, 197.42 def. Ryan Oehler, Buell, 7.065, 190.30;
QUARTERFINALS — Krawiec, 6.828, 196.42 def. Savoie, 6.921, 188.62; M. Smith, 6.858, 193.74 def. Pollacheck, 6.841, 194.21; Tonglet, 6.893, 195.31 def. Ellis, 6.867, 194.41; Hines, 6.824, 196.47 def. Gladstone, 6.991, 192.33;
SEMIFINALS — Krawiec, 6.803, 196.56 def. M. Smith, 6.855, 195.36; Hines, 6.817, 196.02 def. Tonglet, 6.886, 195.39;
FINAL — Hines, 6.856, 196.02 def. Krawiec, 6.930, 177.58.