Lectron is one of the most respected names in drag racing. If you are interested in trying a Lectron carburetor for an off-road application, please check out the information and reviews below.
When using a Lectron you will experience –
Full range linear throttle performance
Increased fuel economy
Horsepower gains in low, mid and full throttle
Adjustable power jet for easy mid to full throttle tuning (no jets!)
Patented meting rod that adjusts for elevation and atmospheric conditions and temperature.

Recent comments and reviews from Lectron customers
I have had the carb for two seasons now, the carb brings my KTM 300 to an all new level. brings excellent bottom end and pulls harder all the way through. Also is a lot more forgiving when it comes to temperature and elevation changes. – Chris Gielen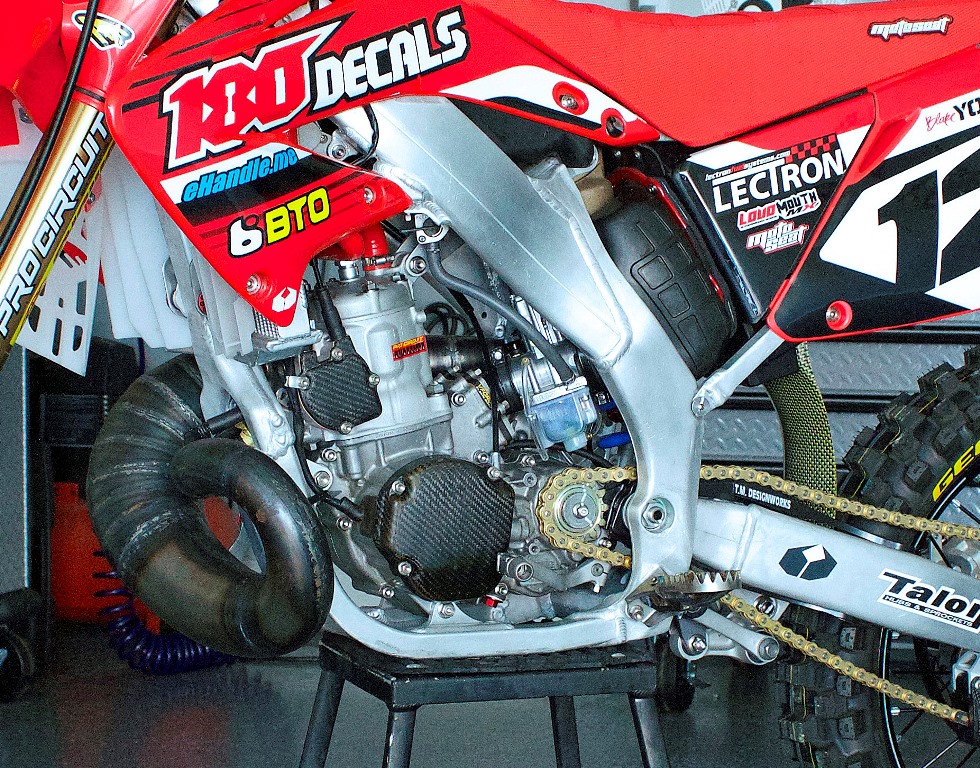 I bolted on the Lectron to my 97 YZ125 and went riding for over 40 miles pushing the bike to its limits in the roughest terrain in PA. I was extremely happy with no adjustments right out of the box. It also seemed like the four-strokes were gasping up more than me lol. I left with a full stock tank and a gallon and a half pf fuel. After 40 miles screaming the pipe and hillclimbs I still came home with a full tank. Perfect plug readings all around. I'm very impressed. I feel i need to make tiny adjustments on the slide needle and i will be even more impressed. Great job guys!!!!! – Tim Metz, YZ 125
I reside in CO. I just recently purchased a Carb from you guys to install onto my 2006 YZ125 bored to 167. I also purchased some fuel line, adjuster tool and a throttle cable. The carb by the way is amazing. works wonders. i can easily do 65+ miles on 2 gallons of fuel riding 10,000 ft – MichaeI Alosio.


Happy customer with a 2002 CR 250

Zaca Short Edit from Tyler Paget on Vimeo.
I have a 2000 kx250 and 2001 kx500 that have a 40 and 44mm Lectron carbs on them. I race all around the country and at different elevations and air densities. Going to a race and knowing my bikes are going to run flawlessly because of the Lectrons makes it one less thing to worry about on race day. Both of my bikes that have Lectron carbs have also earned me AMA Amateur National Hillclimb titles. 2011 on my 500 in Oregonia, Ohio and 2012 in Bay City, Wisconsin on my 250. What's even better, is that for me, these carbs were ready to go out of the box, no tuning or anything. Just an overall great product.– Logan

"Absolutely amazing man", is all I can say…I got to ride the bike on Sunday, we were camping in the foot hills of the rocky mountains. Base camp was at 3600', outside temperature was 77 degrees. The bike fired up without the choke and purred away. We rode a mix of mud, wet shale rock hill climb's all the way up to the alpine. We climbed up to just over 7000'. The bike has never run better, clean and crisp everywhere. Then things got interesting, once at the summit, we got socked in with a lightning storm, then came the rain and hail. Temperatures must have dropped 20 degreees. The ground was white with hail, roots and rocks got really slick. The decent was a mix of snow and literally a river. It cam on hard and fast. The bike did not skip a beat. There was another 300 riding with us and we swapped bikes and he was in awe. His bike felt very lethargic to me and he was running the preferred jetting set up for the 300. – Kevin Barnes – KTM 300
We had talked on the phone the other day about fuel economy. Surprisingly, I have managed to rack up 2000 miles in just under a year. Geez, must be living right! The first 200 miles were ridden with the stock Keihin carb getting 25 MPG. I've consistently been getting 35 MPG with the Lectron. The only variable has been racing, when it drops to about 30 MPG. I don't race much, so, for the purposes on this discussion, I'll use 35 MPG. I run 87 octane gas containing ethanol all of the time. 87 octane gas has averaged $4.00 per gallon over the last year. The 2-stroke oil I use is $1.00 per ounce (after tax) and I mix at 50:1. In 1800 miles, I've saved roughly $135 in pre-mix cost. The Lectron will have paid for itself by next summer – Lori Taylor – running a 2013 200 XCW

I live at sea level and ride at less than 2000′ elevation year round. Additionally, I spend many weekends in the summer riding at 3000′ to 8000′ elevation. I'm loving the fact that I never have to re-jet or even mess with an air screw when swapping between low and high elevation riding, while the bike runs flawlessly all of the time. This morning I swapped out the air filter on my bike. I always stuff a paper towel down in the air boot when the filter is out to soak up the condensed 2-stroke oil that accumulates there. There was a just a trace, which got me to thinking. I've been riding KTM 200's since 2001 and there is always about a teaspoon of oil in the air boot when I swap a filter. Not anymore. With the Lectron it's almost completely dry. The advantages keep stacking up. This is my first Lectron carb, but it won't be my last! – Lori

I was shocked and amazed how the bike ran. Without having to make any adjustments that bike ran better than I ever dreamed.
The throttle response is very crisp and seems to have a higher revving capability. The flat spots that were in the powerband seemed to disappear. I am very excited to get the bike on a long ride. In addition, your customer service is the best that I have ever experienced. Thank you! -David Potter – KTM 300 XCW
I've been tested for fuel consumption of my bike and it is EXCELLENT. Before a 9 liter tank was only between 60 and 70 km, with Lectron now I've done 62 km with 4 liters which is about 130-140 km with 9 liters. Save more than 50% fuel. In less than a year amortized cost carburetor GREAT. I've already put a recommendation of your carburetor on gas gas specific forum. I have no problem giving references to any customer of Spain that you request them. – Antonio, 2007 Gas Gas EX 250 2T

I raced the lectron hard all last year without as much as a hickup and can safely say its the single best improvement I've been able to make to my bike hands down. The initial factory setup was almost perfect right out of the box. With the lectron all it takes is an easy twist of the fuel rod or a twist of the power jet to fine tune it and the bike was screaming smooth power! I noticed immediately the bike had better response across the entire power band as well as more power, smoother power delivery, and significantly better mileage. I race Hare Scrambles and endurance races where all of these benefits help win races!
I have friends who have liked my lectron so much they bought there own and are now believers and realize the great benefits of running this setup. The best thing is even a novice or trail rider can have a perfectly jetted carb all the time without ever needing to mess with jets. You guys make a great product keep up the good work! –Eric Tjelmeland, Solon Iowa, Husqvarna Wr300 and a Husqvarna Cr165 big bore.

I just wanted to send you an email to sum up my experience with my lectron. I purchased this in the spring and the difference was impressive as soon as I bolted it on the bike. The factory carb had a dead spot right off idle and always seemed to flatten out towards the upper rpm range, the lectron had neither of these. I attended the Adv Westfest in Gunnison, Colorado this August. I left N.E. Oklahoma on the 2nd and returned home on the 10th. After 915 miles and about 7000 feet elevation difference I made it to Gunnison. While there I rode several passes (Cinnamon, Ohio, Cumberland, Schofield and Engineer. . . Maybe a couple others I'm forgetting). Elevation at my house is roughly 785, Engineer is roughly 12,800 feet, The lectron ran amazingly (even though I had been cranking on the power valve a couple weeks earlier due to an unknown air leak in the intake boot). After returning the power valve to about 3/8ths of a turn out I had smooth, reliable power from idle to wot. The low end pulled like a tractor and it just kept making power, I couldn't be happier! I won't hesitate to suggest lectron to anyone. The customer service is absolutely the best, bar none. Thanks for a great product from an amazing company!
– Wes Sly – 2006 TE 610
My opinion – OMG!!!!!! I had that CV carb dialed in perfectly with a FMF Snap, and it was just sick compared to the way it is now. The throttle response is the way it should be, wack and your tire spins. Wack in third, tire spins. Bloody brilliant!!! It was the easiest carb to install that I have worked on. I had the carb, pipe, and silencer in, plus cutting the air box in just under three hours and that was with the "help" of my seven yr old son. The carb came set up from Lectron to the specs that I gave them – my elevation and mods, it is is spot on. I have just had to play a bit with the idle and air screw because our temperature and humidity is so moody up here, but I am totally confidant I will get it to a happy spot. The next test I want to do with it is to see how it handles elevation, I live at 500 meters and want to hit the alpine at 1600 meters if I can this weekend. Then a rip to the ocean to test the sea level side of things is in order too. I have never ridden a DRZ with the FCR but I installed one on my DR 650 years ago. The pro's to the Lectron over the FCR for me is the single throttle cable (converts from the push pull) plus the no jetting issue. That metering rod is really cool, basically a poor man's fuel injection. I am looking forward to testing it over temperature and elevation variations. I ride in the winter here as well, so that will give it a good temperature test. The ease that the Lectron went in was actually kinda insane. Would I buy again?? Hell ya!!!!!
I installed the Lectron 46mm Carb in place of my Mikuni 45mm. Wow what a difference it made. I am not through adjusting the power jet but already the bike idles smoother and is way more throttle responsive. Performance is noticeably better!!!!!!!!!!!!!!!!!!! Thanks Guys for the best carburetor I have ever run on a Harley – Paul Kristofferson
David, got the new Lectron carb dialed in on the new Yamaha TT540 flatrack bike, sat night debut won the heat ,jumped the line in the main and started from the back row and were leading after the first lap and won the main.Went to another short track sunday with a win in the heat and another win in the main. Thanks Lectron – Todd Hillyard

I put it on my TE450 and much to my surprise after an idle adjustment and 3/4 of a turn on the air bleed she was purring like a kitten at idle and revving effortlessly with no black smoke I rode it around on my small practice track and was really surprised at how good it was running. No popping on decel but not a hint of over richness. So it was off for a 25+ mile gravel loop that I can make from my driveway. Very good throttle response and rock solid idle after getting it good and hot. It has more roll on power and a stronger top end and the bike is for sure running smother and seems happier – Steve Peterson on the new Lectron four stroke on a TE 450

I got the Power Jet carburetor installed on my Suzuki DR350 with the 440 big bore. It started up immediately on a 25F day! I went on a short ride around the neighborhood and this thing rips! I'm not going to have any front tire wear with the way it wheelies. I'm glad we went with the 38mm size and it does not feel over-carbed. I did a little port matching and bolted it up to a slightly longer manifold. It was easier to install than the stock TM33 because there was actually more room with the Lectron carburetor and dialing it in was easy without having to monkey around with jets. Throttle response improved at all rpm's. More four stroke guys should use a Lectron. – Mark, Suzuki DR350 with the 440 big bore

Now it's your turn to join the list of happy customers.