Imagine spending more than seven years of difficult, precise labor crafting a masterpiece, only to rip it all back apart shortly after it's finished. Welcome to the demanding, unforgiving world of Top Fuel Motorcycle and team Larry "Spiderman" McBride.
After successfully debuting the awe-inspiring machine with a round win and a five-second run at the ManCup Spring Cup from South Georgia Motorsports Park, in Valdosta, Ga., April 8-10, Larry and his brother Steve McBride are in the process of stripping the motorcycle down to the bare frame to carefully inspect each component to determine what caused the team to damage four motors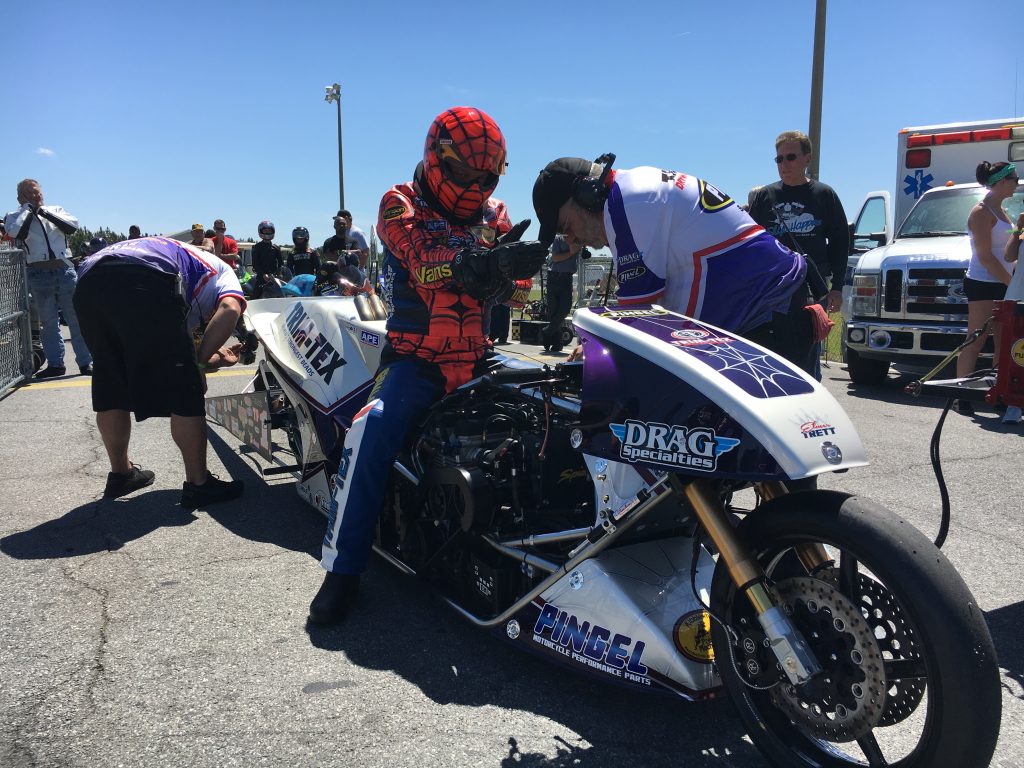 "This thing has so much new stuff on it that we have to go back and check everything," McBride said. "There could be some valves that are sticking because we have had all this stuff for so long. We will do a complete overhaul and will go over everything. I will be sending some things out to get checked as well."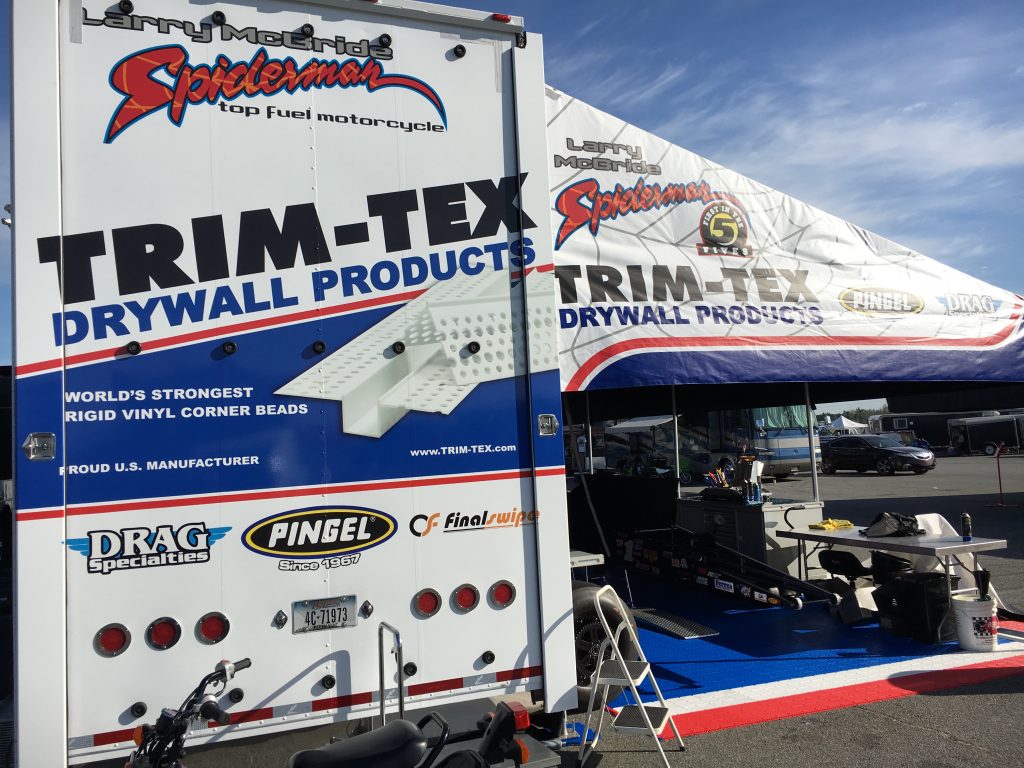 Team McBride is relieved to have a layoff of two months before its next race, June 11-12 in Rockingham, N.C. It presents a chance to catch up on sleep. Finalizing the new motorcycle and the beautiful new team branding with the Trim-Tex Drywall Products layout proved to be a lot of work.  McBride's crew had to work even harder at the track.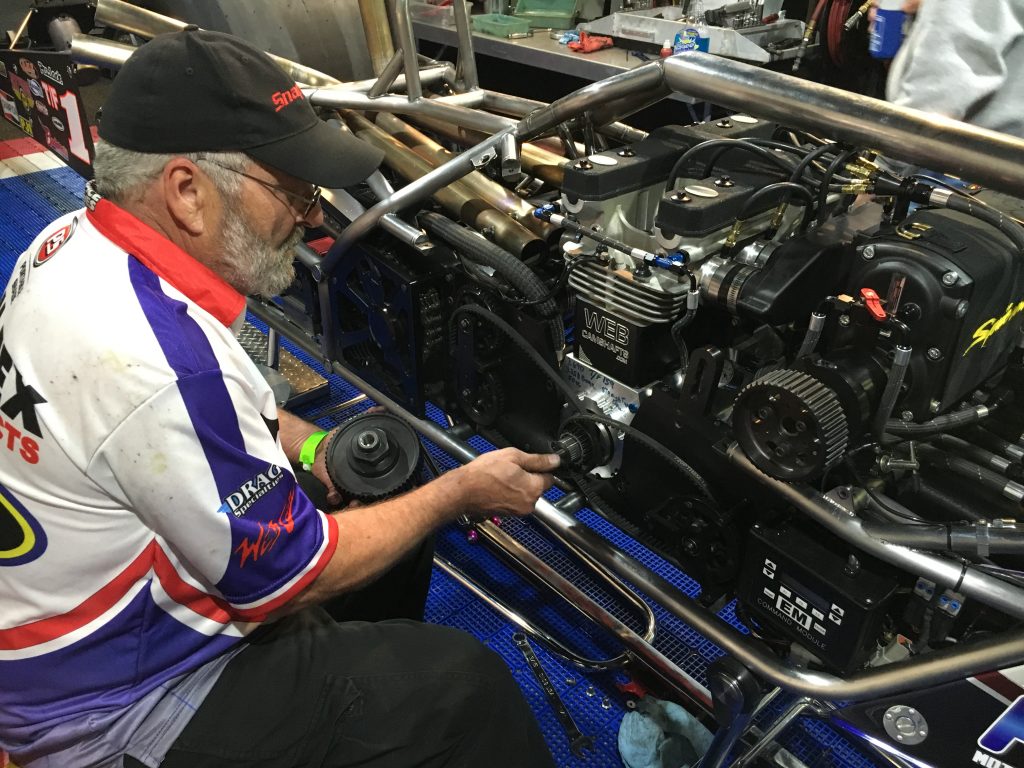 "The earliest we got into bed was 2 in the morning," McBride said. "It was non-stop work. I had a trick fuel shutoff switch with a neutral in it that was giving us a problem. When we took it off and the bike picked up. My team did an awesome job all weekend."
On Saturday the team achieved a major milestone, recording "Star's" first five-second run with a rapid pass of 5.94 at 241 mph to qualify in the No. 2 spot.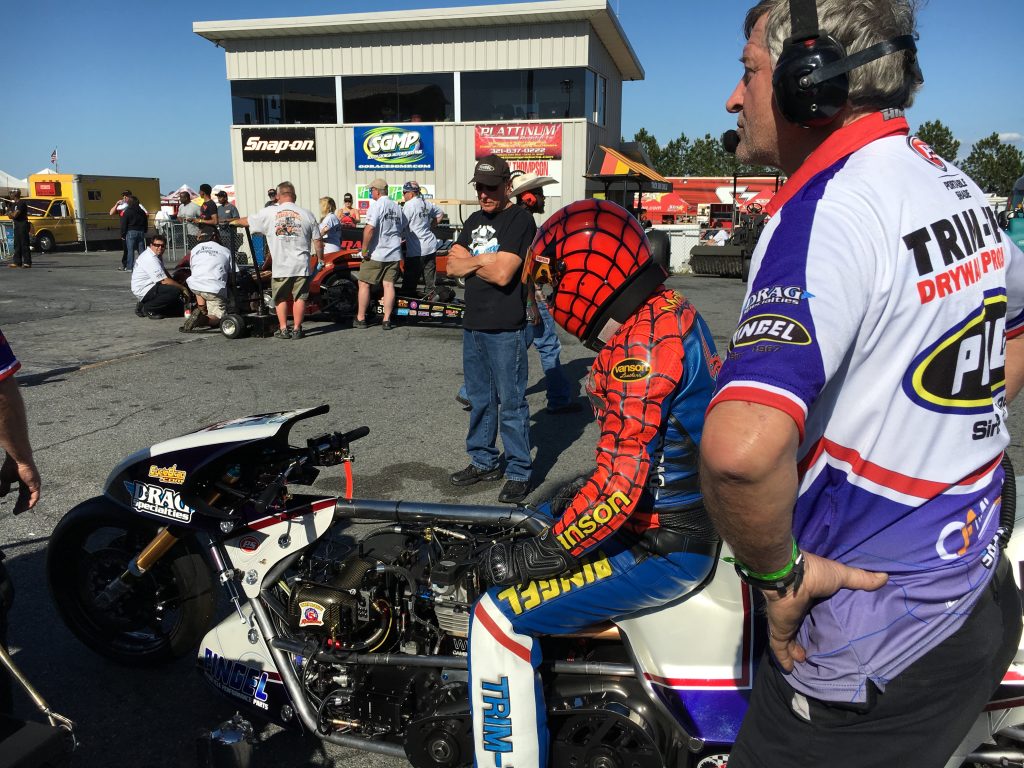 "It was awesome. The bike was smooth as silk. All the new stuff we did to the aerodynamics package seemed to work 100-percent. I love my new fairing," McBride said.
On Sunday the team achieved yet another milestone when Star earned its first round win against the Nitro Harley of Michael Beland with a 6.28 at 199 mph to Beland's 6.82 at 180 mph.
"To get through the first round meant a lot. It's never fun to lose in the first round," McBride said.
In round No. 2 McBride was unable to catch eventual event winner Sam Wills, who recorded a 6.07 at 203 mph to McBride's 6.73 at 176 mph.
"I shut the throttle off at the eighth-mile. It was dropping cylinders and I knew I was not going to catch him so there was not any sense in destroying the motorcycle," McBride said. "I didn't want another fire. That was on my mind and I'd be lying if I said it wasn't."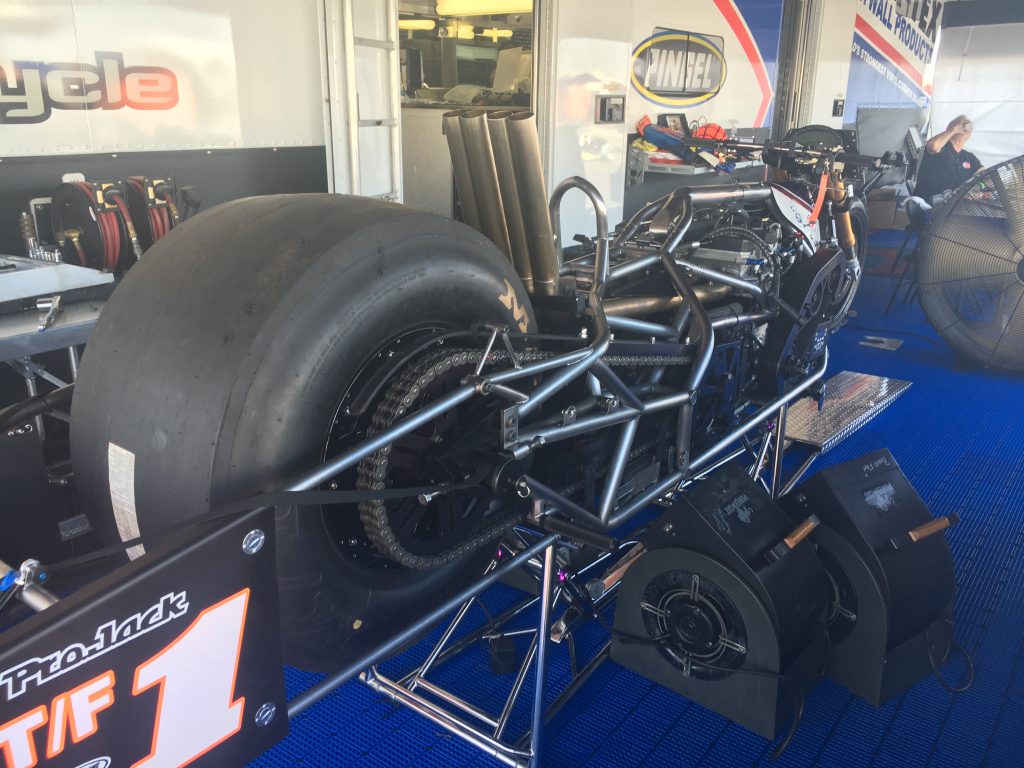 Wills went on to defeat Nitro Harley racer Tracy Kile in the final to earn his first win on his new motorcycle. McBride could not have been happier for his old friend.
"I'm very proud of those guys. I've known Sam my entire career and he is a great person. For him to be out of racing for more than 15 years and come back, now in his fourth year, he has made some real leaps and bounds," McBride said. "I think everyone on his Nitro Conspiracy team are hard workers and they did an excellent job. There was no give up in them."
Team McBride stayed to test on Monday.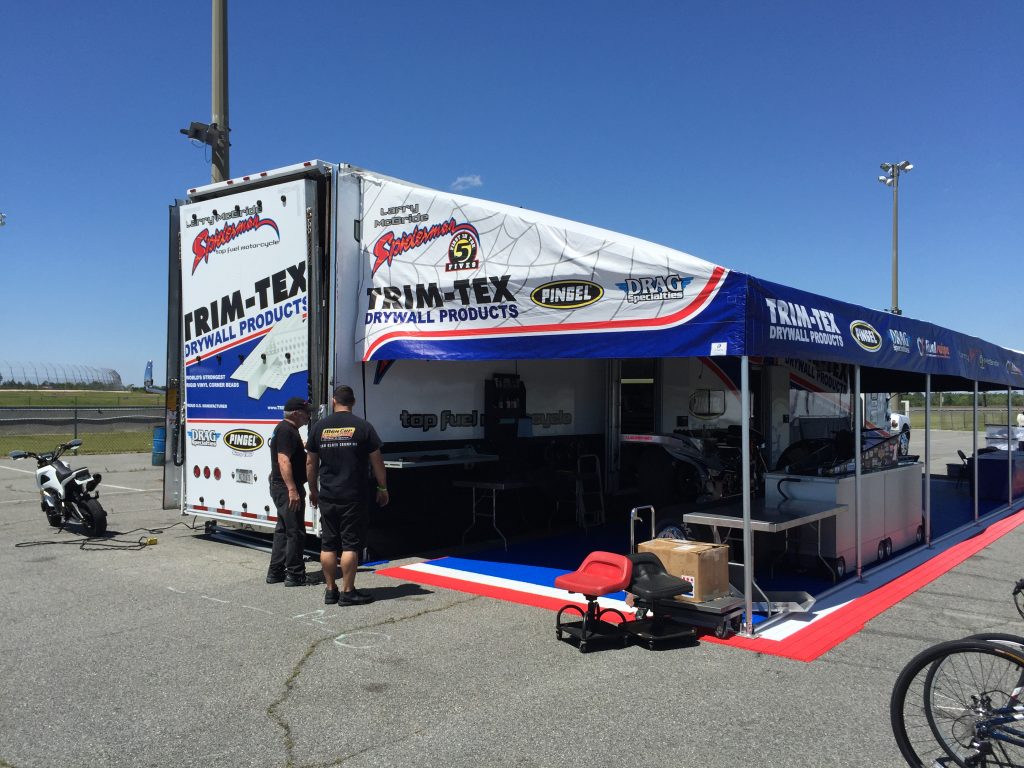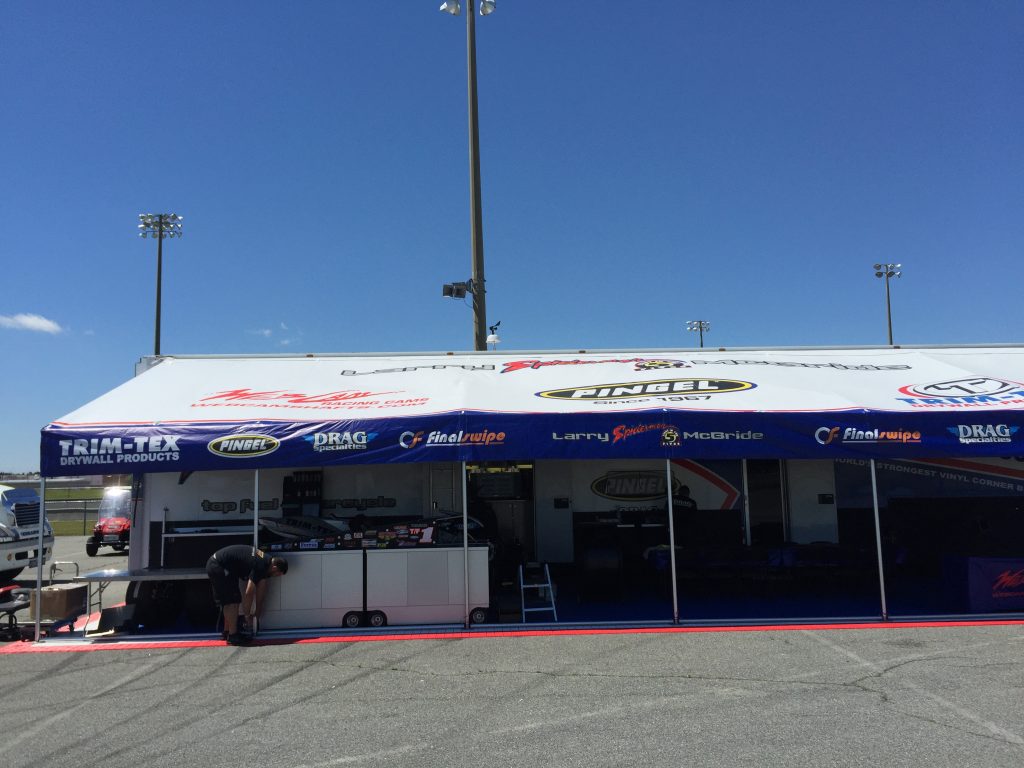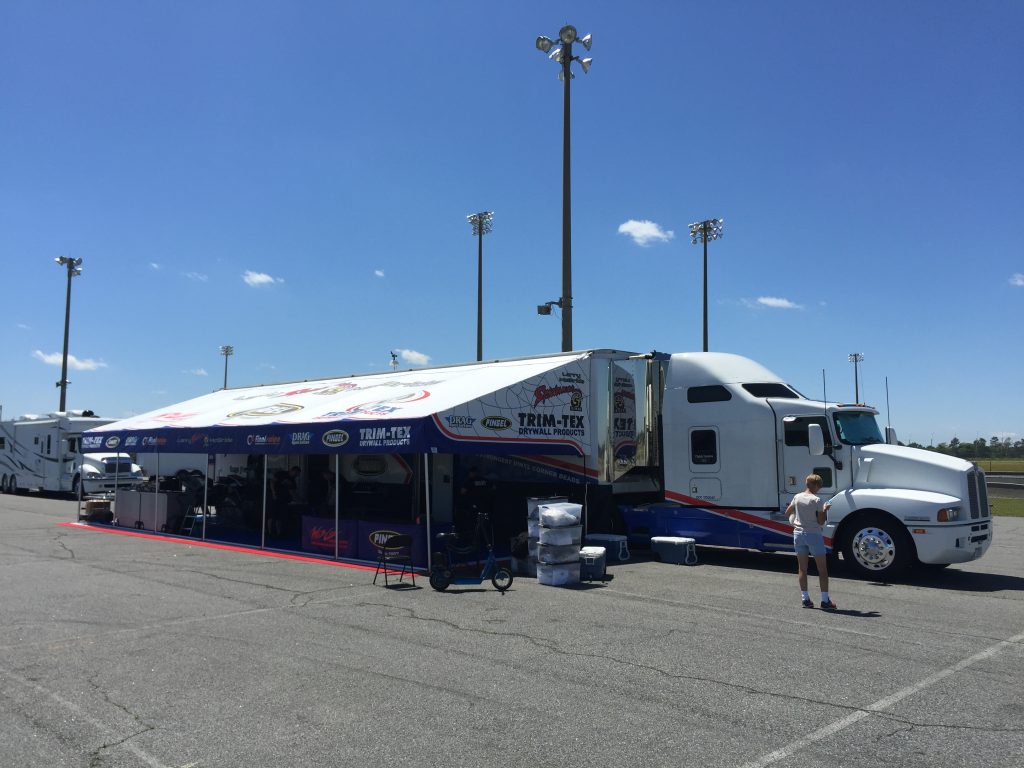 "Our session did not go as well as we had hoped. We really still don't know for sure what is going on, but we will go back to the shop and figure it out. It could be electrical. It could be fuel related. We are not quite sure," McBride said. "We are not disappointed at all, only frustrated that we could not figure it out."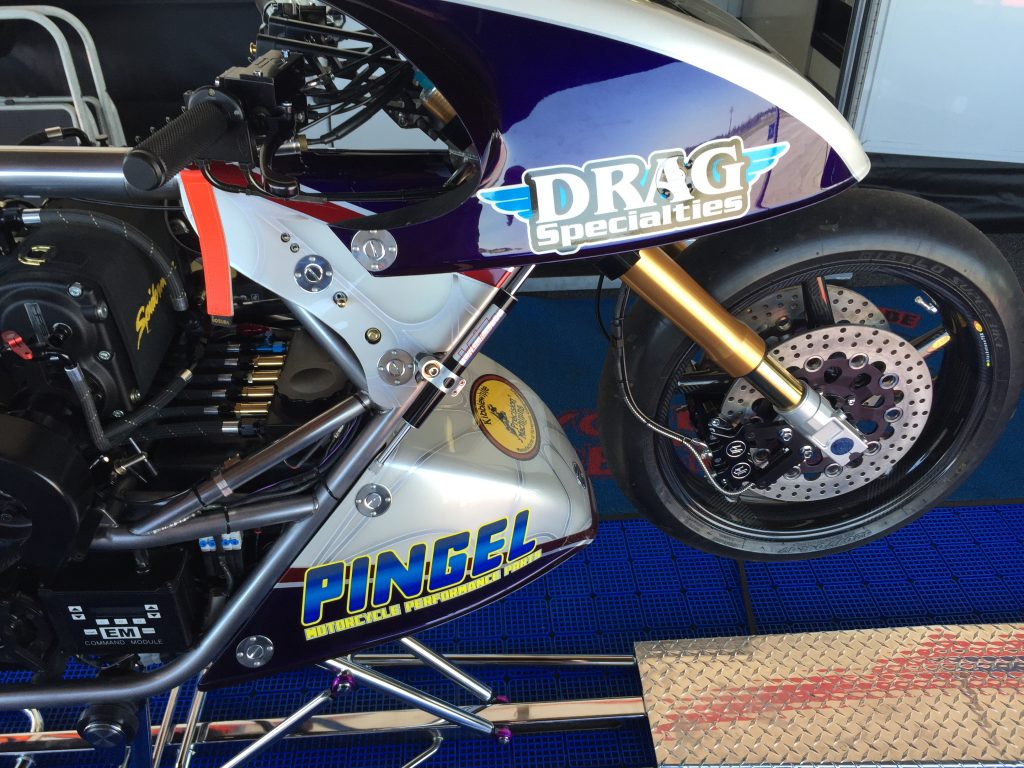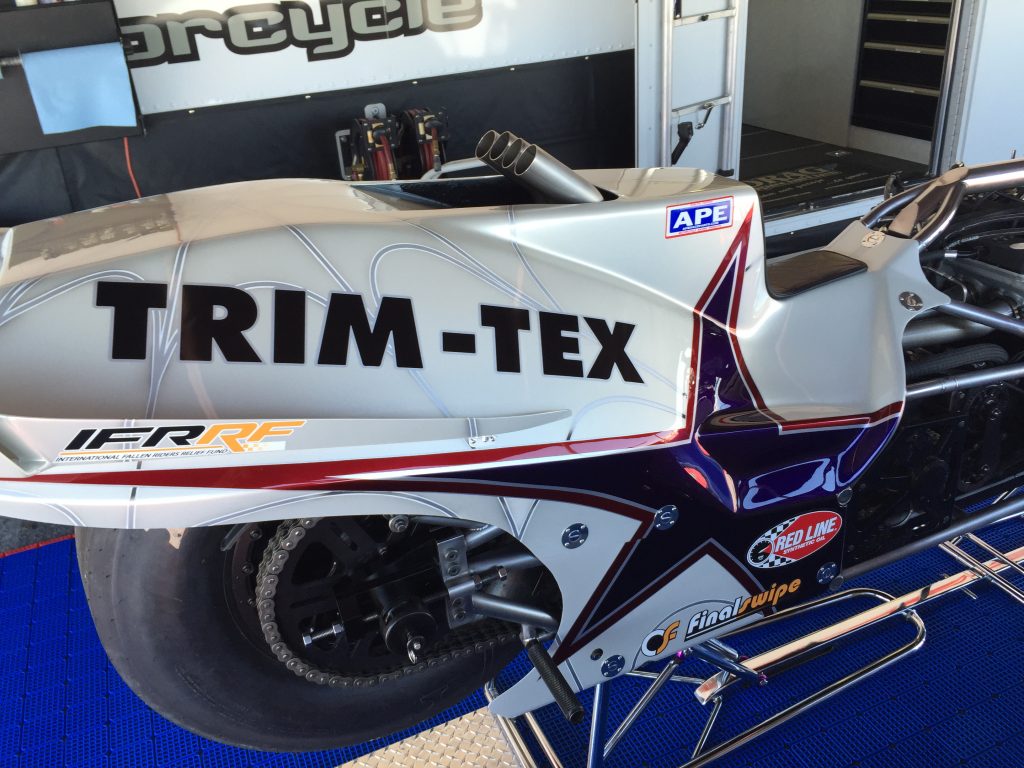 Team McBride thanked all of its sponsors for all the support. Joe Koenig of Trim-Tex Drywall Products and Wayne and Donna Pingel of Pingel Enterprise were there all weekend to assist the 15-time champion.
"It was great. To have them there showing us support was really awesome. The only thing I regret is we had to work so hard we did not get to spend enough time with them," McBride said. "I've known the Pingels for more than 20 years. They are great people. Joe Koenig is one of the best motivators I have ever met. He talked to the whole team and told us to keep our heads up and ensured us he was happy."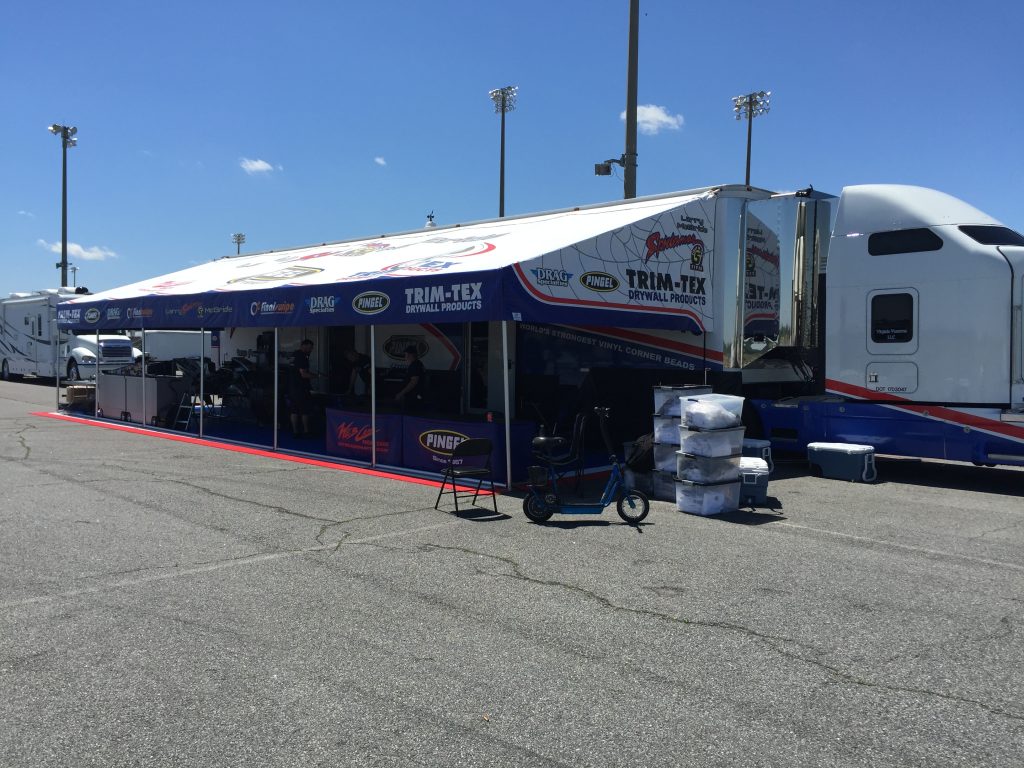 For tons of video coverage of the event please visit and like this page on Facebook
For all their continued support with this new machine, McBride thanked his primary sponsors; Trim-Tex Drywall Products, Pingel Enterprise, Drag Specialties-Parts Unlimited, Red Line Synthetic Oil Corporation and Final Swipe Merchant Services.
Web-Cam, Vance & Hines Motorsports, Portable Shade, PR Factory Store, Ferrea Valves, Kibblewhite, Precision Machine, World Wide Bearings, Vanson Leathers, Five Star Powersports, Belt Drives Ltd, Simpson Race Products, Nitrous Express, APE, EK Chain, Arias Pistons, Cometic Gaskets, B&J Transmission, Carolina Cycle, L.A. Sleeve, PJ1, Mickey Thompson Tires, Valco, Goodridge, Carlisle Belts, ProJack, Bullseye Visual, Five Star Powersports and Gates Belts.