After seven years of arduous, precise labor Larry "Spiderman" McBride and his team debuted what many consider the world's most technologically-advanced Top Fuel motorcycle.
At a drag strip in Florida, the 14-time champion, an icon of motorcycle drag racing debuted the bike in front of an icon of television and huge motorcycle enthusiast Jay Leno, who was at the track for a television taping.
"It was so cool. He looked at the bike and asked me a bunch of questions," McBride said.  "He was a really cool guy."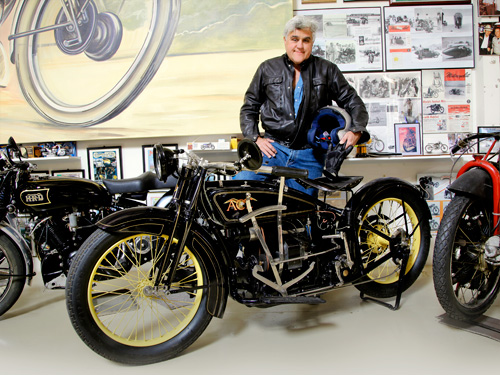 McBride is famous for his impeccable attention to detail like Leno is famous for his unmistakable voice and chin.
The countless hours of making sure every component of the bike was perfect paid off greatly in the machine's debut performance.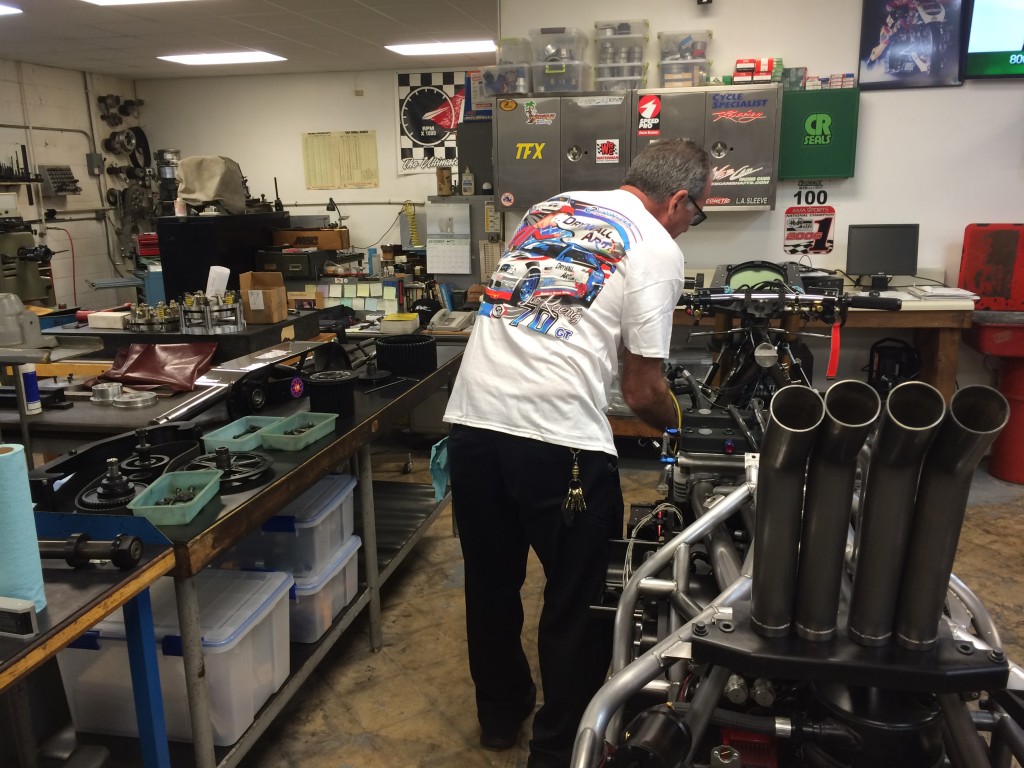 "We were really happy with the bike. It's going to work very well," McBride said.
McBride did one burnout and recorded two eighth-mile test passes. The team is not releasing times just yet, but the Spiderman admits he was smiling when he got his time slips.
"I'm so excited. It's a very solid bike and it feels really good," McBride said.  "It's very comfortable and it went straight."
McBride said the bike felt even better than his historic, record-breaking motorcycle of more than 20 years known as "Blue."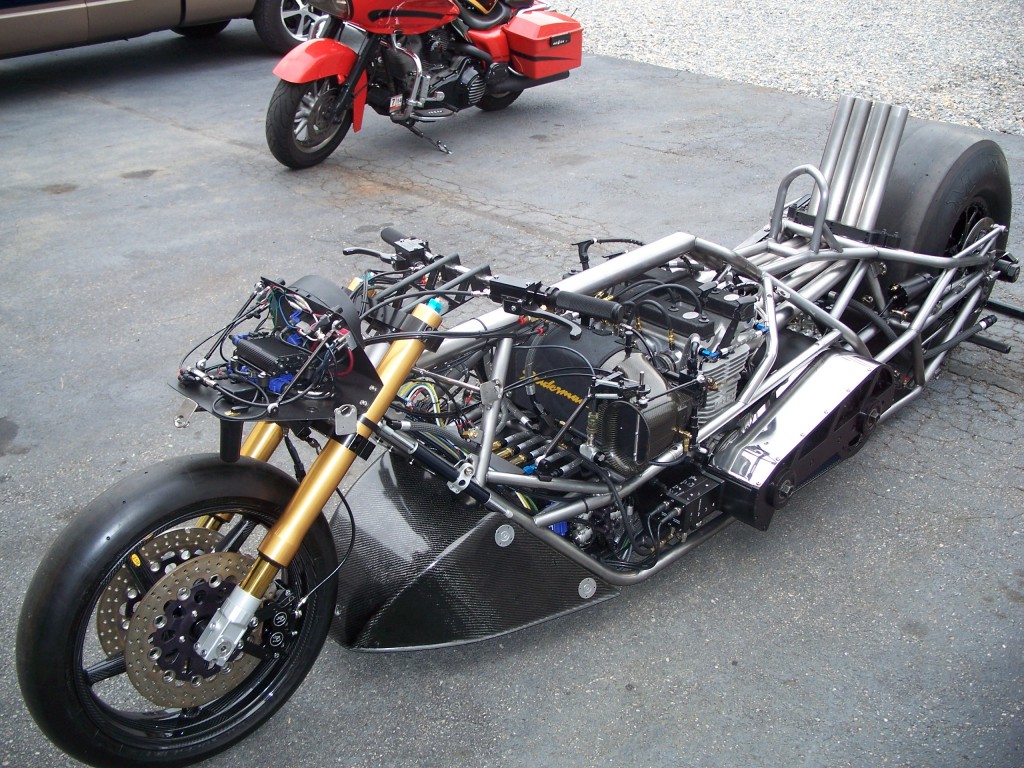 "It felt a lot more stabile," McBride said. "It was because of the new tubing."
Joe Koenig of Trim-Tex Drywall Products, who significantly increased his involvement to become the title sponsor of the new machine shared McBride's enthusiasm.
"It's hard for me to put into words just how thrilled I am for Team McBride," Koenig said. "They put seven years of their lives into making this the world's best Top Fuel Motorcycle. I'm so relieved and excited that it went down the track."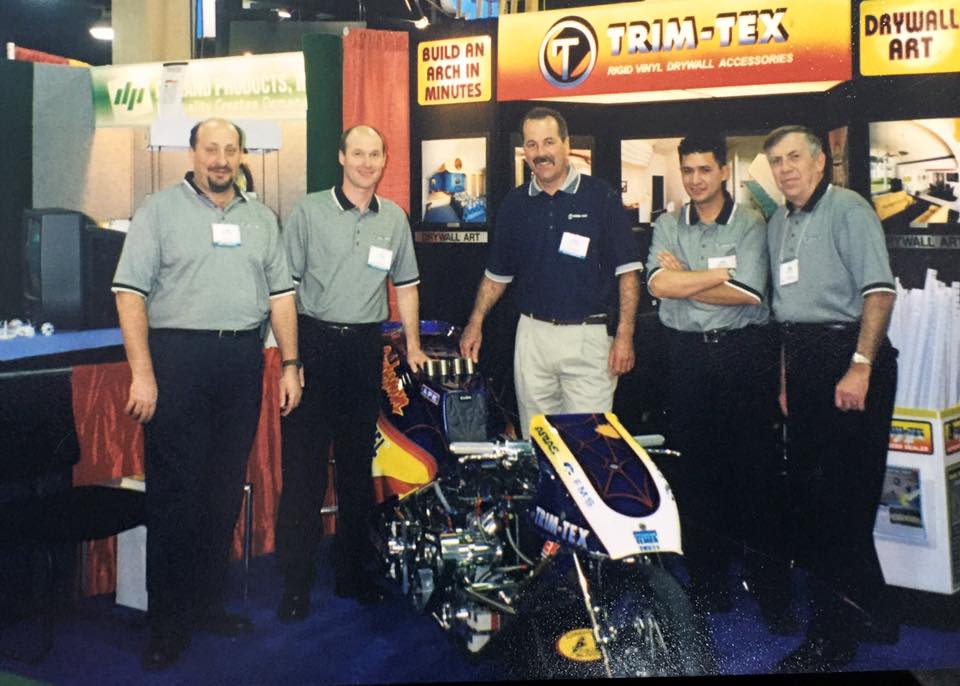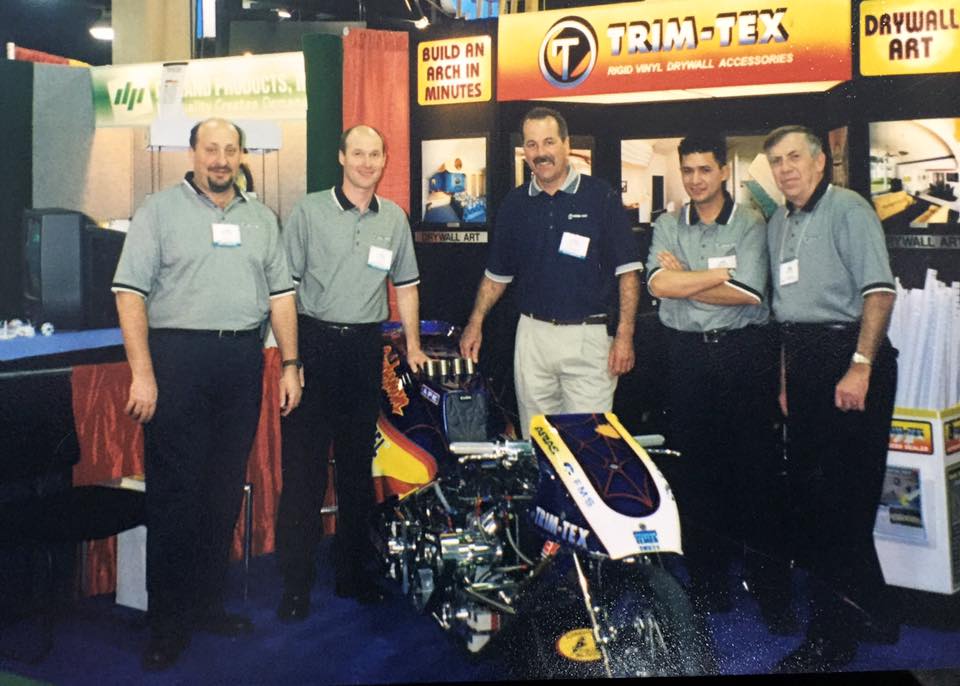 Appropriate words from a man who has put his life into producing the world's greatest drywall products.
The only downfall of the day for McBride was having to thrash on the water pump in his trailer.
"It was so strange. Dave Vantine's went bad this morning, then ours went later that night," McBride said.
The team was able to fix it. It was light work for a crew that can turnaround a Top Fuel Motorcycle in 60 minutes.
"It was a great day," McBride said. "I'm looking forward to getting a hot shower and getting some sleep."
McBride plans to test the next two days weather permitting.
McBride thanked his primary sponsors; Trim-Tex Drywall Products, Pingel Enterprise, Drag Specialties-Parts Unlimited, Red Line Synthetic Oil Corporation and Final Swipe Merchant Services.
Web-Cam, Vance & Hines Motorsports, Portable Shade, PR Factory Store, Ferrea Valves, Kibblewhite, Precision Machine, World Wide Bearings, Vanson Leathers, Five Star Powersports, Belt Drives Ltd, Simpson Race Products, Nitrous Express, APE, EK Chain, Arias Pistons, Cometic Gaskets, B&J Transmission, Carolina Cycle, L.A. Sleeve, PJ1, Mickey Thompson Tires, Valco, Goodridge, Carlisle Belts and Gates Belts.