Larry "Spiderman" McBride is known as a very punctual racer who arrives to events well in advance. The Spiderman is extremely thankful he decided to depart his Newport News, Va. shop early in the week after a laborious and demanding day of testing prior to the ManCup Mann Hill Garage World Finals from Valdosta, Ga. Nov. 11-13. It's a race where McBride has an opportunity to win his 16th championship if he can overcome a 19 point deficit, trailing veteran Sam Wills.
This picture below sent in by hardworking Spiderman crewman Chuck Stuart sums up day No. 1 for the team.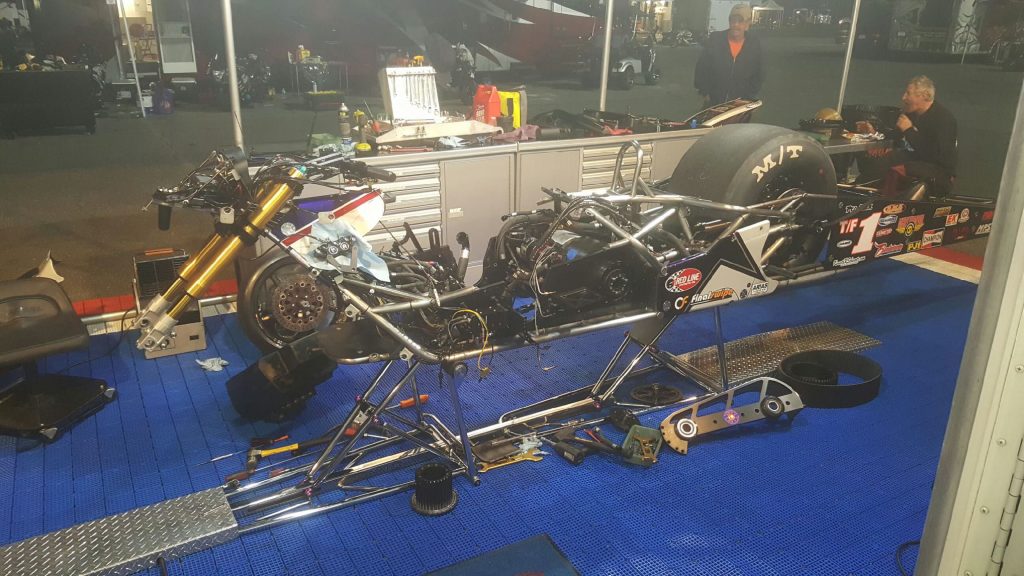 "And it's only Thursday," Stuart wrote.
McBride says the team hurt a piston during a burnout on one of their two test passes. Shutting off the throttle early, McBride's best run of the day was a 6.34.
The Spiderman says the team also had issues with the clutch and its new wheelie bars. It made for a long night of wrenching but McBride remains optimistic heading into official qualifying.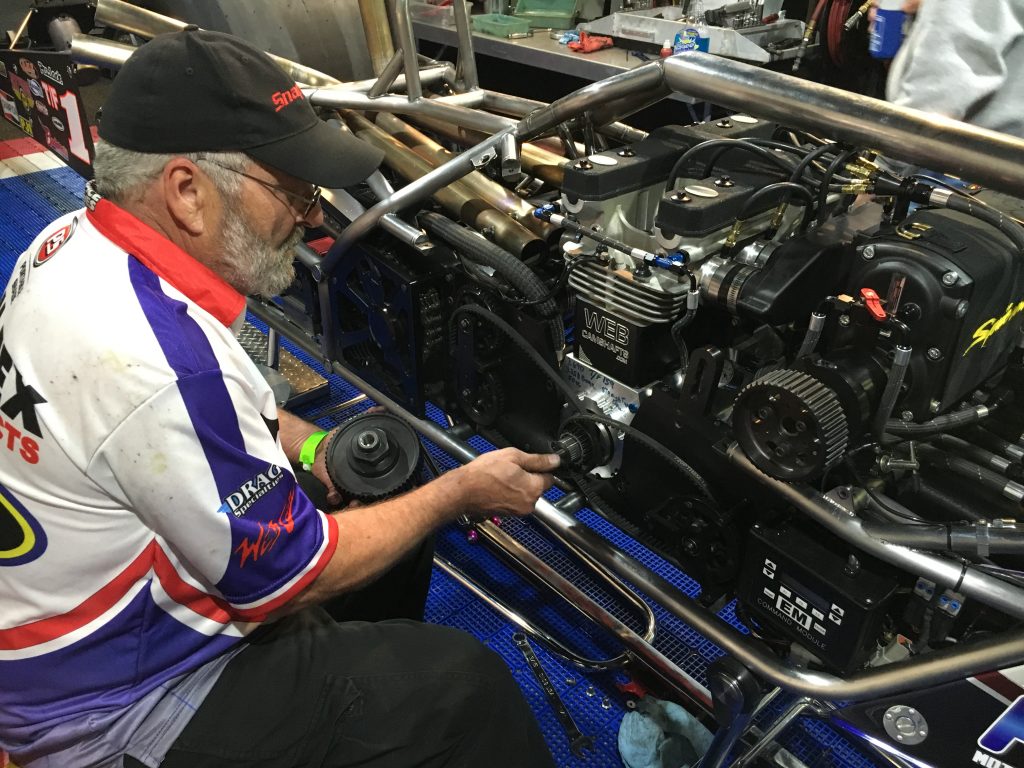 "This is what testing is for. We had a little too much fluid in the clutch," McBride said. "I have a great crew and we feel really confident for the rest of the event. We figured out a lot."
Official qualifying takes place on Friday evening and Saturday, with eliminations on Sunday.
For all their continued support with this new machine, McBride thanked his primary sponsors; Trim-Tex Drywall Products, Pingel Enterprise, Drag Specialties-Parts Unlimited, Final Swipe Merchant Services, Web-Cam, APE and Kibblewhite – Precision Machine.
Vance & Hines Motorsports, Red Line Synthetic Oil Corporation, Federal Mogul, Portable Shade, PR Factory Store, Ferrea Valves, World Wide Bearings, Vanson Leathers, Five Star Powersports, Belt Drives Ltd, Simpson Race Products, Nitrous Express, APE, EK Chain, Arias Pistons, Cometic Gaskets, B&J Transmission, Carolina Cycle, L.A. Sleeve, PJ1, Mickey Thompson Tires, Valco, Goodridge, Carlisle Belts, ProJack, Bullseye Visual and Gates Belts.
McBride also thanked Jay Regan and Dave Schnitz of the ManCup.