The ManCup motorcycle drag racing sanction is pleased to announce a new award of high honor available to Top Fuel motorcycle drag racing pilots. The annual, Elmer Trett Memorial, Top Fuel Motorcycle, Top Performer award has been created in 2016 to honor the passing of Mr. Trett twenty years ago in 1996.
The annual ManCup, Elmer Trett Memorial, Top Fuel Motorcycle, Top Performer award, is an award bestowed annually to the Top Fuel motorcycle drag racer who achieves the fastest Top Fuel bike speed, during ManCup sanctioned competition, for that calendar year.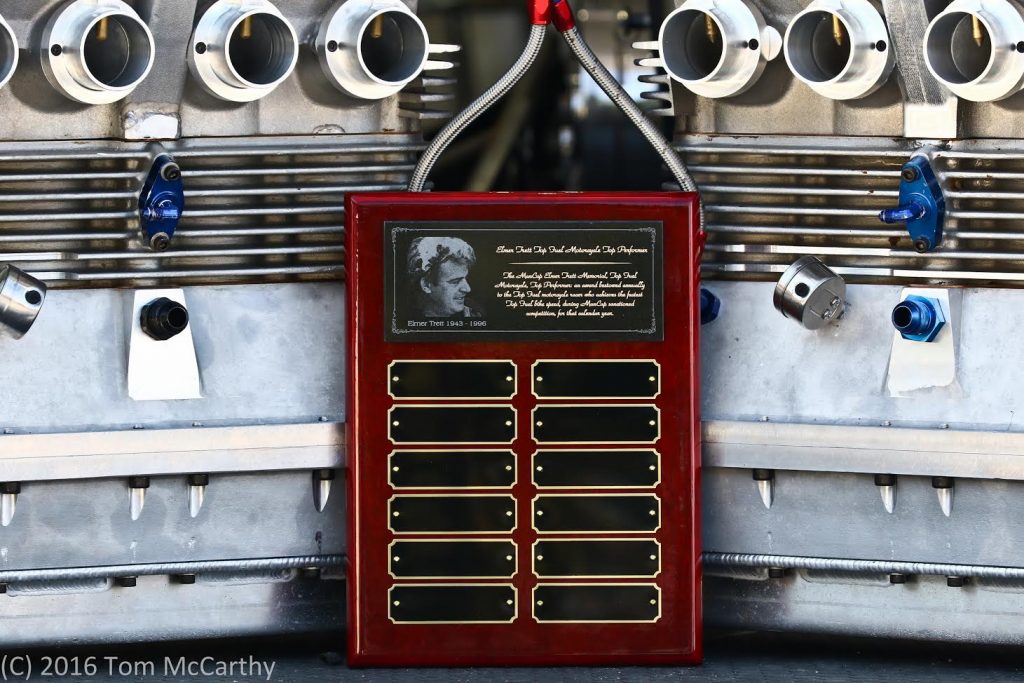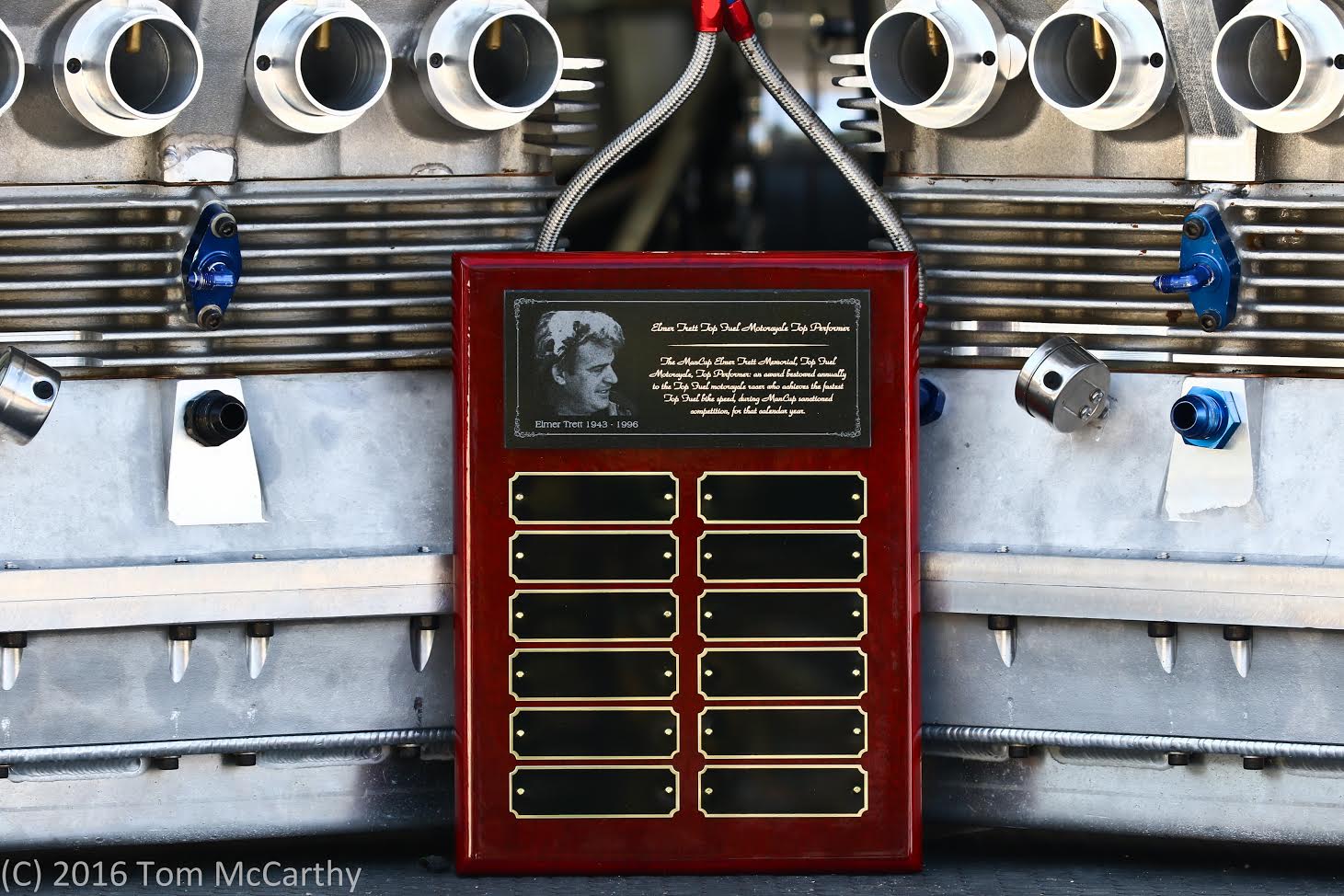 This award will not only honor the top performance of a Top Fuel motorcycle pilot, but by giving it annually, this keeps a permanent high profile record of the sports highest performance and keeps alive the memory of the sport's most prolific Top Fuel motorcycle performer, Mr. Elmer Trett, who devoted much of his life to Top Fuel motorcycle drag racing.
Competition for this award will be derived from Top Fuel motorcycle performance, in competition beginning with the 2016 season. Plain and simple, the Top Fuel bike drag racer with the fastest recorded MPH speed will have their name engraved onto the plaque, along with their top speed for that year.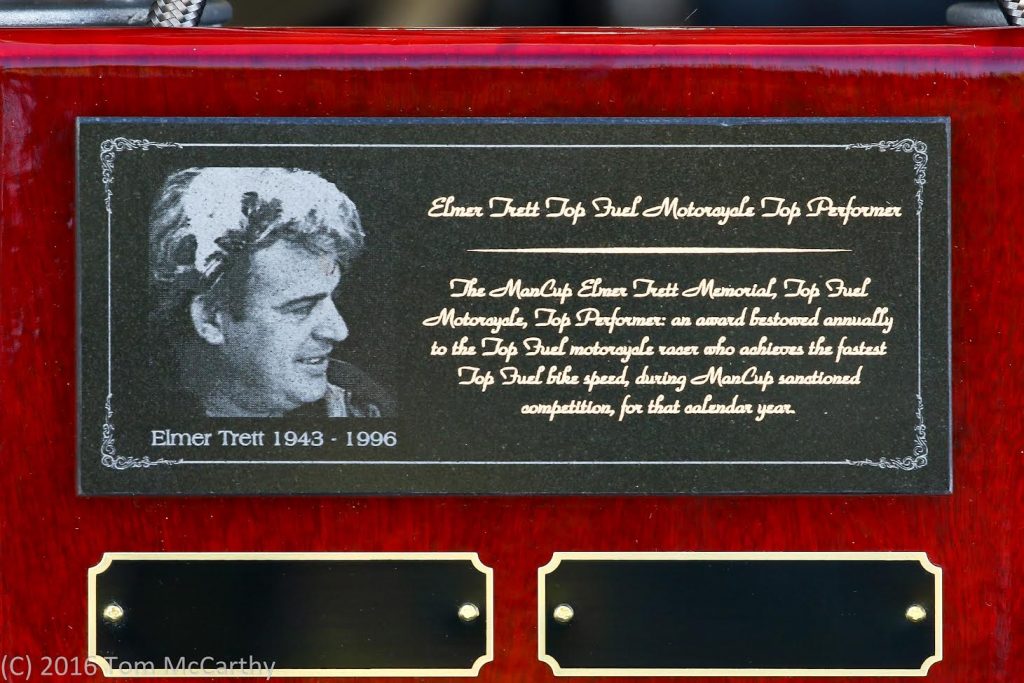 The plaque, which measures 9×12" has twelve blank name plates on it and features a black Granite block area atop it with the likeness of Elmer Trett, laser engraved into it. Beginning with the 2017 ManCup season opening race, the Top Fuel racer with the fastest MPH from the 2016 season will be presented this plaque with their name and top MPH for the previous the season, engraved into their name plate.
Mr. Trett, who was inducted into the AMA Motorcycle Hall Of Fame in 2000, lost his life tragically in September of 1996 in a racing mishap. Prior to that, Elmer Trett devoted two decades of his life spanning from 1976 to 1996, in the pursuit of the top performance for Top Fuel motorcycles. Elmer was the first in sanctioned competition to crest the 200 MPH barrier; a feat he achieved in 1983, that landed him in the Guinness Book of World Records at that time. Elmer was also the first motorcycle drag racer to crest the 210, 220, 230 and 235mph barriers in competition.