With the season opening Exoticycle, Roaring Toyz, 2016, MANCUP, event presented by Vance & Hines Racing, less than a week away; Larry McBride will be relieved to know his latest leathers are race ready.  This epic new epidermis for America's favorite Arachnid has been hand crafted by Vanson Leathers featuring art work by Jeff Disinger, of New York.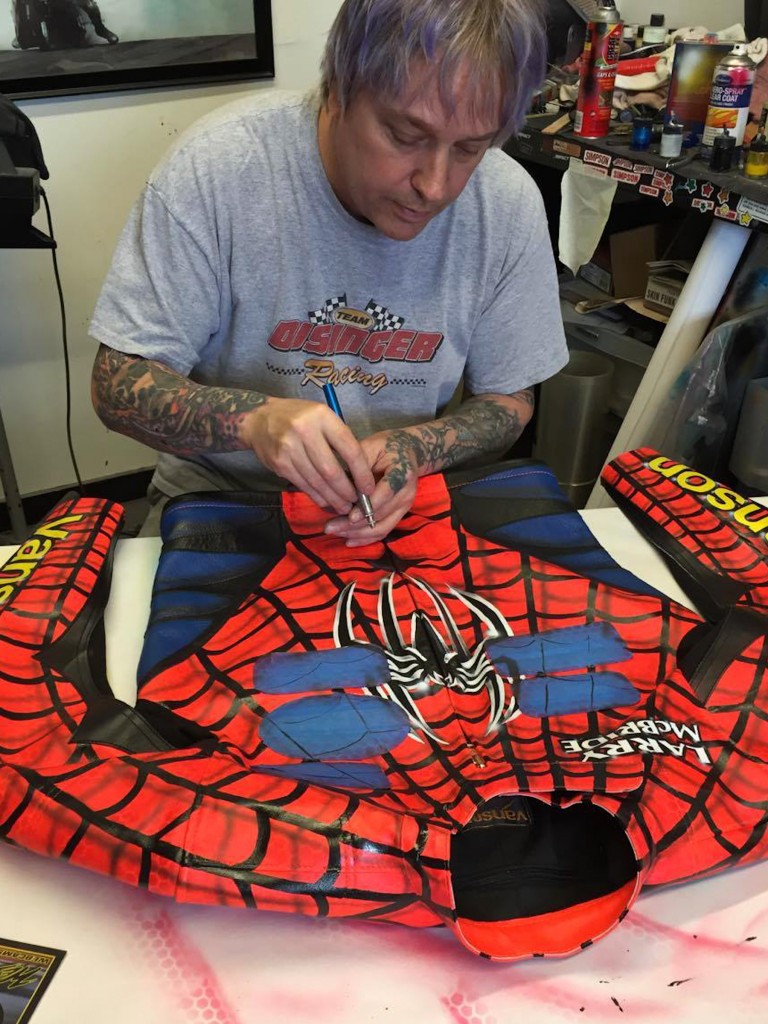 This is not the first time Jeff "Dice" Disinger has hand painted up a new set of Vanson Leathers for Larry, "Yes, I did Larry's last set of leathers that was tainted by that last bad engine explosion Larry had, in September of 2015.  That artwork was messed up in the fire and Larry's had a change in sponsorship too, so time for a fresh new look."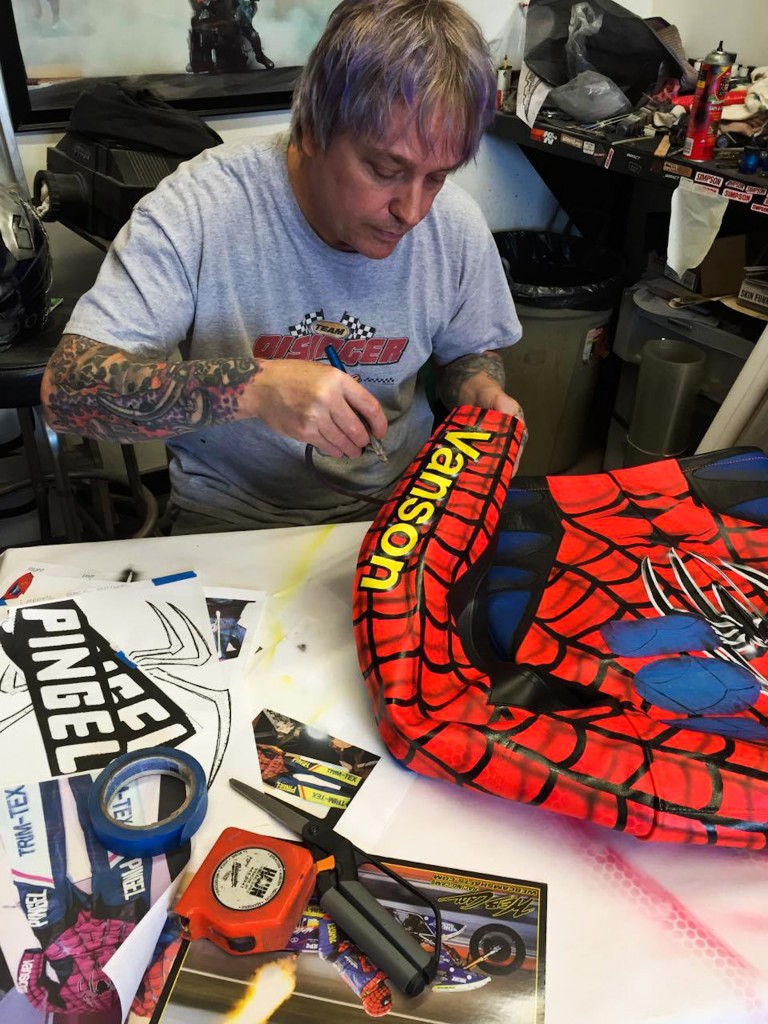 Jeff at his Skin Funk Tattoo shop in Cicero, NY said he was quite busy with a number of projects when he got the call to do another set of leathers for Larry in March of 2016, but "when the Spiderman calls you – you drop everything, put all other projects on hold, and get to work."  The results are mighty impressive to say the least.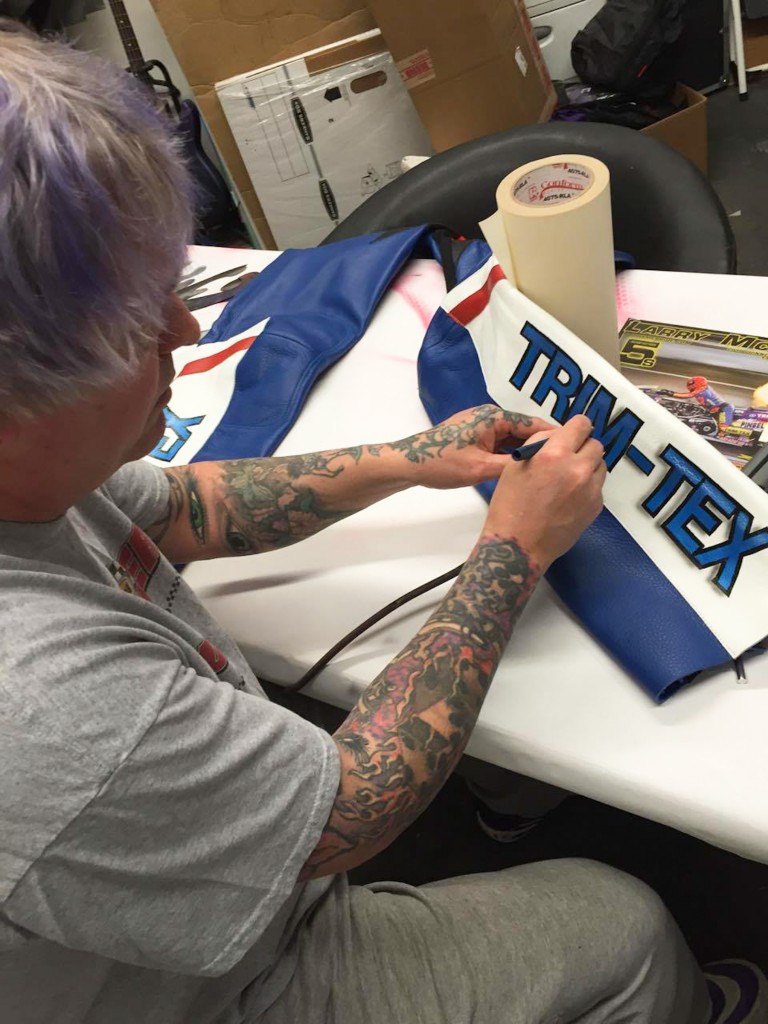 Jeff commented "I have about 30 hours of hand painting into this set, a lot more detail than last time.  His previous set I had a good 20 hours into that one, but I did a ton more detail this time.  It really just pulled me in."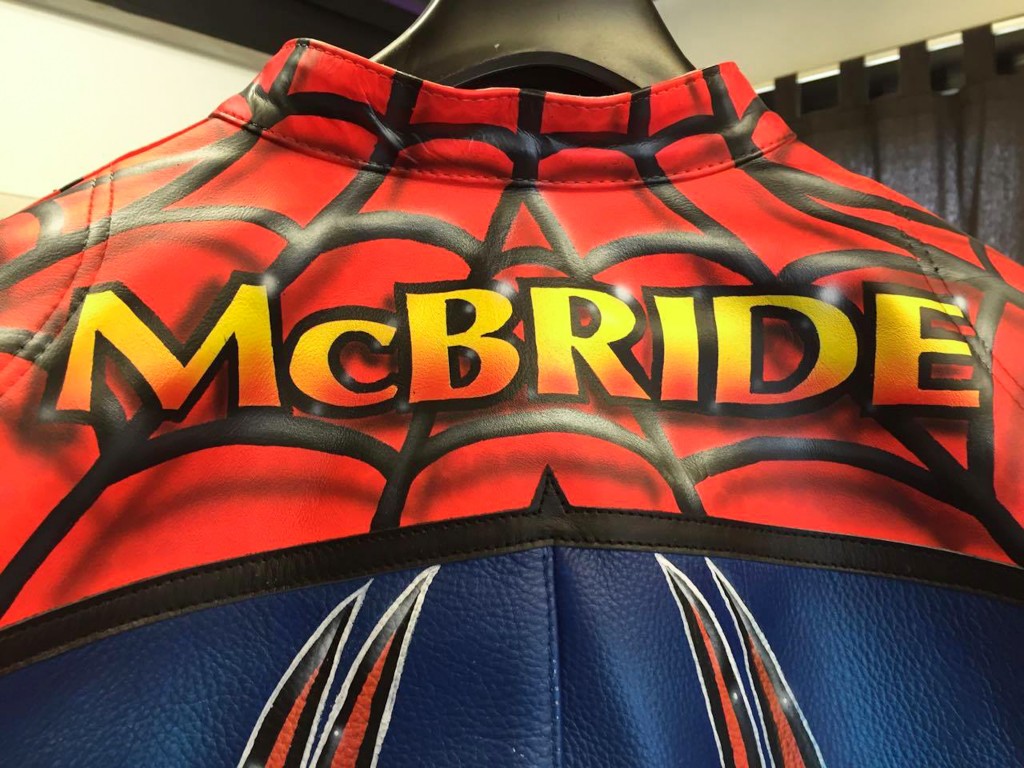 The leather artisans who hand crafted this one-piece racing suit by Vanson Leathers of Fall River, Massachusetts, put not less than ten hours into it creation before it shipped off to the Dice man in up-state New York.  Then Jeff dropped everything he was doing and devoted all his time to the Spiderman project.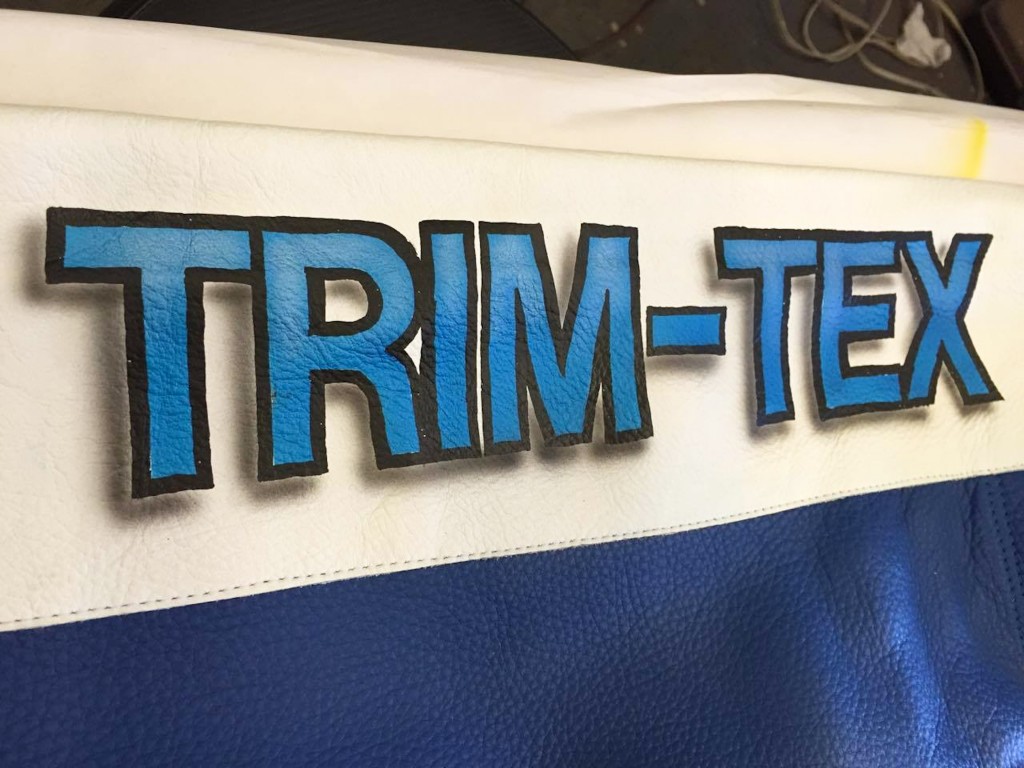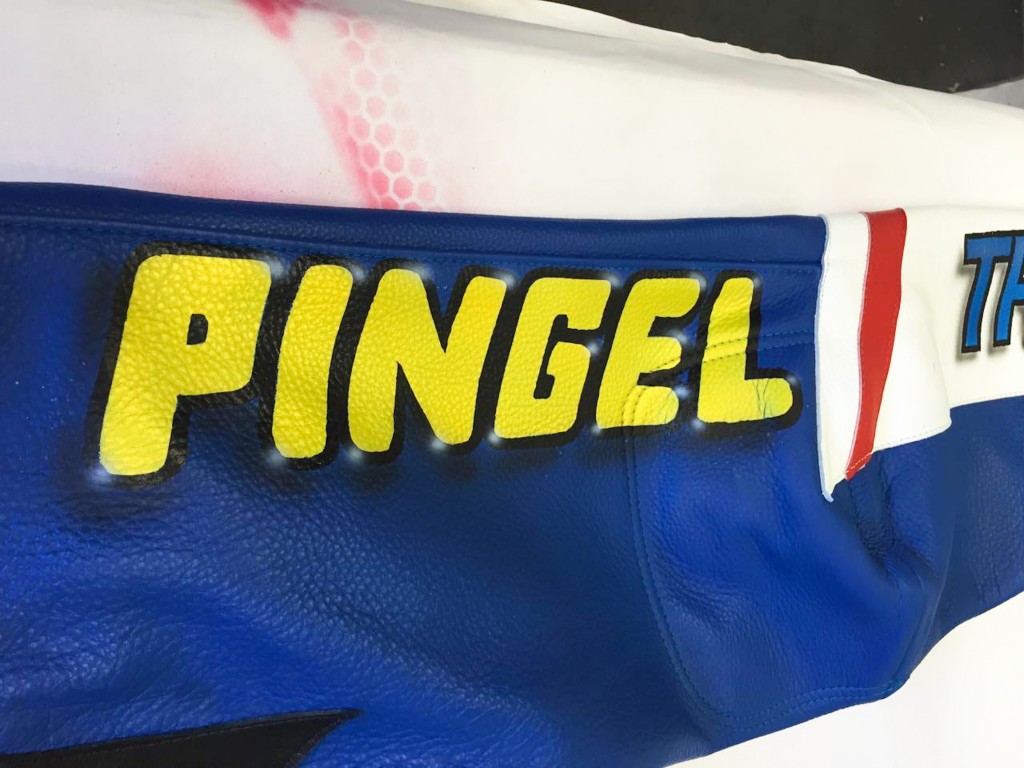 And why did Jeff just drop everything for Larry?  "I really like the guy, he's genuine, he's real; that's very hard to come by in this day and age.  Larry is just a real nice guy, he does what he say's he's going to do."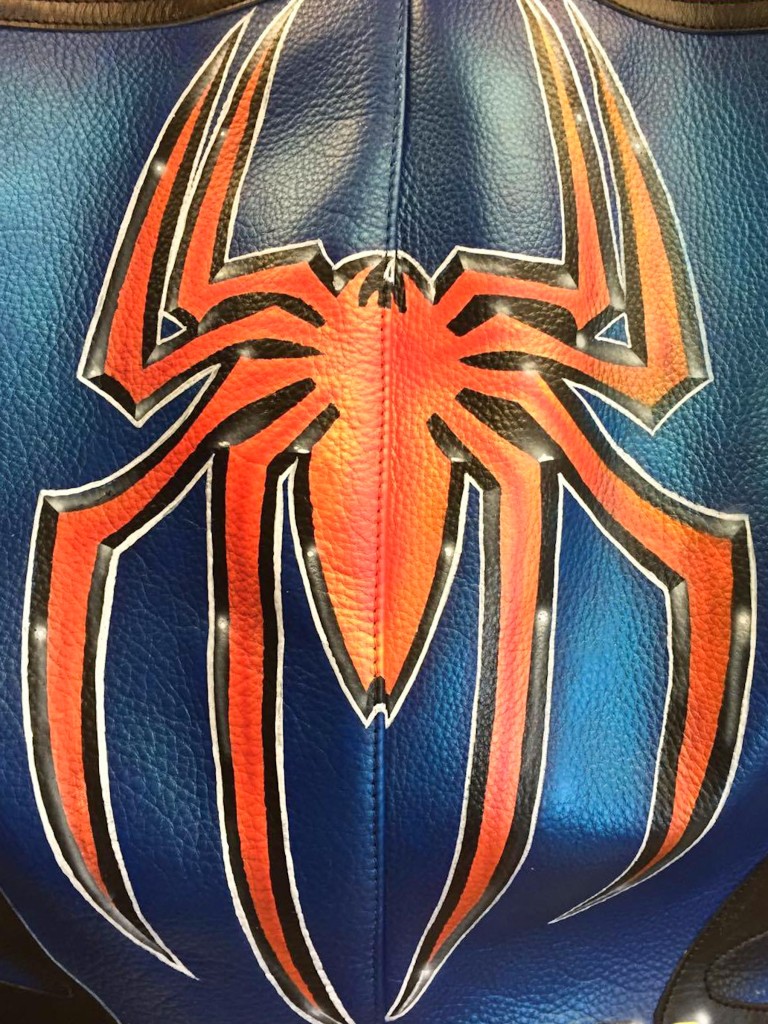 With a selection of photographs from Larry's last set of leathers, and new art work from Larry, Jeff dug in deep.  "This set is done in all pearl and metallic paints with airbrushed accents.  It's all done one brush stroke at a time."  While he's never shy about picking up his air-brush gun, he loves still doing brush work.  "It brings me back to when I used to work with my dad and my grandfather."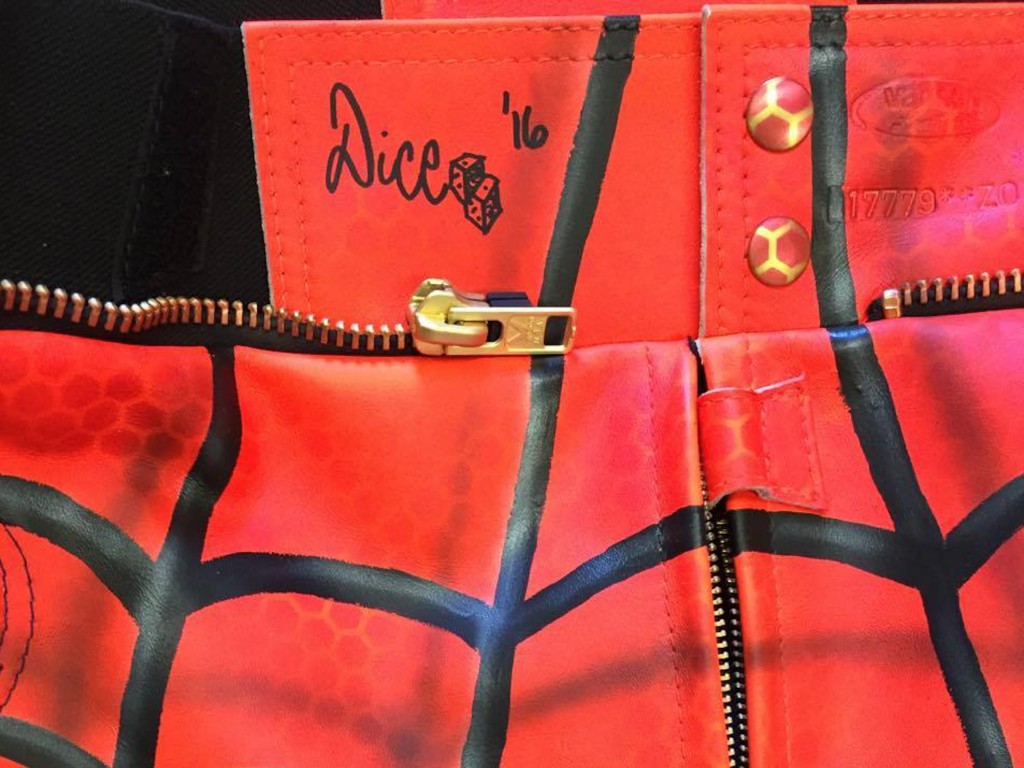 Jeff is a forth generation sign painter who's been working with brush strokes since he was eight years old.  Now at age 51 he's creating some of his best art ever.  Back in the day, Jeff worked with his dad as a sign painter.  This went on until the 1990's when he got the urge to start slinging ink as a tattoo artist.  Jeff still does a sign or art work upon request as time permits, but he really enjoys being what he refers to as a "micropigmentologist."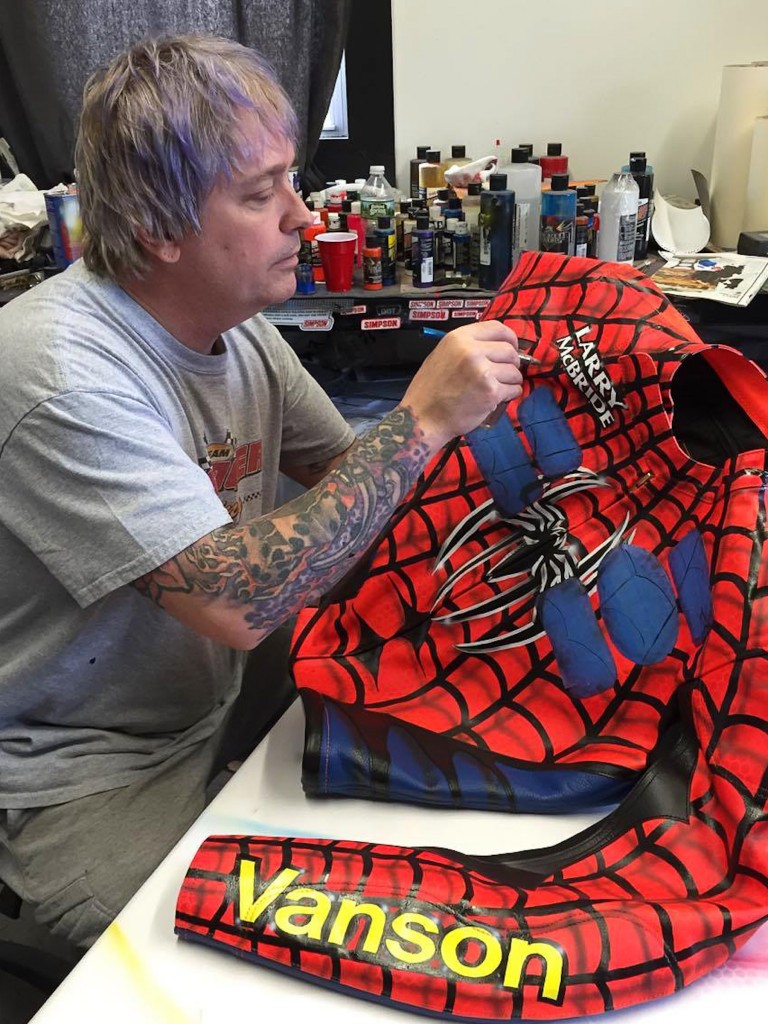 Jeff is also no stranger to the race track.  He's been on and off drag bikes, cars, and LSR machines since he was a young man.  In his twenties, Jeff designed an electric powered drag bike as a concept.  The technology for such a project was not there at that time in the mid 1980's, but fast forward to this day and age and dreams become realities.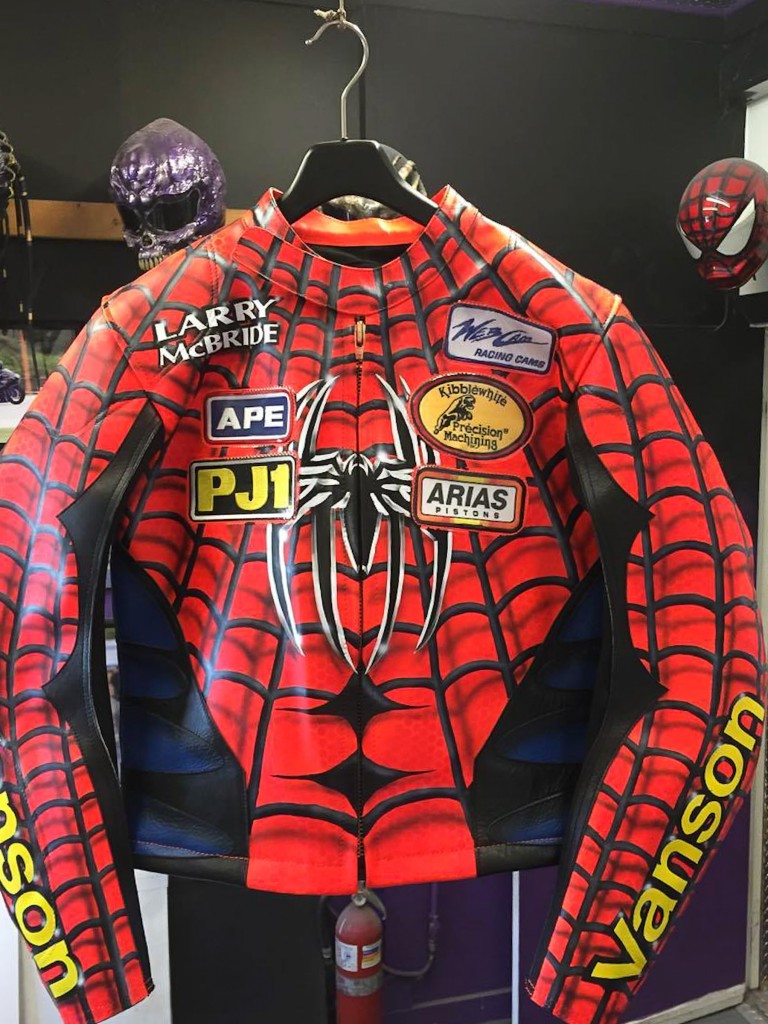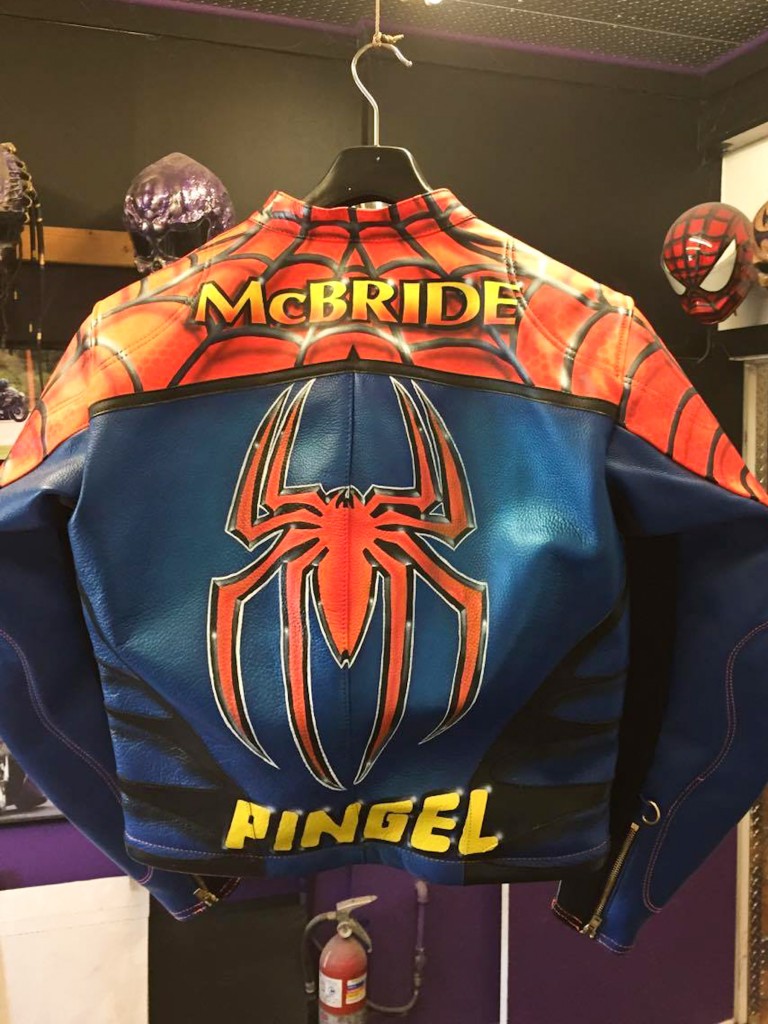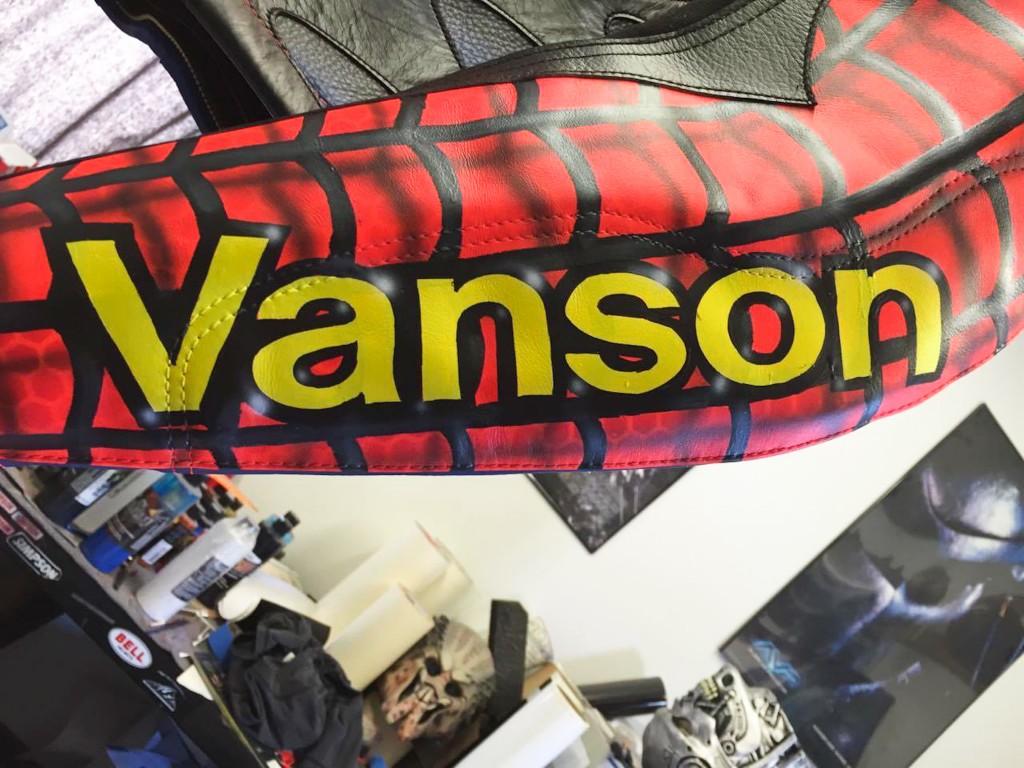 With changes in electric motors and battery technology, and a TON of effort, Jeff has run a best of 7.84 @ 162 mph sporting a 1.19 sixty foot time!  With an electric powered motorcycle, not too shabby by anyone's standards. Jeff is a multifaceted, multitalented guy, not afraid to take chances.  But most of all he's an artist and a damn good one.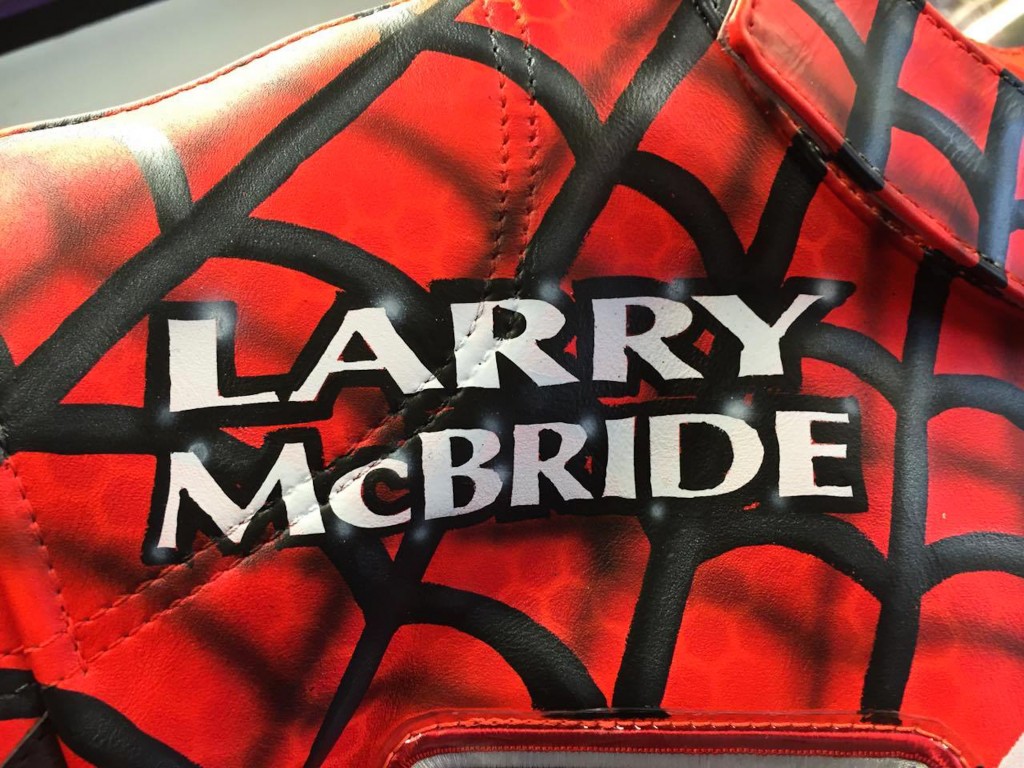 McBride thanked his primary sponsors; Trim-Tex Drywall Products, Pingel Enterprise, Drag Specialties-Parts Unlimited, Red Line Synthetic Oil Corporation and Final Swipe Merchant Services.
Web-Cam, Vance & Hines Motorsports, Portable Shade, PR Factory Store, Ferrea Valves, Kibblewhite, Precision Machine, World Wide Bearings, Vanson Leathers, Five Star Powersports, Belt Drives Ltd, Simpson Race Products, Nitrous Express, APE, EK Chain, Arias Pistons, Cometic Gaskets, B&J Transmission, Carolina Cycle, L.A. Sleeve, PJ1, Mickey Thompson Tires, Valco, Goodridge, Carlisle Belts, ProJack, Bullseye Visual, Five Star Powersports and Gates Belts.