Sportsman racer Kyle Olson takes us inside his successful weekend at the WMDRA event with this blog.
This past weekend at the Inaugural WMDRA S&S Cycle Proven Performance Nationals, July 24-25, at Eddyville Raceway Park was one of the hottest, busiest, and eventful races of my career. I was fortunate to have the opportunity to borrow the bike that started it all for me and even more fortunate to have my friend Steve Klemme there to race with me.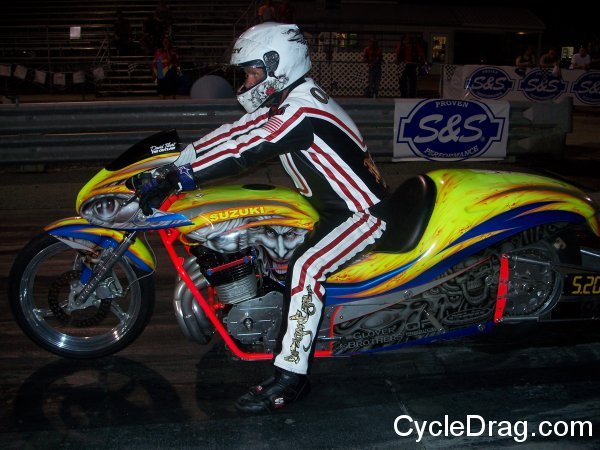 My buddy Bill Glover, who introduced me to drag racing, sold the yellow GS bike to David Tibert and Zona Knox and last weekend I was lucky to have Bill by my side and the bike ready to go down the track. With the yellow GS, my busa, and Steve ready to race, we approached Friday's test and tune with a plan. Steve would ride Top Gas and Pro ET on the GS and run 6.20 on my busa. I would run Super Comp and Pro ET on my busa.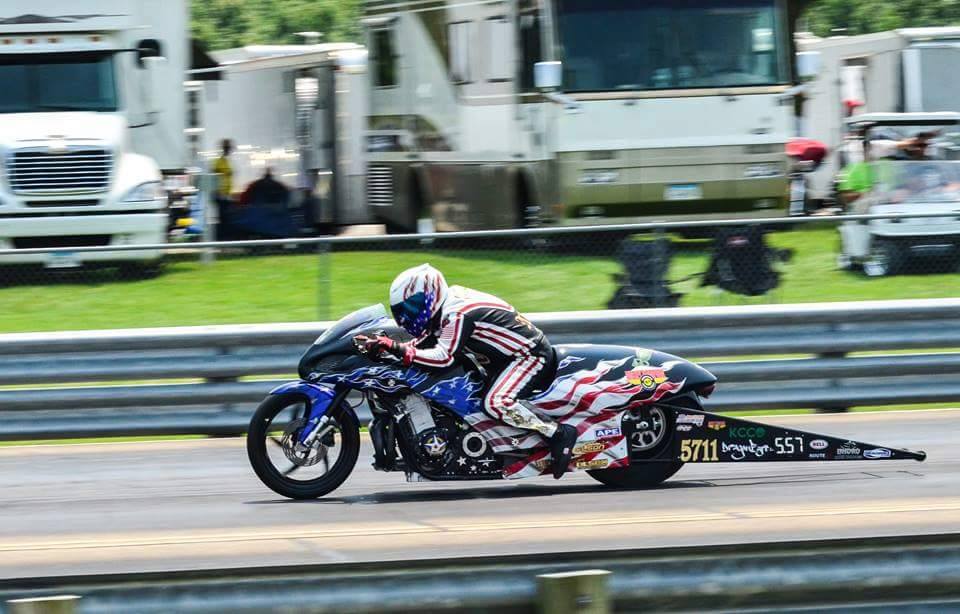 Well, as a good solid concrete plan always seems to go…as planned, we approached Saturday with a different tune. We found that Steve wasn't able to run the number for Top Gas, so I was going to try and run the class on the GS. Steve worked his tail off to get the clutch set up right for me to run the number. I think he had the cover off seven times adjusting the stack height and weight. Pro ET was the first class called up, so we took the GS up there thinking if we need to make more changes at least we would get some time before the first Top Gas qualifier. BAM 5.202! I don't think you could have wiped the smiles off our faces!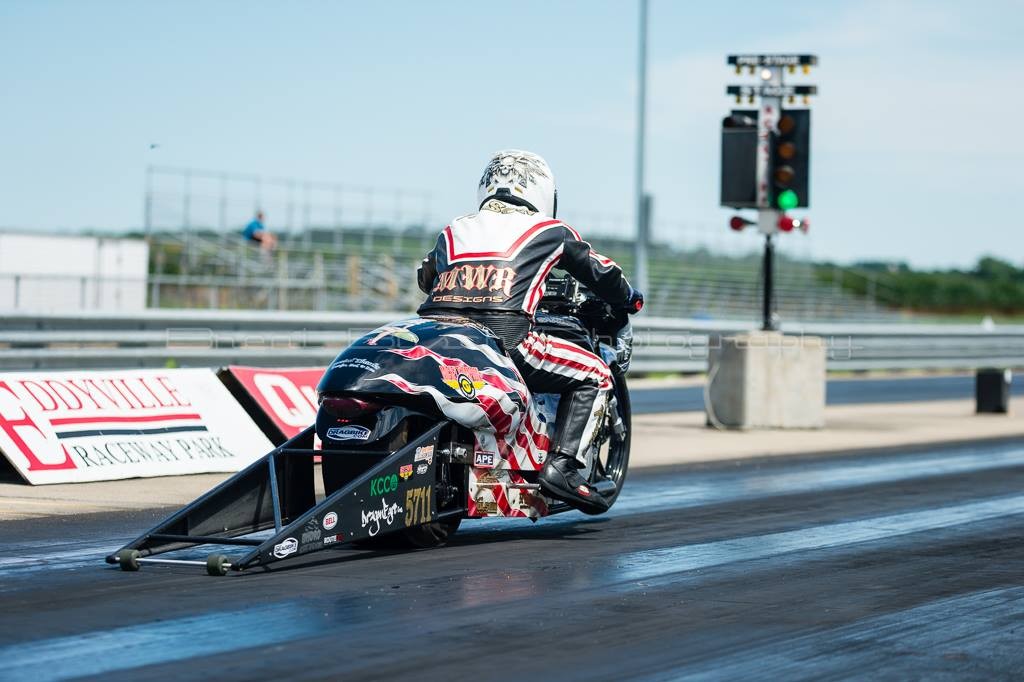 I entered the Top Gas class on the GS, Super Comp and Pro ET on my busa and Steve entered 6.20 on the busa. We noticed there were only 3 bikes in Pro Open so I entered the GS in that class as well. Why not right?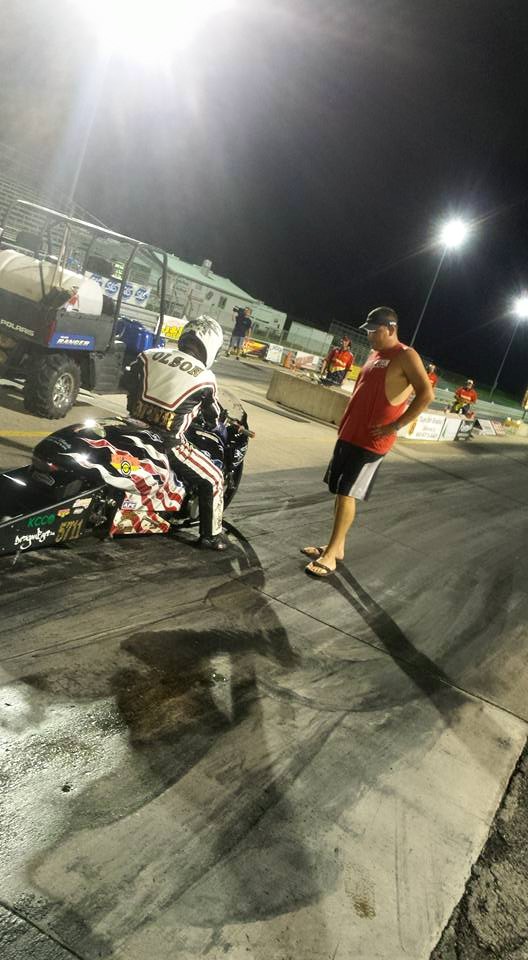 Did I mention it was in the 90's with humidity levels 75% or higher? Normally the wind never quits in central Iowa, but on this race day not a bit of wind. It was hot, humid, and sticky in those racing leathers!
In Pro Open, I was matched up against the always consistent and fast Mark Rendeluk. He was running low 4.20s. He sure had a nice smooth pass, I got to watch first hand! I was impressed watching him go down the track.
In first round of Pro ET, I was paired against the always tough and a bit of a legend in my eyes, Frank Linder. I knew I had to be on my game in order to stand a chance against him. I hit the tree great .001. I caught him a lot quicker than I thought I would so it threw me a little. I tried really tightening up the stripe, but I went too far and gave it back by .001. Man was I frustrated. So after Steve got done laughing at me and giving me shit, we headed back up to the lanes. I was able to win first round of Top Gas. Unfortunately for Steve, my two-step failed to work in first round of 6.20. He caught it, tried just hit the throttle at the green, but still went red. I was really bummed out for him, he was riding my bike so well!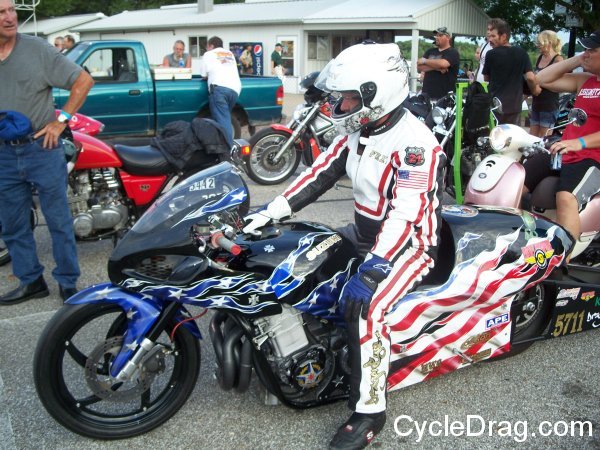 Things sort of got crazy after first round. I bought back in Pro ET and was able to pull off the win. I made the run, came back and my daughter Jaylon was jumping up and down and gave me a big kiss and hug. (she can sure bring a grown man to tears in a split second) Steve's son Carson and his buddy were throwing high fives like crazy. By this time they were calling the next class up to run so Steve and I headed to the lanes. It was like this the rest of the night! We would get done with a run, look at the ticket, make sure the other bike was good to go thanks to my wife Nicole, Bill, Dustin DeHaan, and Cam and Kim Belisle filling in to help wherever it was needed and we would head back up. I think we damn near killed Billy Glover, he was running around like crazy!
As the night went on, we were able to get down to the finals in all three classes, Pro ET, Super Comp, and Top Gas! My first final was the Top Gas class. I was up against Heather Baldi who I knew had nitrous and would be tough. She got me on the tree a little, we were both late, but I was able to chase her down and take the win! Next was Super Comp. I was up against Tom Klemme. I knew I would have to be .020 or better on the tree to be close to him. I can't get my EFI to react quickly on a Pro Tree and he treed me pretty good. I also went to hit second and it got stuck between the gears, I hit the button again and it took 2nd but by that time Tom was long gone and got the win. The last race of the night was Pro ET. I was up against a long time competitor Larry Christianson. I cut a good light, so did he but I was a little better, caught him early, got a wheel on him and took the win!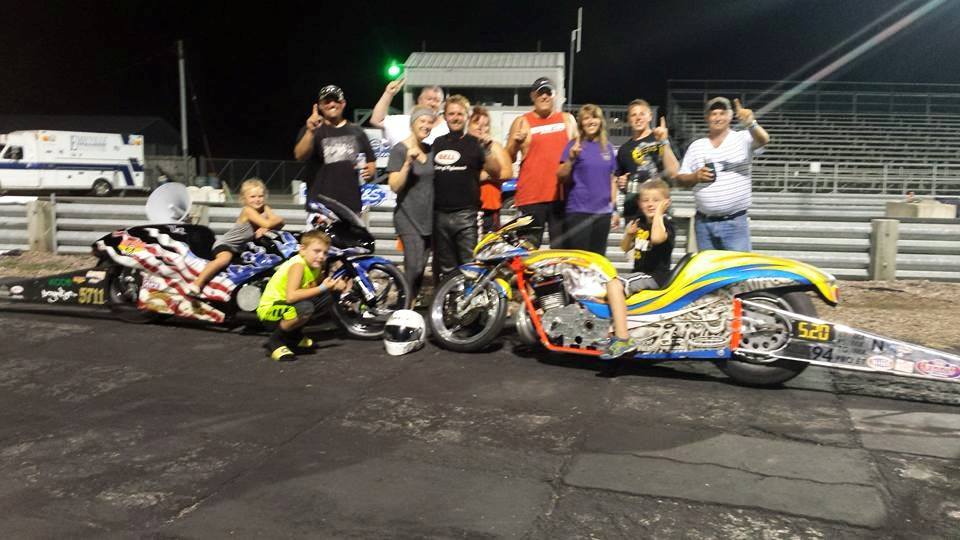 The Top Gas win was probably the most special to me. Not only was Bill there, who hasn't been to a race since he sold the bike, to watch me take the win, but to get a win for David and Zona who graciously let us borrow the GS. It sure meant a lot to me! The biggest reason though was this chassis was built by the late Gary Clark, who we recently lost to liver cancer. Wither he knew it or not, he was a big part in the early stages of racing for me. When I first threw a leg over that bike, I was hooked. It was the nicest thing I had ever seen. He gave such great advice and always answered our questions. This win was for him, we are all going to miss him very much.
I want to thank Sandra of the WMDRA. She has such a love for motorcycle drag racing and it shows! It shows with low entries and incredible payouts and she was right there to answer any questions anybody had. I want to thank the entire Eddyville track crew. You gave us a safe, fast track in the blistering heat and were always friendly. Gerald Kramer, owner/operator of Eddyville, thank you for working with Sandra to put this event on and adding additional money out of your own pocket to the Street and Pro ET classes. That act of kindness sure shows your true character and was very appreciated! Also to the photographers and media crew, you guys did a great job covering the event, it'll be neat to see how it turns out on TV.
In all honesty, I couldn't of done it without one of my best friends Steve Klemme by my side. The way he can look at a run and tell you exactly what you did right and wrong and how to even fix it is amazing. He has taught me so much in so little time, I am forever grateful. I can't thank my wife, Nicole and Jaylon for the loving support and putting up with the heat so I can do what I love to do, it means more than you know. To all my friends helping, Bill, Cam, Kim, Dustin, Cathy, and Mark. I owe a big thanks to David Tibert and Zona Knox for the opportunity to ride the GS again. It sure was a blast!
To all my sponsors for their continued support through the ups and downs. I wouldn't be here without them that's for sure! Dragon Fyre Inc. for the incredible support and believing in me. Mickey Thompson tires for keeping me hooked up, Bell Powersports for the best helmets on the market, APE for the great prices on my performance parts, Fenders Cycle of Ames for the always fast and friendly service, and MWR Designs for the most original designs and artwork. Matt Riha of MWR is truly a genius with an airbrush! Here's to a great rest of the season!