After a two-race road stint to the St. Louis area's Gateway International and Louisville's Ohio Valley Dragway, Brian and Niki Welch welcome the NHDRO family back to Lucas Oil Raceway near Indianapolis, Indiana, for the NHDRO Summer Celebration on August 7-9. With MotoGP and MotoAmerica lapping at the Speedway and thousands of bikes cruising downtown, it's officially Motorcycle Weekend in the world speed capital and NHDRO will be holding up their end on the west side.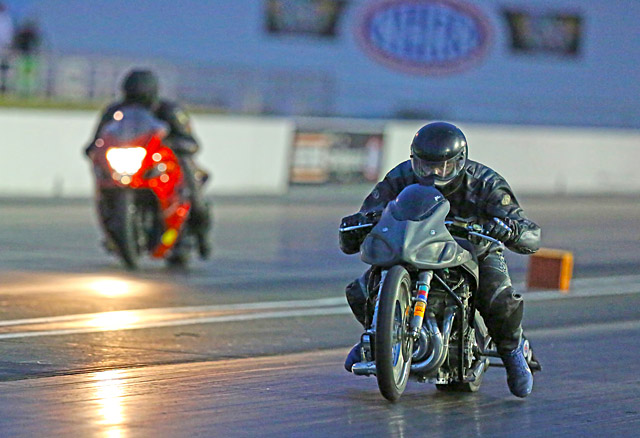 The high-tech horsepower kings of it all are the street legal beasts of McIntosh Machine & Fabrication Pro Street. Nothing racing anywhere in town will reach the top end speeds of Pro Street bikes, especially the turbocharged Suzuki Hayabusa of points leader Bud Yoder. With two wins and one runner-up in three races this year, Yoder has shown himself to be the man to beat.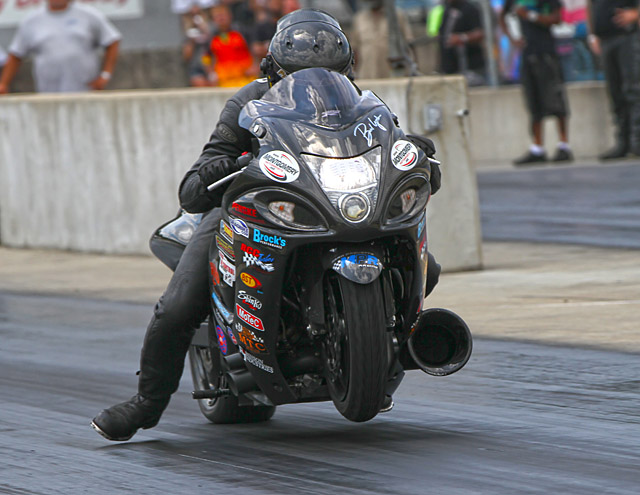 But a proven hot weather combination will be a surprise contender and might just be able to lock Yoder out of the Indy winners circle. Recent IDBL winner Richard Gadson and the wildly popularly nitrous, old school, air-cooled Suzuki GS of Brad Mummert will make the trek west for this rare appearance. While turbo 'Busas struggled in the Maryland heat, the 35-old GS laid down lap after lap in the 6s with dynamite 60 foot times for a huge win.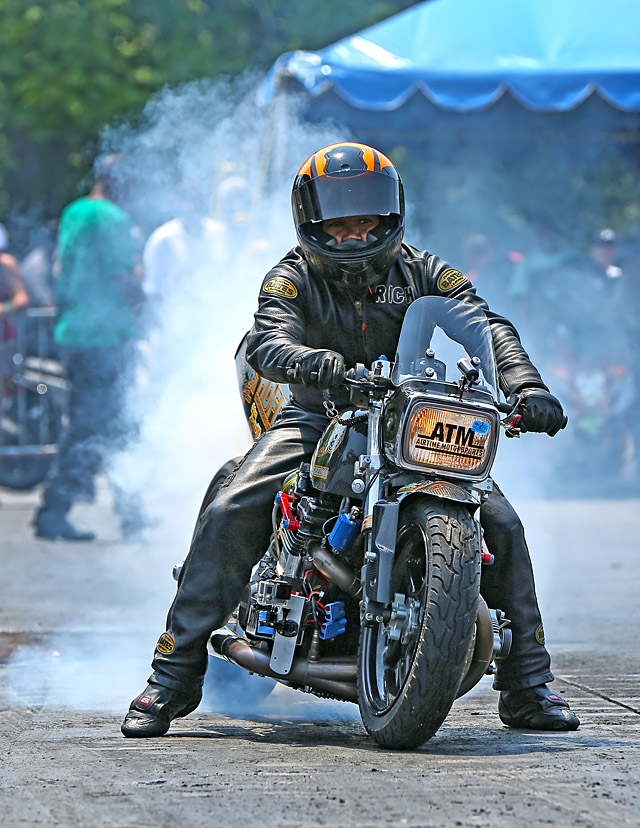 But Yoder and teammate Mark Paquette, Gateway winner Jeremy Teasley, local hero Justin Doucet, Honda diehard Frankie Stotz, St Louis powder keg Rudy Sanzottera, Gabe Frederick and more will not be taking Gadson's invasion lightly. And all will be racing deep into the night on Saturday in the Dunigan Pro Street Shootout—perfect timing for those attending the Speedway events during the day. The track will have cooled and anything goes in this high horsepower assault on the Indy 1320.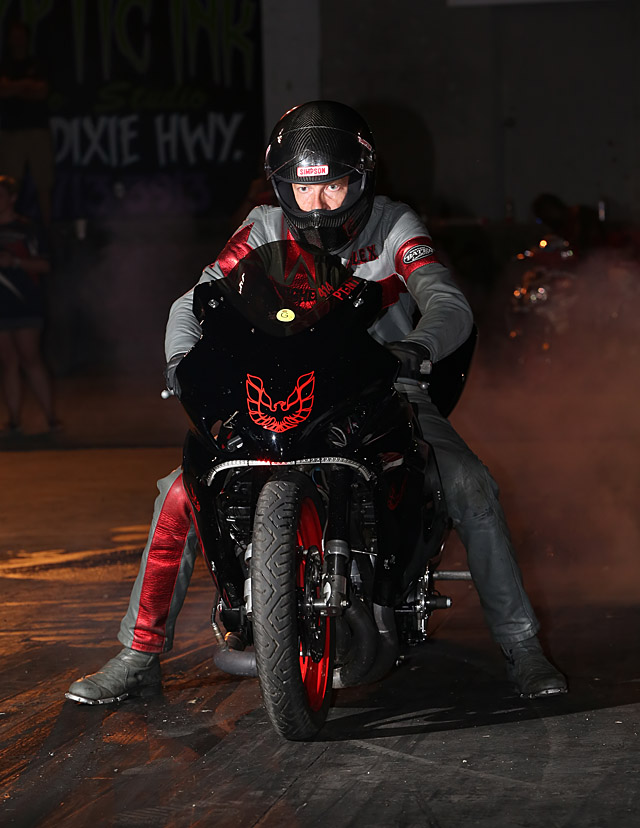 Accelerating even harder than Pro Street bikes are the turbo and/or nitrous combinations of Pro Comp. These big-tire, wheelie bar behemoths grip and tear at the Lucas Oil racing surface to propel forward as quickly as possible for man and machine.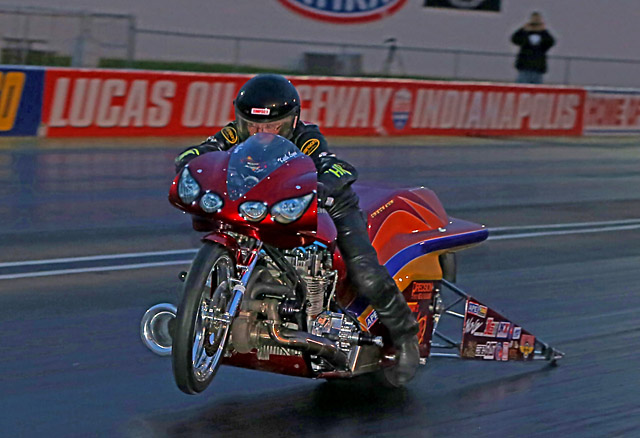 Gadson is expected to be racing in this class as well following his Louisville win on Jeff Jones' nitrous-huffing "Fast Times Motorsports" PXM Suzuki. Hoosiers Chris Cutsinger, Ron Maddox and Keith Lynn, Louisville's Deshaun Wheeler, Iowa's Brunson Grothus and more will all assault Indy's track record.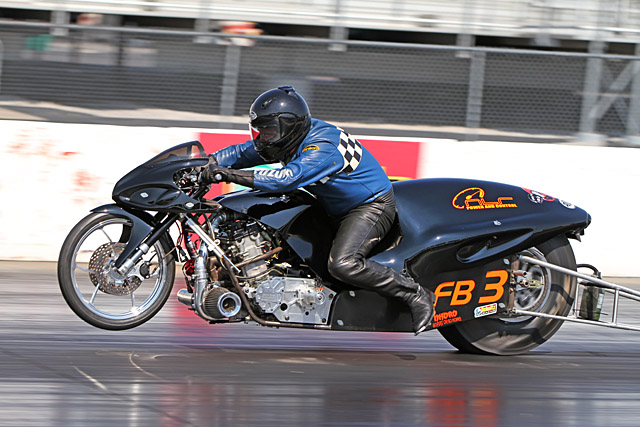 Dialing it back to a 4.60 eighth mile index are the bikes of Quicktime Motorsports/Lindeman Performance Pro Ultra 4.60. Consistency has given second generation Brevin Bond the 4.60 points lead, but will that be good enough against the race-winning aggression of Dan McCarten, Mantez Thompson and Courtney Wheeler? And most importantly, who will be riding Jeff Lindeman's bike—world traveler Les Stimac or Lindeman himself? Route 21 Top Gas champion Greg Mallett is once again on top of the points standings, and Indy is his playground. Can Kounselor Kenny Schwartz, Louisville winner Ron Morris, Jason Keller or anyone else prevent Mallett from a repeat? Chad Isley's had a Ted Nugent-style Stranglehold on Millennium Trailers Super Comp so far this year, although "The Other Jeremy from Ohio" Himes was able to secure the win in Louisville. But time is running out and John "Spooky" Markham, Brian Selner and others need to step up. Ron Arnold leads the Crazy 8s points standings, but doesn't like being there without a win. Likewise, 2015 race winners Ben "Hardest Working Man in MC Drag Racing" Knight, Dustin "Tennessee" Lee, and Clark Proctor don't like not leading the points…something's got to give.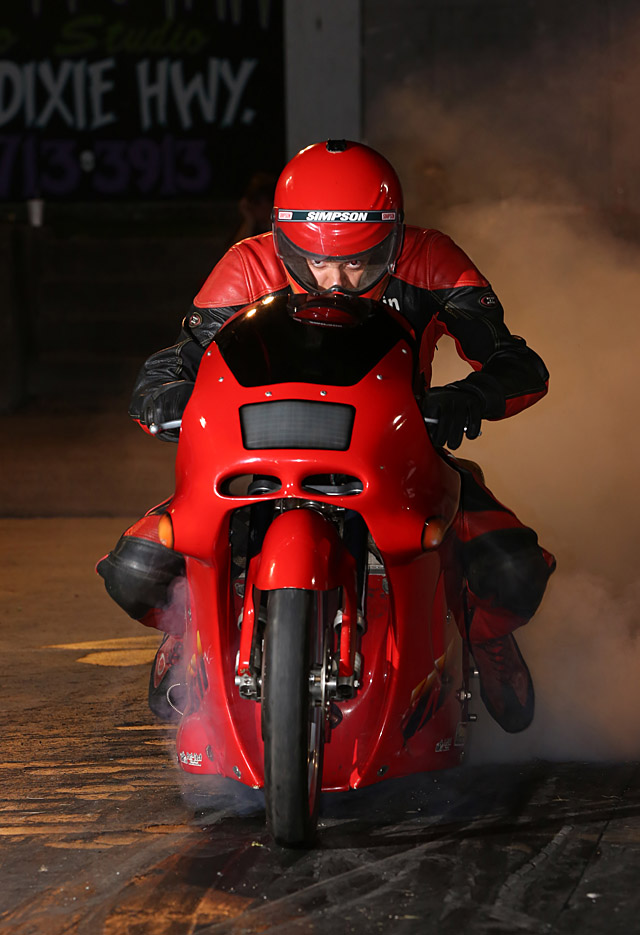 Lee has a Streetfighter 9.50 index class win so far this year, but Markham has the points lead while Lee is third. Shawn Books sits second, Kevin Adams fourth and Arnold within striking distance in fifth. Mallett leads Isley in G&G Metal Spinners Pro ET points, but defending champion Scott Kaufman sits third. With multiple races per weekend, Pro ET and Dennis Insurance Street ET are both ripe for major shake-ups. Lee leads Knight, Wes Brown and his GSXR of Renown, and Stephen "Not Just Ben's Brother" Knight in Street ET points. It's also time for all the true hand-clutch bikes to come out and play in MSP True Street. Stop bragging about your left hand and show who's boss in this instant green light, eighth mile class. It would be hard for Port-Tech Grudge to match the intensity of Louisville's Grudge Reunion, but NHDRO grudge is always a great time with some serious races to boot. With Gadson on hand, one might expect to have grudge-bike-of-the-moment "Lawd Have Mercy" on hand, as well as Lil' Rich's usual ride "Bud Light Lime." Add in Alex Hughes and "Knight Rider," OSR gangsta "Money Mike" Studebaker, CJ400's "Al Capone" Kawasaki ZX14, MSP's "The Fugitive," NHDRO hero Whip and everyone else that shows up, and you have some serious racing. Earlier in the evening, the Big Wheels of the 10 and under set hit the track for some quick-pedaling, three-wheeled action. The always-intense Caeson Markham will defend his Gateway win against all-comers.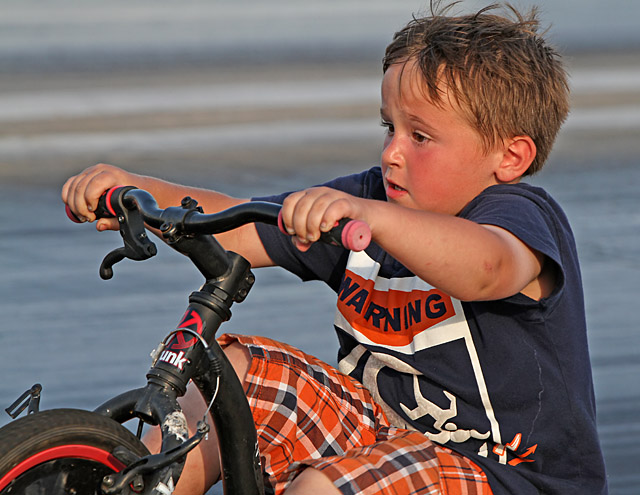 And remember this—NHDRO races deep into the night, many hours after road racing peters out at the Speedway. When the road bikes stop turning is when the dragstrip starts burning! Your MotoGP ticket stub will get you $10 entry into the NHDRO Summer Celebration. So BE SURE and make NHDRO part of your Motorcycle Weekend in Indianapolis. Find out more about the NHDRO at http://www.nhdroracing.com/ NHDRO thanks McIntosh Machine and Fabrication http://www.mcintoshmachineandfab.com , Quicktime Motorsports http://quicktimebikes.com , Route 21 Racing Apparel http://www.route21.us , Millennium Trailers http://www.milltrailers.com , G&G Metal Spinners http://www.ggmetalspinners.com , Kevin Dennis Insurance http://www.bettercoverages.com , and Port-Tech http://www.porttechheads.com/index.html This report was prepared by Tim Hailey. Enjoy everything there is to read, see and watch about motorcycle drag racing and more at http://www.eatmyink.com