It's race week for the Korry Hogan – Alewine team as they eagerly prepare for their season debut at the Manufacturers Cup HTP Performance nationals (
June 19-21st
) in Memphis, TN.
While the team recently tested at US131 Motorsports Park two weeks back, this will be their first national event appearance in over three years.The team led by the Alwine family with driver Korry Hogan had a successful opening test session up in Martin, MI. Many family members, friends, and sponsors attended to anxiously watch the new ATF-1 Hayabusa designed beast make its first blasts down the 1/4 mile strip.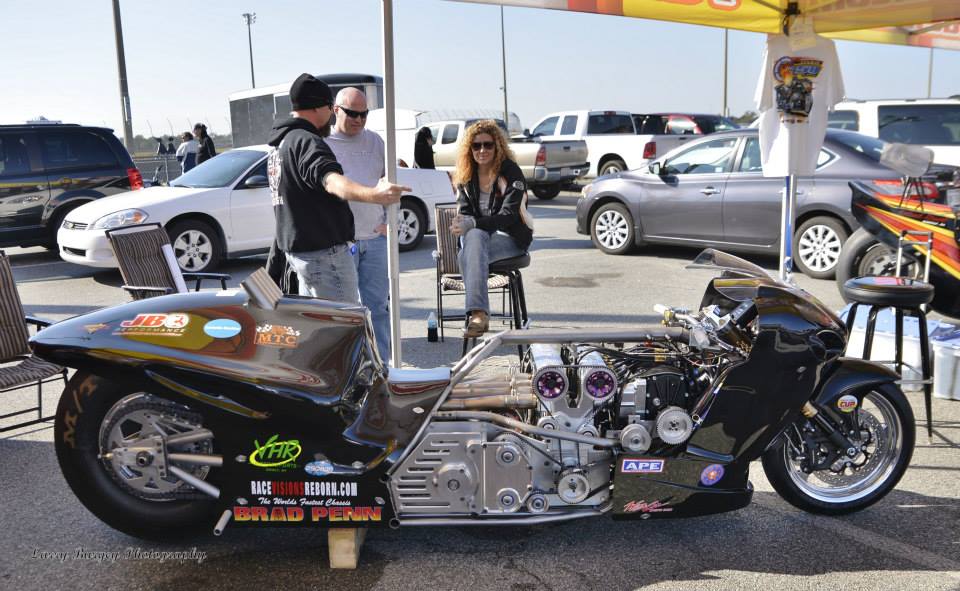 A surprise attendee and major sponsor on board with the team; MTC Engineering owner and president Eric Hochstetler is just as anxious to see the new machine in action as everyone else."It was great to see Eric with us at the track, for him to show up for our first time out shows the support and dedication that he has for us and the sport of motorcycle drag racing" stated Chris Alwine.
The first time back on the bike for Korry was an adrenaline rush for all involved, opening the throttle and doing a John Force style burnout as if he hadn't missed a beat in his 42 month absence from Top Fuel.The crowd in town for a bracket race weekend went nuts as the crew pushed the crackling nitro burner back through the smoke to the starting line. The bike left stout and made serious horsepower to the 60 ft mark before letting the rear tire loose. Although no full pulls were made throughout the weekend the team did exactly what they needed getting some much needed data and track time for Korry.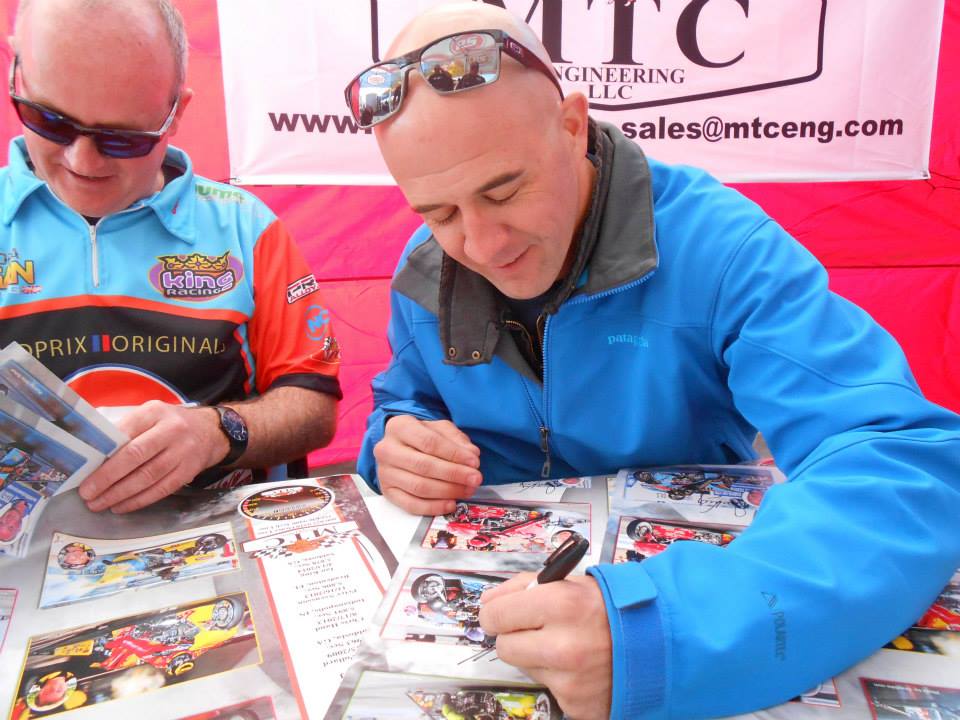 The newly engineered Suzuki has been torn down and re-built, everything will be touched up and finalized this week before packing up and heading out for the blues region of Memphis, Tenn. Expectations for the weekend are to make some solid 1320 ft runs and get everyone accustomed to going fast again!!
The team would like to thank the following list of sponsors and people involved: MTC Engineering, Brad Penn Racing Oil, Web Camshafts, Symonds Machine and Phil Myers, Schnitz Racing, Jon Bond Performance, APE, Tony and Gina Lang, Portable Shade, Worldwide Bearing, Race Visions Reborn, Van Hook Racing, Al's Engines, Dale Schmidtendorff, Swiss Valley, Marty Powers, Kurt Alwine, Artie McElwee, Pat and Denny Newcomer, Jeff Scott, Peter Anderson, Ed Kelly, Terry McMillan, and Richard Hartman.
Be sure to stop in next weekend to check out the operation and say hello to everyone apart of Alwine Hogan Racing.
Photos courtesy of – Larry Burgey