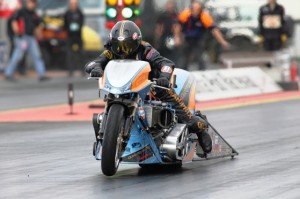 Following their impressive top three European Championship finish in their very first year on the all new Gulf Oil – Grand Prix Originals Top Fuel Bike, the team elected to compete in the British season finale, the ACU / UK Finals at Santa Pod, England.
Following the problems experienced by many racers at the venue during the recent European Finals event due to the tricky track surface resulting from track repairs the team did not anticipate improving on their recent form. The track remained somewhat difficult for this event too despite the best efforts of the hardworking track crew, and the relatively cold conditions did not help traction.
However, their pessimism seemed to lack foundation when the team qualified in number one position for eliminations with a new best for the bike, 1.0840 secs to sixty feet, 4.0214 secs @ 192.55 mph at the eighth mile and 6.1487 secs @ 213.92 mph for the quarter, the low terminal speed at the finish line betraying a dropped cylinder. The team were on for an unlikely new British record if they could continue this level of performance.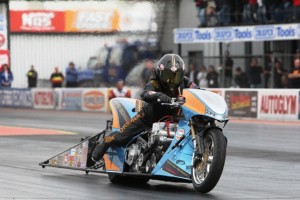 The first round of eliminations saw King through safely with a bye run and into the semi's against Chris 'Cannon' Hannam on his brutal Supercharged Van Geffen Puma V Twin machine.
However, Cannon's best efforts were to no avail when King drove through tyre shake and around the charging V Twin, 6.3659 secs @ 204.28mph beating a 7.5537 secs @ 168.54 mph and into the final to meet Kev Charman (who had just confirmed his 2011 ACU / UK Championship crown by winning his semi final – well done Kev!)
The Final proved somewhat of a peddling competition for the two Puma Yamaha powered machines when quickly deteriorating track temperatures saw Ian King struggle to keep his machine in the groove and Kev Charman's rear tyre up in smoke at the hit of the throttle.
However, the number one qualifier prevailed with King just taking the stripe with a 7.7830 secs @ 140.32 mph to defeat Charman's charging 7.8774 secs @ 199.67 mph.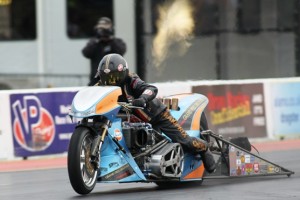 All in all a reasonably satisfactory end to the race season, and giving the team further confidence in their challenge for the 2012 European season.
The team would like to take this opportunity to thank Gulf Oil, Grand Prix Originals and all their fantastic sponsors, their great fans across the globe, Speedgroup, the UEM, Keith Bartlett and his team from Trak Bak Racing, the clubs, organisers, track and safety teams, the back office staff who make the events run so smoothly, their fellow competitors, the Ivan Sansom, Rose Hughes and their fellow photographers, journalists, TV crews and media representatives, Eurodragster, Dragbike, Stripbike, Cycledrag, Par Willen and the other dragrace website operators and everyone else who contribute to make the European Dragbike Championship the greatest competition of it's type in the world – thanks to you all!
Pictures courtesy of Ivan Sansom & Rose Hughes.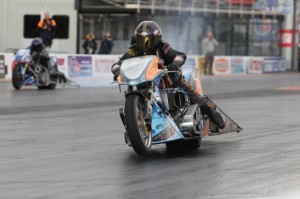 The team is extremely proud to have been supported by many leaders in their chosen markets in their European Championship in 2011, and would like to give heartfelt thanks to all who contributed to the team achievements this year: –
APE – The world's most innovative manufacturer of aftermarket parts for race bikes
COMETIC GASKETS – The Premier Manufacturer of racing gaskets
BELL HELMETS – The ultimate iconic helmet brand
GATES – The world's most trusted name in drive belts, hoses and hydraulics
GOEDHALS – The name in precision specialist gear cutting
GOODRIDGE – The most innovative and the best in fluid transfer systems
GRAND PRIX ORIGINALS – The brand for drive and lifestyle, past and present
GULF OIL INTERNATIONAL – The world's most iconic brand in automotive fuels and lubricants
HYPERPRO – The leading producer of progressive suspension products for motor bikes
JE PISTONS – The world's premier manufacturer of high performance forged pistons
KENT CAMS – Specialists in motor sport camshaft manufacture, short runs and one -off's
KIBBLEWHITE PRECISION MACHINING – The highest quality valve train components available
KING RACING – The most successful Top Fuel Bike team in European Dragracing history
MICKEY THOMPSON – Simply the best drag race tyres in the world
MRE – Leaders in trackside support for drag race components and air shifting systems
MTC ENGINEERING – Manufacturer of clutches for the fastest motorcycles in the world
NITROSHUTTER – Europe's leading dragracing photojournalists
NCTENGINEERING – Manufacturer of the world's leading non contact torque sensors for motorsport
PORTABLE SHADE – The best custom branded collapsible canopies available
PRO ALLOY MOTORSPORT – The UK's leading fabricator of alloy tanks, intercoolers and radiators
PSYCLEWORKZ – The UK's best custom and race fabricators and innovators
PUMA ENGINEERING – Manufacturer of the world's most powerful motorcycle engines
RSG CUSTOMIZE – The UK's most creative website designers and vinyl artists
VANSON LEATHERS – The most iconic brand in motorsport leather goods
WORLDWIDE BEARINGS – The world's leading supplier of ceramic bearings for racing
ZODIAC – Europe's largest supplier of performance and aftermarket HD parts
For more on information on King Racing, visit www.kingracing.com