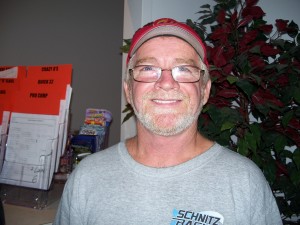 Photos courtesy of Teesphotoshop.com
A few months ago 37-year motorcycle drag racing veteran, Keith Lynn, wasn't sure if he'd ever have a place to race his turbocharged, nitrous-oxide fed Kawasaki Funny Bike again.
Now he's back in the winner's circle.
Lynn raced his way to the co-event victory in Pro Comp at the rain-shortened MIROCK Fast by Gast Superbike Finals from Maryland International Raceway, Oct. 2-3.
Lynn qualified fifth with a 4.18 and recorded elapsed times of 4.15, 4.15 and 4.14 in the first three rounds of eliminations.  Prior to the final, a rain shower drenched the track bringing the race to an abrupt end. Lynn shared the event crown and purse with fellow finalist and turbo Kawasaki racer, Mark Paquette.
"Despite the rain it was a great weekend," Lynn said.  "The track was awesome.  We just kept adding power and nitrous all weekend."
Back in June following the sudden closure of the AMA Dragbike series, Lynn didn't know if he'd ever have a class to race in again.  MIROCK official Jason Miller made the decision to invite Lynn and several others to the final two MIR races, where they could compete in a special exhibition Pro Comp race. The category's liberal rules allow for several combinations, including turbo Funny Bikes, nitrous Pro Mods and nitro Harleys.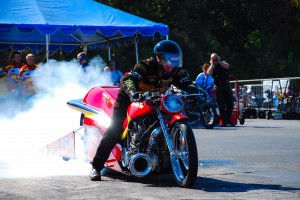 Based on his 13-inch tire and turbo charger, Lynn and his motorcycle are required to weigh 720 lbs., which is about 100 lbs. heavier than the 11-inch tire and nitrous-powered Pro Mod bikes. Lynn stood amazed at how even the playing field was with so many different types of motorcycles competing.
"We ran a .14, and Ronnie Procopio had the quickest nitrous pass at 4.10.  That's pretty close," Lynn said. "I don't know that we have that much of a horsepower advantage, but we're still very competitive."
The biggest difference for Lynn is racing to the eighth-mile mark, which is 660 feet closer to the starting line than the quarter-mile finish line Lynn has been charging to for most of his racing career.  It's a change Lynn welcomes.
"I'm getting older and these Funny Bikes can really be a handful on the top end," said the 56-year-old racer. "I don't mind running eighth-mile at all."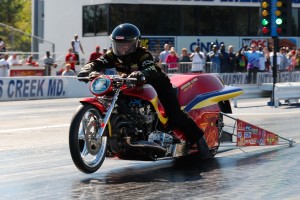 Lynn's 4.14 run in the semifinals established a new MIROCK Pro Comp turbo record.  The four-time national champion reports that there is still plenty of room for improvement.
"We were getting too lean on the big end.  It burnt the end of our No. 3 spark plug off and it backfired right before the finish line," Lynn said.
Lynn's all-time career best eighth mile came in Norwalk, Ohio last season where Lynn ran 4.08 en route to one of the quickest Funny Bike passes ever at 6.37.  Lynn was unable to back up the 6.37. He officially holds the mark for the world's quickest gas/turbo motorcycle at 6.43.
Lynn is hopeful MIROCK will add Pro Comp to its lineup in 2011 so he can take aim at establishing more performance records.
"I really hope we have a place to race. I think we can run those 4.0s in the MIROCK series too," Lynn said.  "It's just going to take a great sixty-foot."
Lynn thanked his crew chief Roger Gordon, the owner of the motorcycle Barry Van Hook, and PMFR, MTC and Schnitz Racing.