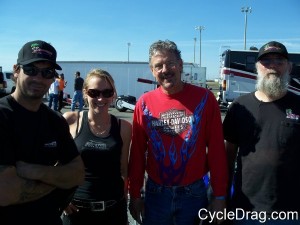 Hawaya Racing Team headed to Baytown, Texas weekend before last, for the NHRA Lucas Oil Screamin Eagle Series race presented by Harley Davidson Motor Company. Johnny Vickers in his first NHRA event this year, was riding the #1 school bike, Tyler Wilson was aboard the #2 school bike. 9 Pro Fuel Harleys showed up for the 8 bike field, meaning someone was gonna go home early.
In Friday qualifying, Vickers qualified in the #1 spot with a 7.414 second run at 171.41 MPH. Tyler Wilson, still getting his sea legs back under him after crashing at the world finals in Bradenton last year, qualified in the #7 spot running just 1/8th mile shut off passes. Janette Thornley wound up #2 with a 7.486, Rich Vreeland on his Derringer was #3 with a 7.552, Bill Bentz was 4h with a 7.557 pass, Rocky Jackson was #5th, Ben Ard wound up 6th, and Scott Bennett riding Dale Nungesser's magnum was in the #8 spot with a 13.380. Lloyd Stenerson rounded out the field doing his license passes. In a shortened qualifying session due to weather on Saturday, Vickers held on to the #1 spot going straight into eliminations.
During a very exciting first round of eliminations on Saturday, Vickers had to run his team mate Tyler Wilson.

  

"This is not the way you want to start the first round, said Johnny Vickers, but that's drag racing." Vickers, Thornley, Vreeland and Bentz would all advance to the next round. It was dark by the second round of eliminations as Vickers and Vreeland paired up. Vickers ran low ET of the meet at 7.31 seconds to defeat Rich Vreeland's 7.70 pass. In the battle between Bill Bentz and Janette Thornley, Janette got the jump on Bill at the tree and ran her best ET of the meet with a 7.396 @ 169.47 mph to Bill's 18.805 second pass.
In the end, the final round between Vickers and Thornley would have to wait until the NHRA race in Virginia to see who will hold the Wally as the rain moved in halting the race. So it's on to Virginia and we will see what we can do there.
Team Hawaya would like to thank our sponsors for their continued support and commitment to the sport of Motorcycle Drag racing:
VP Racing Fuels                                                                                
Lucas Oil
Venom Group International                                                                Vreeland's Harley Davidson
Mickey Thompson Tires                                                                      Vanson Leathers
PAC Racing Springs                                                                           RUSH Racing
Projack Race Lifts
 Contact www.hawayaracing.com for more information