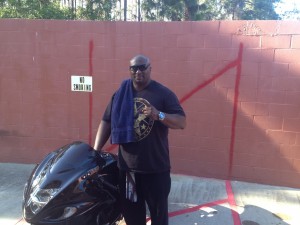 For the second consecutive year, Shawn Hobbs of Albany, N.Y. was the big winner at the Wyotech Bike Week Brute Horsepower Shooutout, March 14, 2014.
"I'm very proud of this," Hobbs said. "We are having a lot of fun with this bike."
Hobbs' RCC turbo-charged 2005 Hayabusa made 472 horsepower with just 21 pounds of boost.
Hobbs attributed his performance to work done at Cycle Concepts in South Carolina.
"The tuning is perfect," Hobbs said.
Even more impressive is the fact that the bike is Hobbs' rides the motorcycle on the street regularly and it has over 30,000 miles on it.
"It's not just a trailer bike. I throw saddlebags on it and go on long trips," Hobbs said. "We can turn it down to about 270 horsepower and ride it all day long."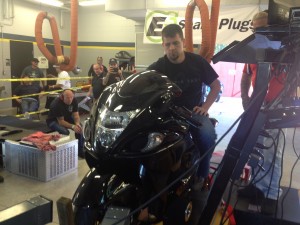 Hobbs took home $1,500 and some prizes, including some Snap-On Tools.
"It's a great event," Hobbs said. "There are a lot of great people here."
Hobbs also said it was fun to hang out with Larry "Spiderman" McBride during the event.