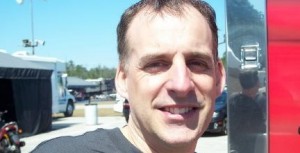 Sophomore Pro Stock Motorcycle racer John Hall collected his first Wally—the coveted trophy for an NHRA national event win—at the inaugural Auto-Plus NHRA New England Nationals at New England Dragway in Epping, New Hampshire. "We picked a good race to win," said Hall, who lives only 3 hours away in Connecticut. "It was crazy. I couldn't believe how many people were here. I don't think I've ever seen that many people at a race. Fans were thanking us for coming here to race for them."
Through most of qualifying, though, Hall wasn't entirely sure he'd be able to race at all. Sitting 15th in a 16-bike field at end of the third qualifying session, Hall and the Matt Smith Racing team decided to swap out the V-Twin powerplant with one sporting the new S&S cam chest. The bike liked it, pushing Hall all the way to 6th in the qualifying order.
Hall's first eliminations round lined him up against another rider who—like Hall—was hungry for his first win. Also like Hall, Jerry Savoie is a successful businessman fighting for respect in the world of NHRA professional drag racing. And the race was epic, with razor thin margins at the tree and finishline.
eliminations round 1
(W)  John Hall      .009 rt  6.910 at 192.52 mph
Jerry Savoie .018 rt  6.915 at 194.07 mph
"That was my closest race of the day," said Hall, whose .009 reaction time help set him up for success in the round 2 match-up with his teammate and tuner, Matt Smith. "Matt saw my light in the first round and he was going for it," said Hall. "And he knew I had a good tune-up…"
eliminations round 2
(W)  John Hall      .042 rt      6.907 at 193.46 mph
Matt Smith  -.004(R) rt  6.915 at 194.38 mph
"No one can say Matt doesn't give his teammates as good of a tune-up as he gives himself," Hall said after the round, where Smith redlit then was slightly out run.
It was also the round win that got Hall thinking this might be his day, that a win might happen. "You always need that one round of luck. They were all tough races today, but I figured Matt would be tough and he was. He wasn't too far off on the tree or the track."
Smith is a former NHRA Mello Yello champion, and so was Hall's next opponent—L.E. Tonglet. Hall slacked at the tree a bit against Smith's redlight, but he was back on his game and then some against Tonglet, nailing a .004 and never looking back.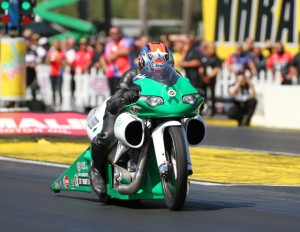 eliminations semifinal
(W)  John Hall     .004 rt  6.927 at 193.46 mph
LE Tonglet   .086 rt  6.952 at 192.71 mph
That set up a final round that had the ESPN commentators buzzing—John Hall and Matt Smith Racing vs. Adam Arana of Arana Racing. Last time out at Englishtown, there was conflict between these two camps—but not these two riders—that resulted in a suspension and fine levied against one of Arana's crew. That's the kind of drama that television feeds on and the ESPN team was over it. "They're talking about it on TV, but we're not," said Hall. "It's over."
The real story was two riders that had never been to an NHRA final before. Rookie Adam Arana is the most recent entry of the storied, Lucas Oil-backed Arana family. His dad Hector is a former Mello Yello champion. His brother Hector Jr. started the year off with three straight wins. Other than the 4-valve Screamin' Eagle Harley-Davidsons, the Arana Buells have been the top performing machines over the last few years.
Hall is a veteran of the old AMA/Prostar motorcycle drag racing circuit, a weekend warrior who last year got serious and took the plunge into NHRA professional racing. He will be the first to admit he struggled to shed the skills honed over many years of racing no-bar streetbikes and make the transition to Pro Stock. In the off-season he switched teams to MSR, racing this year alongside Matt and his wife Angie Smith.
So it was a match between a veteran racer still learning the Pro Stock ropes vs. a true rookie on the highest performing team in the sport. Who would win?
Both teams nailed the tune-up, the bikes running identical ETs to the thousandth of a second. So it was a battle won at the tree, and the rookie crumbled.
eliminations final
(W)  John Hall        .067 rt       6.924 at 193.93 mph
Adam Arana  -.070(R) rt  6.924 at 193.57 mph
"I thought I'd lost that race!" said Hall. "I looked over and saw his whole bike in front of me. So I looked up and saw my winlight. I didn't hit a shiftpoint correctly after that."
Last year, Hall missed the Countdown to One playoffs by one spot. After his Epping win, he's now second in points to Hector Arana Jr. "Last year I felt comfortable on the bike at times, but not on every pass," said Hall. "Everything was new to me. I was concentrating on everything at once and never really got into my groove. Now I feel like I can focus on what I'm told to concentrate on. I'm just comfortable this year."
John Hall would like to thank Matt Smith Racing http://www.mattsmithracing.com/ , Viper Motorcycle Company http://vipermotorcycle.com/ , Rush Racing Products http://www.epiflex.com/ , Red Line Oil http://www.redlineoil.com/ , PJ1 http://www.pj1.com/ , S&S Cycle http://www.sscycle.com/ , and Worldwide Bearings http://www.worldwidebearings.com/
John Hall and the Matt Smith Racing team race next June 27-30 at the 16th annual O'Reilly Auto Parts Route 66 NHRA Nationals presented by Super Start Batteries at Route 66 Raceway in Joliet, Illinois
contact John Hall: jhall451@aol.com
for media inquiries: Tim Hailey timhailey@earthlink.net
for more about the NHRA http://www.nhra.com/
This report was prepared by Tim Hailey. Photos are for editorial use only. Enjoy everything there is to read, see and watch about motorcycle drag racing and more at http://www.eatmyink.com
-end-
High-res images for editorial use are available by e-mailing timhailey@earthlink.net