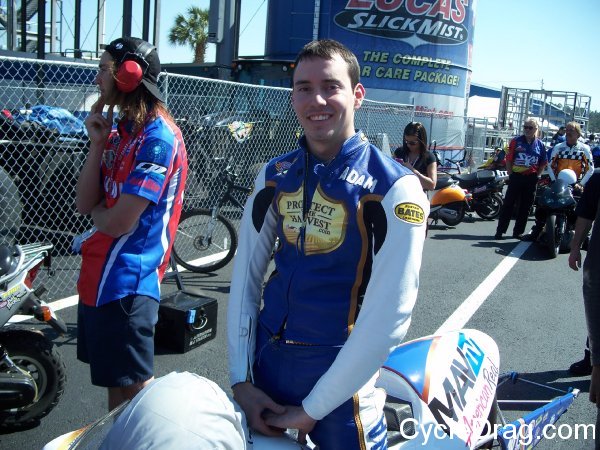 Pro Stock Motorcycle rookie Adam Arana made the first final-round appearance of his career during the inaugural Auto-Plus NHRA New England Nationals on Sunday at New England Dragway.
After scoring his first round-win at the previous race in Englishtown N.J., Arana advanced to a final in his fifth career race. He also climbed three spots to ninth place in the Pro Stock Motorcycle points standings.
In Epping, Arana qualified the ProtectTheHarvest.com/MavTV Buell in the No. 5 position and defeated Jim Underdahl, Steve Johnson, and Michael Ray in eliminations before fouling out in the final round against John Hall.
"I am happy, I am comfortable on the bike, and everything is going smooth," Arana said. "Besides that (final) round, my reaction times were all consistent and my worst was a .040."
The 21-year-old rider has no time to let this defeat get to him as he heads to the O'Reilly Auto Parts Route 66 NHRA Nationals next weekend at Route 66 Raceway in Chicago.
"I am happy and I am looking forward to next weekend," Arana said. "I am glad we don't have a long break because I am feeling hot."
Arana's solid performance helped him crack the top 10 in the points for the first time in his career. The top 10 riders advance to NHRA's Countdown to the Championship playoffs.
"Getting into the top 10 was my main goal," Arana said. "I accomplished a lot this weekend and I feel really good. Our team worked really hard. Dad, Hector (Jr.), Charles (Gordon), and Dan (Gonzalez) all put in a lot of effort and it showed."
Arana had a consistent day when he started off eliminations with a pass of 6.915 seconds at 193.29 mph to defeat Underdahl's 6.936 at 195.25 mph.
That put him against Johnson, the No. 13 qualifier, in the second round. Both left with excellent reaction times, but Arana's 6.902 at 193.85 mph took out Johnson's 6.954 at 191.84 mph.
In his first career semifinal, Arana's .035 light and 6.919 at 193.80 mph got the win over Ray's 6.909 at 196.24 mph.
In the final, Arana left a tick too soon to draw the red-light.
"I was nervous, anxious, and excited," Arana said. "I knew John had cut a .004 light in the round before and that we ran pretty close, and it was a mistake. I have to stay calm, relaxed, and not overthink things.
"Still, the weekend went well and I can't complain at all."