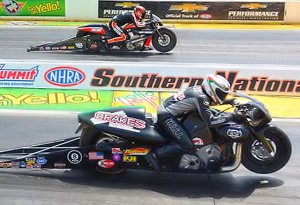 In the second year since their V-Rod engines were put back on a level playing field with the rest of the class, the hard work and ingenuity of Vance & Hines—along with the budget of Harley-Davidson—have put Andrew Hines and Eddie Krawiec back on top of NHRA Mello Yello Pro Stock Motorcycle. But lurking just behind, third place in the points standings, is John Hall. Now Connecticut racer Hall heads to his home track of Old Bridge Township Raceway Park in Englishtown, New Jersey, for the Toyota NHRA Summernationals in a strong position to improve on his final round appearance at the Charlotte 4-Wide race earlier in the season.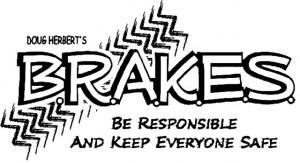 Hall's Hamden, CT home is only slightly closer to E-town than it is to the site of his inaugural win last year in Epping, New Hampshire. But E-town is the Big City track (less than 50 miles from Manhattan) where East Coast guys cut their teeth. Just ask Englishtown homeboy Krawiec, who used to manage the track and bumped heads with Hall for years on their 600 Supersport bikes.
Similar to the points standings, Hall qualified third behind the Harleys last time out in Atlanta with a 6.860 at 193.21 mph and bowed out to Hines in the semis despite a stellar .012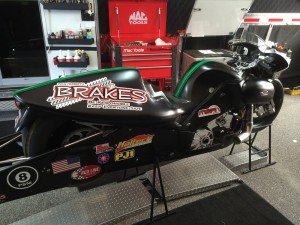 light. "I had an .015 in the first round and got left on, an .030 in the second and got left on, then an .012 in the semi and lost," laughed Hall, who rides with the Matt Smith Racing team with champion Smith, Smith's wife Angie, and Scotty Pollacheck.
"It was hard to get a hold of the track there in Atlanta. Matt had to struggle with that on four bikes. But we had the right clutch set-up, were in the right spot on the track, and had the best 60 foot of the whole weekend to make that third place qualifying run in the first round. That gave us a pretty good baseline for Saturday and Sunday."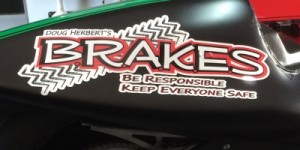 As in Atlanta, Hall will be displaying the logo of Doug Herbert's BRAKES Foundation on his MSR Buell. "John came to me and offered his bike as a 190 mph billboard to help raise awareness for the BRAKES program. The fact that he has a daughter that will go through the program makes it that much better," said Herbert.
"I played golf in the BRAKES tournament in Charlotte," said Hall. "I'd been looking into it because I wanted my daughter Mika to go to it. So at Charlotte, we're in the lanes and I was talking to Doug about it. I approached him about spreading the word, and said I'd be more than happy to put BRAKES on the back of the motorcycle. And with Mika taking the course I'll get a close-up experience of the program."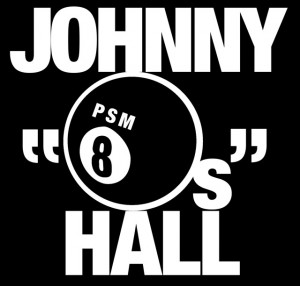 Herbert lost his two sons in a tragic auto accident several years ago, and started BRAKES as an education program to keep other kids from the same fate. "I think it's great how Doug has turned everything he's gone through into a positive thing, so that nobody else has to go through what he has."
B.R.A.K.E.S. (Be Responsible and Keep Everyone Safe) is a 501(c) 3 organization that provides free, advanced driver's education in a program entitled the Teen Pro-Active Driving Course. Over 5000 teenagers lose their lives each year across the country in traffic accidents. This staggering number of fatalities can be reduced through the efforts of B.R.A.K.E.S. and its Teen Pro-Active Driving Course.
One way that Hall hopes Englishtown differs from Atlanta is the performance of his Buell and the rest of the field relative to the Harleys. "I felt like I had a chance to win Gainesville and Charlotte, but with what Eddie was running in Atlanta, I didn't feel like I had a chance to win that weekend. I hope they don't get out of reach, because there's nothing for us to complain about this year—except for their exclusivity (unlike every other motor in the field, only Vance & Hines can race a Harley-Davidson). They've worked hard and I take nothing away from them, but I hope it's not a dominant position all year long. Last year was fun for everybody in the class and the fans with so many winners, and I hope that we don't lose that."
John Hall would like to thank Matt Smith Racing http://www.mattsmithracing.com/ , Rush Racing Products http://www.epiflex.com/ , Red Line Oil http://www.redlineoil.com/ , PJ1 http://www.pj1.com/ , S&S Cycle http://www.sscycle.com/ , Mark Stockseth Racing https://twitter.com/markstockseth , Worldwide Bearings http://www.worldwidebearings.com/ , Nitro Fish http://nitrofish.com/ , Haltech http://www.haltech.com/ , Hype Energy Drink http://www.hype.com/ , NHRA http://www.nhra.com , Mello Yello, Bobby Webb, Colbert Seagraves, Tim Hailey and http://eatmyink.com/ , http://www.dragbike.com , Doug Herbert and BRAKES http://www.putonthebrakes.org , all the contingency sponsors, and his family—wife Ivette, son John and daughter Mika.