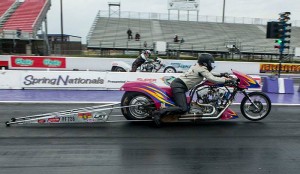 Dream Chaser Racin's, Janette Thornley and her Harley Dragbike have kicked off her third season, running just fine and getting stronger each event. After four events, she has two finals appearances.
Thornley says, "We're really pleased with our first few outings; although we haven't made the winner's circle yet this year we're running very strong and were runner up to some pretty stiff competition. At Norwalk, OH, we had rain, so when it came to qualifying it was one and done! We landed comfortably qualifying #2 in the Pro Dragster NHRA Harley-Davidson Drag Racing Series field. We had low ET and top speed for the weekend. 7.326 and 176.44. After three NHRA Harley-Davidson Drag Racing Series events, it's a close chase in points but I still hold the number two spot."
"This weekend we are heading for one of my favorite tracks, Rockingham Dragway, in the Sand Hills of NC for the AMRA Nitro Nationals. Steve Earwood, track owner always has great track prep and the crowds there are exciting and excitable-you can't beat that."
Dream Chaser Racin' is excited to have two new sponsors on board for the balance of our 2014 race season:
• Purple Slice (www.purpleslice.net) Purple Slice is a EZ spray detailer for any
surface, just SPRAY & WIPE! It CLEANS, WAXES & POLISHES in one easy step
leaving a protected surface and a brilliant shine! Use it on any vehicle, in
your home, on anything you want to clean, protect, & shine! Check out their
products at http://purpleslice.net/ Mention "DCR" when you check out and you
will receive free shipping on your first order.
• WSI (www.wsisports.com?xtr=DCR14) At WSI, our basic philosophy is dedicated to maximum comfort, maximum protection and maximum performance for every athlete. WSI developed WikMax®, a material with a exceptional moisture
management technology with added spandex for comfort and compression. Today,
WSI's WikMax® line of sports apparel offers superior comfort and performance
over the competition. Made in the USA. Use "DCR" for a discount at check out.
Dream Chaser Racin' would like to thank all of my sponsors LAT Racing Oils,
CP-Carrillo, Purple Slice, WSI, Quality Printing and West Coast Action Photos
for your support. A special thanks to: Hawaya Racing Products, America's
Forgotten Heroes and of course my family